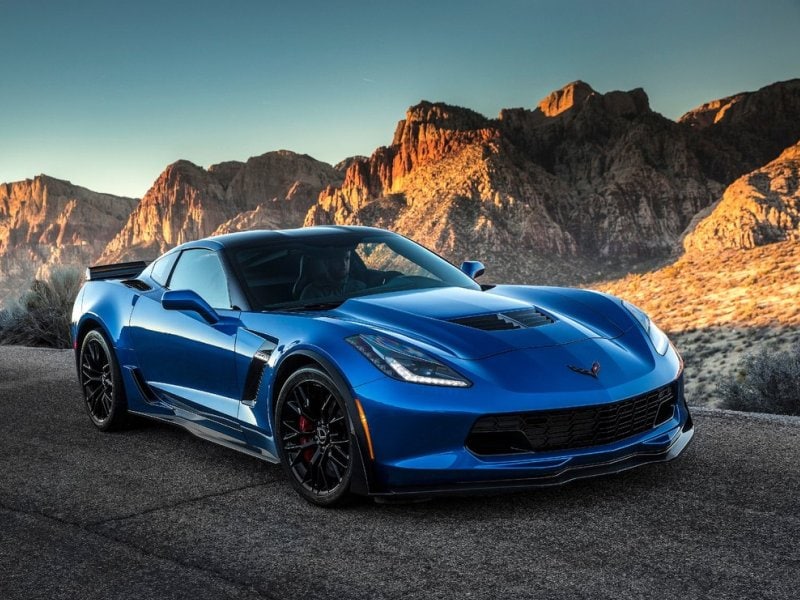 2016 Chevrolet Corvette Z06 ・ Photo by General Motors
Cars with carbon fiber tend to be more costly than most other vehicles, since carbon fiber itself—despite recent high-profile manufacturing initiatives from the likes of BMW and Ford—remains fairly expensive to produce. On the other hand, because it's both significantly stronger and noticeably lighter than steel, offering vital benefits for boosting efficiency and performance, it's also becoming increasingly popular. Today's top 10 list shows just what we mean, by highlighting domestic brands and distinctive choices from the international scene.
2016 Chevrolet Corvette Z06
Like many hi-po cars with carbon fiber, the 2016 Chevrolet Corvette Z06 counts on that material for an extra edge in performance. Yes, its 650-horsepower, supercharged V8 is a key factor in being fast enough to run from 0-60 in fewer than 3 seconds, but it's the carbon-fiber aero package—with Z07 upgrade—that seals the deal. Indeed, with the full setup in place, including a front splitter with "aviation-style" winglets and an adjustable rear spoiler, the Corvette can make more aerodynamic downforce than any production car ever evaluated by General Motors. Carbon fiber, combined with a rigid aluminum body structure, also enables the Z06 to supply removal roof panels, which are a signature design cue previously limited to the standard Corvette coupe. In the current Z06, though, the carbon-fiber panels boost the car's stiffness by 60 percent over the previous edition, and the vehicle is 20 percent stiffer even with the panels removed.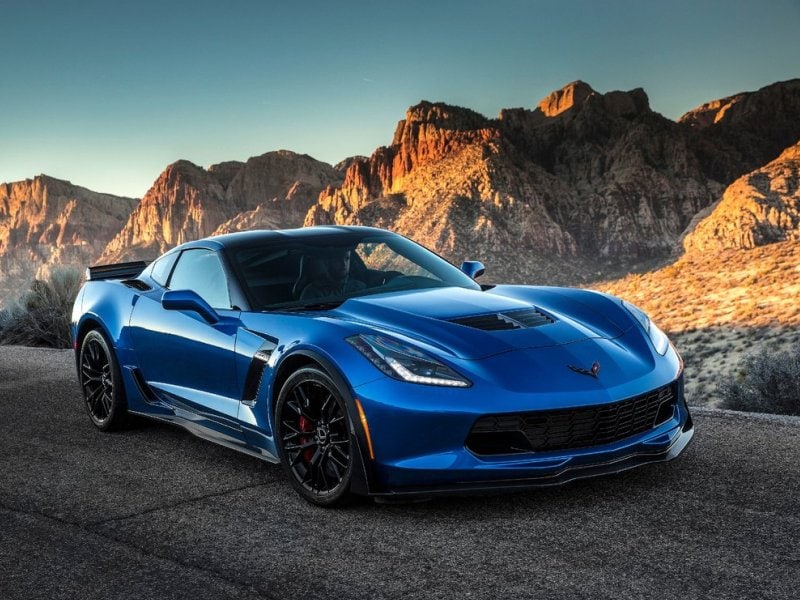 Photo by General Motors
2016 Dodge Viper
The 2016 Dodge Viper also can be configured with a carbon-fiber body kit, and according to its automaker, that Extreme Aero Package "produces the highest aerodynamic downforce" of any production cars with carbon fiber. What that means for the Corvette's claims is unclear, but the details from Dodge are certainly eye opening. For instance, when the Viper is running at its terminal velocity of 177 mph, its massive, dual-element rear wing can combine with a front splitter, dive planes and a rear diffuser to help realize 1,553 lbs. of downforce. It's further worth noting that a number of those aero elements are easily detachable, allowing owners to put them in place for optimum track performance, then remove them for the rigors—and rough pavement—experienced in daily driving routines. That track-focused strategy appears to be working, too, as the SCCA has certified the Viper for record runs at 13 U.S. road courses, including Laguna Seca and Road Atlanta.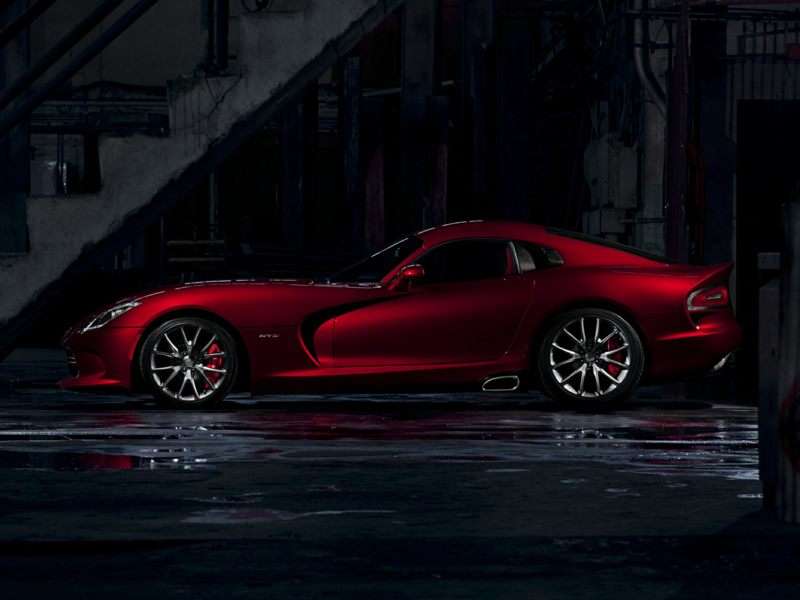 2016 Ford Shelby GT350R Mustang
A recent Ford partnership aimed at increasing the number of mainstream cars with carbon fiber is quickly paying off for the company—and for muscle-car enthusiasts. Consider: When the 2016 Ford Shelby GT350R Mustang rolls into dealerships later this year, it will do its rolling on the industry's first mass-produced carbon-fiber wheels. They look great, of course, with a clean seven-spoke design, but what's more important is how they affect performance. First off, because the carbon-fiber wheels are more than 45 percent lighter than their aluminum counterparts, the unsprung weight of the GT350R is reduced by another 60 lbs., significantly contributing to its ability to carve the corners. The superior strength of carbon fiber also helps the wheels of the car stand up to the extreme performance provided by Ford's 5.2-liter flat-crank V8, which can crank out 526 horsepower and 429 lb.-ft. of torque.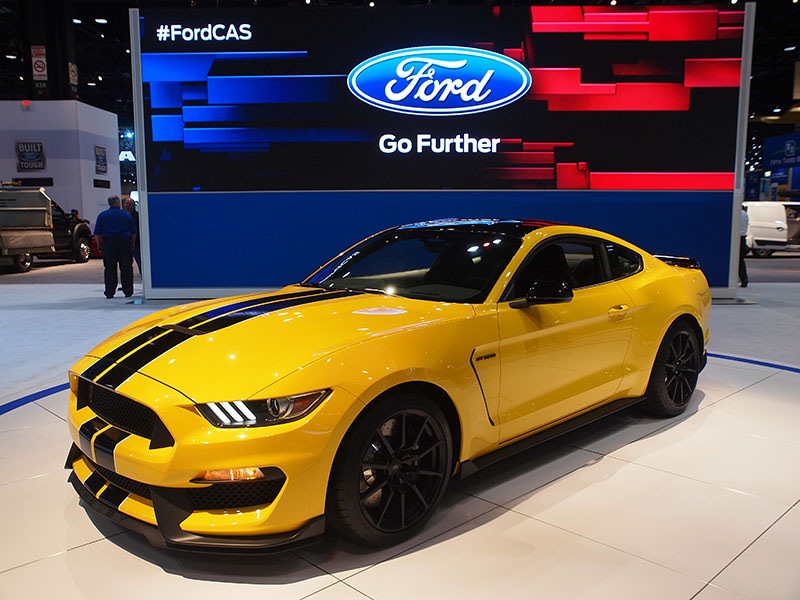 Photo by Megan Green
2016 Alfa Romeo 4C
An excellent illustration of how cars with carbon fiber can leverage that material's light weight for efficient performance is the 2016 Alfa Romeo 4C. Not only does the 4C look like an Italian supercar, it also accelerates like one, complete with 0-60 times in the mid 4-second range and a top speed of 160 mph. Yet at the same time, the car's 237 horsepower and 258 lb.-ft. of torque wouldn't be out of place in a V6 family sedan. A major difference is that the 4C features a carbon-fiber "monocoque" that acts as a strong, rigid foundation for the vehicle while further decreasing its weight. In fact, the 4C coupe comes in at 2,465 lbs., leading to an EPA weight-to-power ratio of 10.4 lbs./horsepower. Moreover, that monocoque makes a style impact in the cabin as well, since designers were careful to leave its surface exposed in some areas.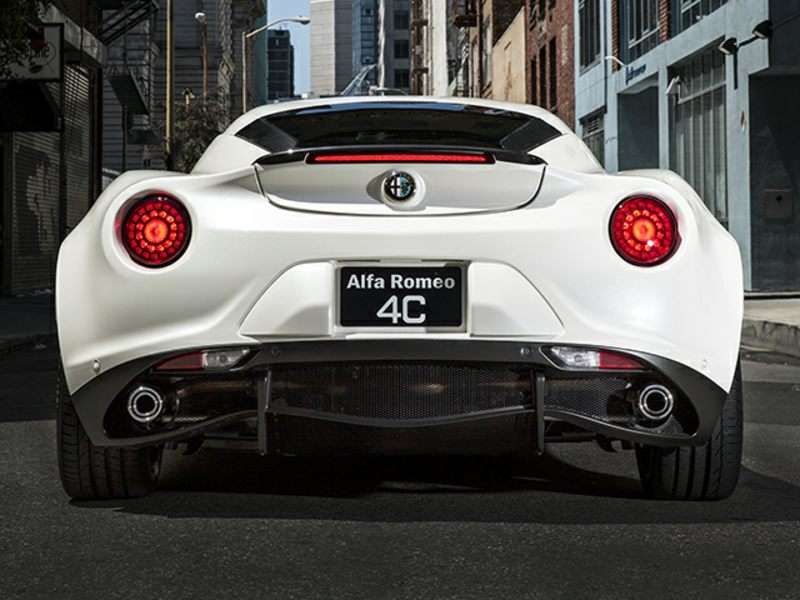 Photo by Fiat Chrysler Automobiles
2016 Ford GT
The stunning 2016 Ford GT is probably the kind of car most people think of when they think of cars with carbon fiber. After all, it's a sleek, exotic coupe that carries on the sporting traditions of the original GT40, right down to an upcoming race debut at the 24 Hours of Le Mans. But the new GT also takes a next step forward by taking advantage of the Blue Oval's burgeoning carbon-fiber expertise. Thus, the passenger cell and structural body panels of the vehicle are made from carbon fiber, furnishing the combination of light weight and high strength needed for supercar levels of performance. Further helping in that regard: Ford's most powerful production EcoBoost engine yet, backed by at least 600 horses and rear-wheel drive, along with an array of active aero elements, like a deployable rear wing that automatically adjusts height and pitch angle for optimum downforce.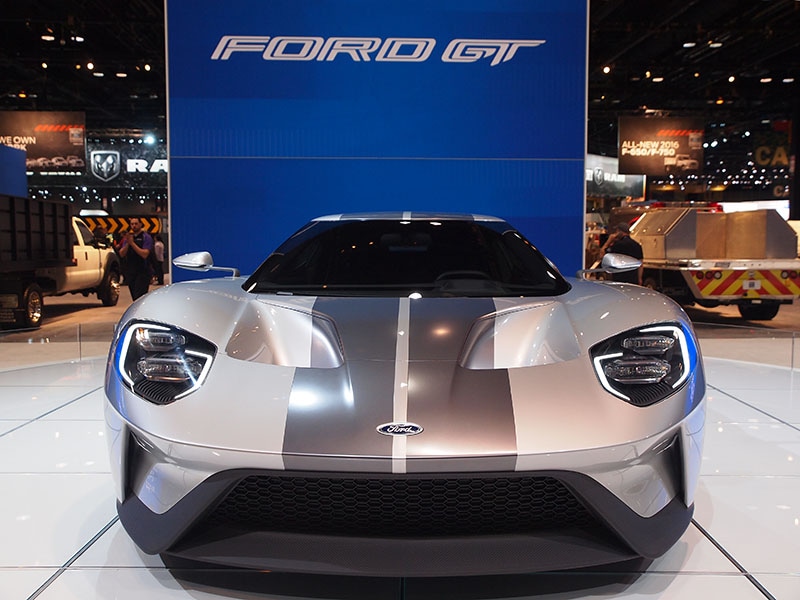 Photo by Megan Green
2016 BMW 7 Series
BMW also is a leader when it comes to cars with carbon fiber, launching its own production in a facility in Moses Lake, Washington, where energy for the plant is provided by renewable hydropower. As for the carbon fiber, it's one of the chief ingredients in the CFRP (carbon-fiber-reinforced plastic) that's used throughout cars like brand-new 2016 BMW 7 Series, including in its award-winning "Carbon Core" body. Created from CFRP, aluminum and super-high-strength, the Carbon Core of the 7 Series saves 190 lbs. as compared to the previous generation, yet at the same time, it also serves up increased strength and rigidity for Ultimate Driving Machine dynamics. The bottom line: Thanks in large part to its carbon fiber construction, this full-size sedan can deliver flagship levels of luxury, along with outputs of 320 horsepower and 330 lb.-ft. of torque, but still hit 29 mpg in highway travel.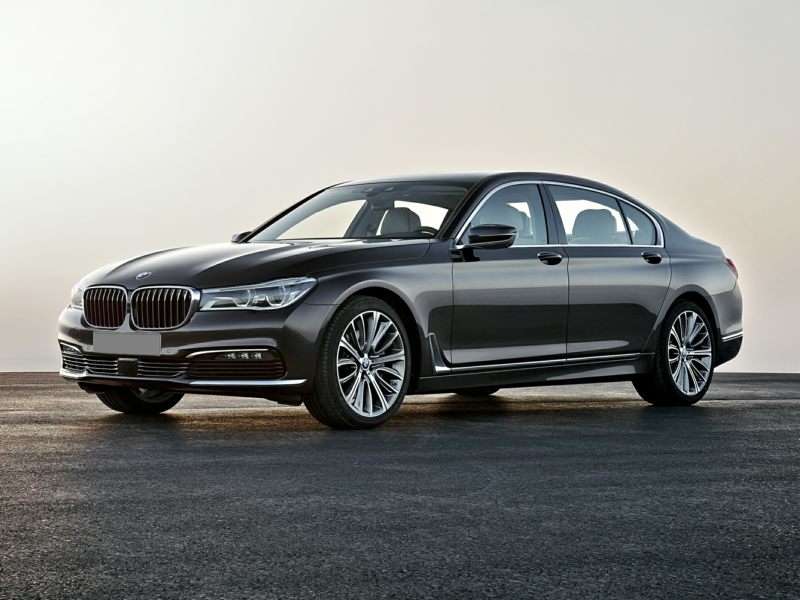 Photo by BMW
2017 Audi R8
For the four-rings brand, this whole light-weighting trend is old hat, as the company's aluminum-intensive Audi Space Frame (ASF) first premiered in the A8 sedan in 1994. At this stage, though, the ASF in the all-new 2017 Audi R8 incorporates carbon-fiber materials for 13 percent of its structure. More to the point, it reduces the weight of the R8 V10 by more than 140 lbs. when compared to the 2016 model; in the V10 Plus, the weight differential is still 88 lbs. And as is the case with similar cars with carbon fiber, the V10 Plus additionally fine-tunes its aerodynamic performance with the material, using it for the rear diffuser, front lip spoiler and rear wing, as well as for its exterior mirror housings. Also bolstered by up to 610 horsepower and 413 lb.-ft. of torque, the 2017 R8 is the fastest, most powerful Audi production model, too.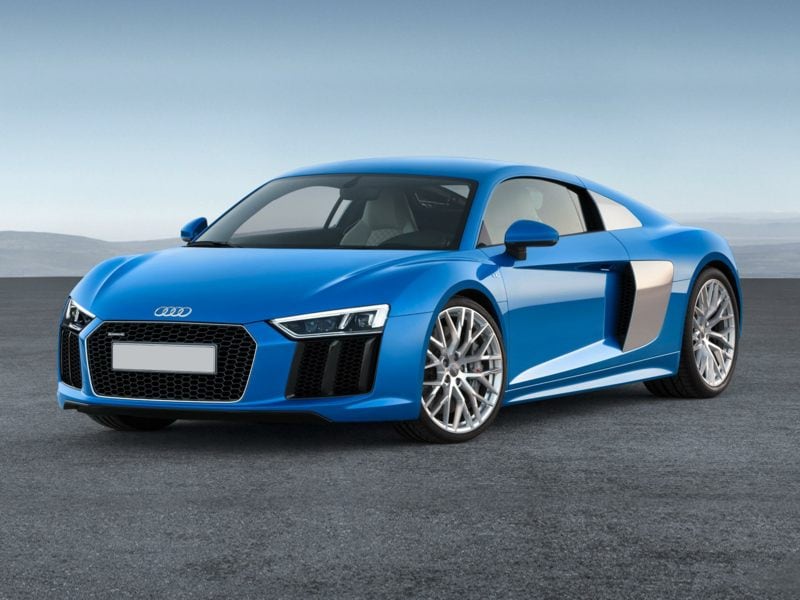 Photo by Audi
2017 Lexus LC 500
Toyota's luxury brand has had a tough time cracking the code for premium sports car; however, the 2017 Lexus LC 500 seems like an impressive breakthrough. It builds on the one Lexus supercar that did garner its share of attention from enthusiasts—the limited-edition LFA—and follows through on that entry's promise with a next-gen application of technology. Needless to say, that includes plenty of lightweight materials, highlighted by carbon-fiber door structures, aluminum door skins and a trunk floor made from a lightweight composite. The LC 500 also has some serious firepower under its hood, courtesy of a 5.0-liter V8 that can route 467 horses and 389 lb.-ft. of torque through a sophisticated 10-speed automatic transmission. For added sports car cred, the LC 500 rides on a new, dedicated rear-wheel-drive platform, too. Topping off that setup—and helping the LC 500 stand out from other cars with carbon fiber—is an available carbon-fiber roof.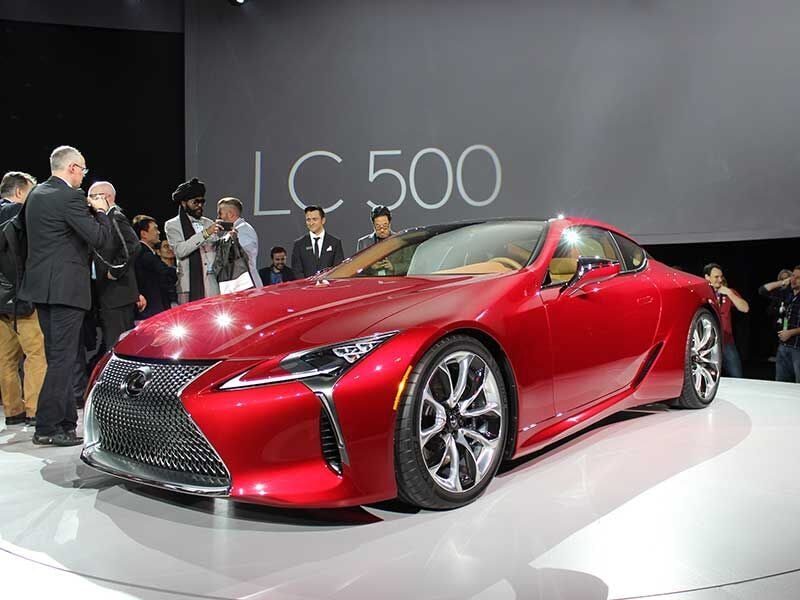 2016 Nissan GT-R
Certain cars with carbon fiber also can require a little extra TLC. For example, the "dry" carbon-fiber rear spoiler of the 2016 Nissan GT-R Black Edition has to be handled with particular care during the cleaning process, and the automaker explicitly recommends storing the car out of direct sunlight to avoid discoloration and deterioration. But that said, the handmade wing is a thing of beauty, with Nissan designers applying a special coating to the piece that allows owners to feel the actual weave of the fibers. And even standard GT-Rs are equipped with both carbon-fiber underbody rear diffusers and body panels made from a combination of carbon fiber, steel and aluminum. More carbon-fiber content naturally comes attached to the GT-R NISMO, which goes all-in with carbon-fiber aero updates for the bumpers, the trunklid and the same sort of dry carbon-fiber rear spoiler as seen on the Black Edition.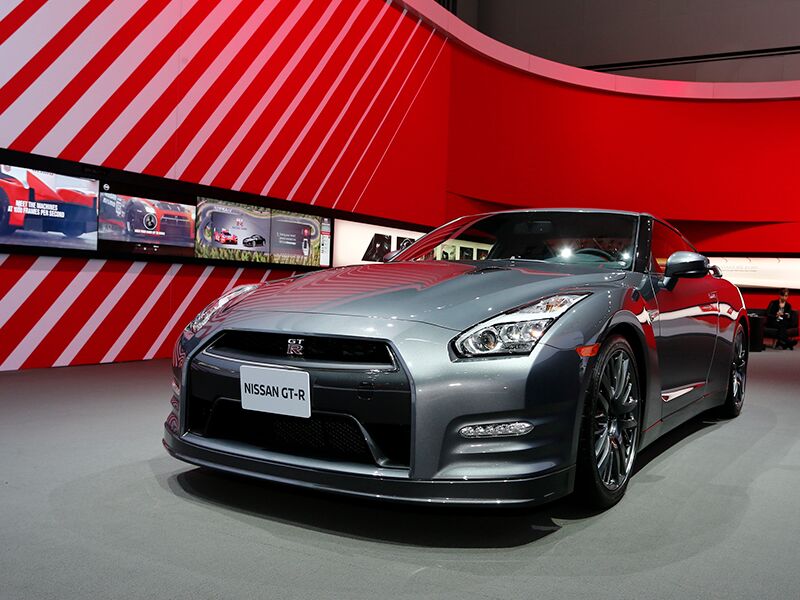 Photo by Rex Torres
2016 BMW i3
Unlike premium sedans or sports cars with carbon fiber, the 2016 BMW i3 puts its primary focus on pushing the envelope for fuel efficiency. Except that the i3 EV doesn't require any fuel at all, at least not in the traditional sense. Instead, the car runs solely on electricity, boasting an EPA certified range of 81 miles on a single charge. Oh, there is an extended-range i3 as well, and that car adds a small gas engine to allow nearly 70 more miles of travel; specifically, that i3 is good for an all-electric range of 72 miles, and it garners an extra 78 miles of range from its gasoline-powered range extender. But in both cases, the cars benefit from the first mass-produced automotive passenger cells to be made from CFRP. As strong as steel, but 50 percent lighter, the CFRP "Life Module" makes for curb weights of about 2,700 lbs. in the i3.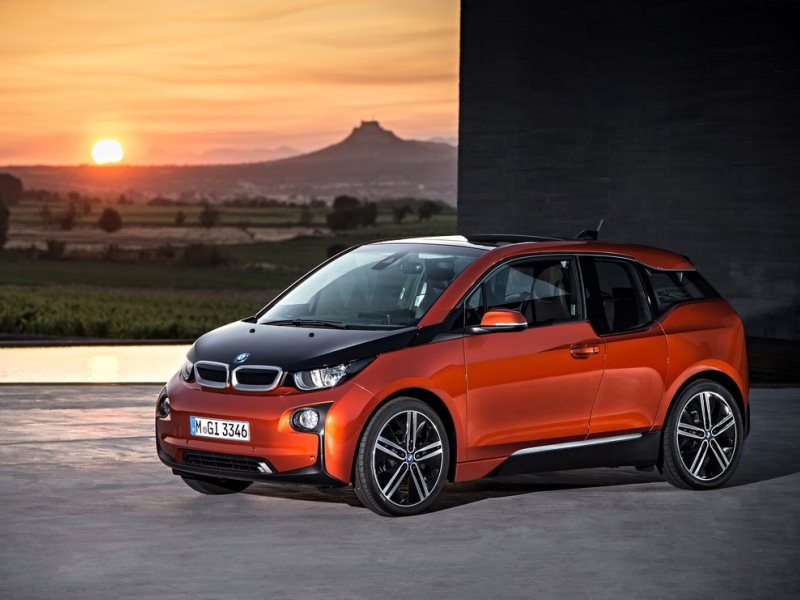 Photo by BMW