2019 Subaru WRX STI S209 exterior on track ・ Photo by Subaru
Our compilation of the 10 best small sports cars shines a light on an area of the automotive world that takes a different route than the Main Street of crossovers. And it's all the more interesting because of it.
There are still people who love driving, many of whom work for car companies. So there are some great sports cars available. The "small" part of our quest makes us wonder if there are any large sports cars. Bigger sizes only add more weight, the antithesis of sporty. While there are costlier candidates with great power and capabilities, we've chosen some more reasonably priced models. The best sports cars are the ones people can actually drive rather than just dream about.
2020 Alfa Romeo 4C Spider
Admittedly, the Alfa Romeo 4C Spider could hardly be described as refined. The unassisted steering is heavy at low speeds, the transmission clunks from one gear to another, and sound insulation was an afterthought — if thought of at all. But the 4C Spider envelops the driver in sensation. And isn't that exactly what we want from a sports car?
The mid-mounted engine's internals are audible, the steering is so informative it almost speaks, the lightweight body imparts a balance and nimbleness, and the behavior of the suspension gets relayed directly to the seat of the pants. On top of that, the 4C Spider has an unmistakable Alfa Romeo look to it. For around $67,150, this two-seat convertible is a 237-horsepower gem.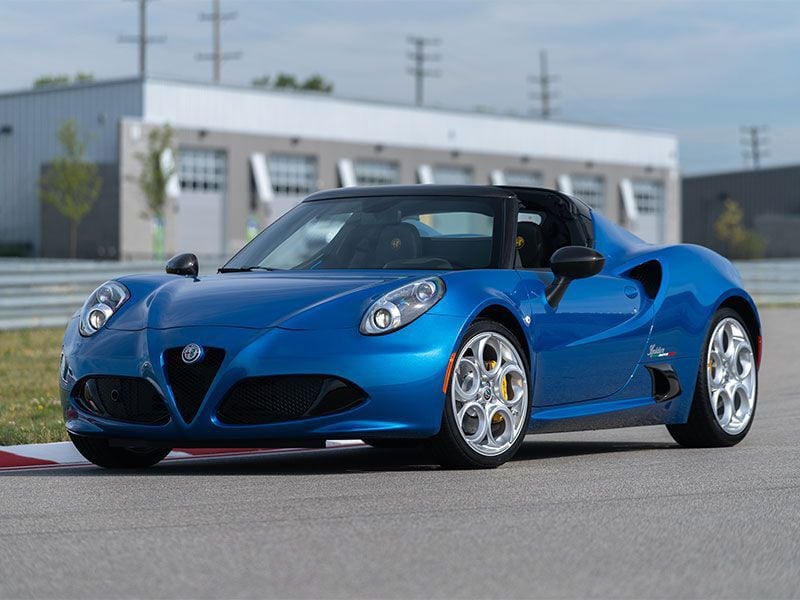 Photo by Fiat Chrysler Automobiles
2020 Audi TT RS
For those who think the romance of a traditional sports car is not for them and would prefer something more 21st-century, the Audi TT RS is the nexus where speed, luxury, technology, and design all interact.
This might be the final year for the current TT and a replacement is far from a done deal. So now is the time to enjoy the distinct thrum of a turbocharged five-cylinder engine developing 394 hp, sent to an all-wheel drive system for maximum stability and grip. The leather-and-aluminum cabin is home to Audi's Virtual Cockpit, one of the coolest driver information displays available. At just under $70,000, this coupe-only RS version is the top TT, with only a few options.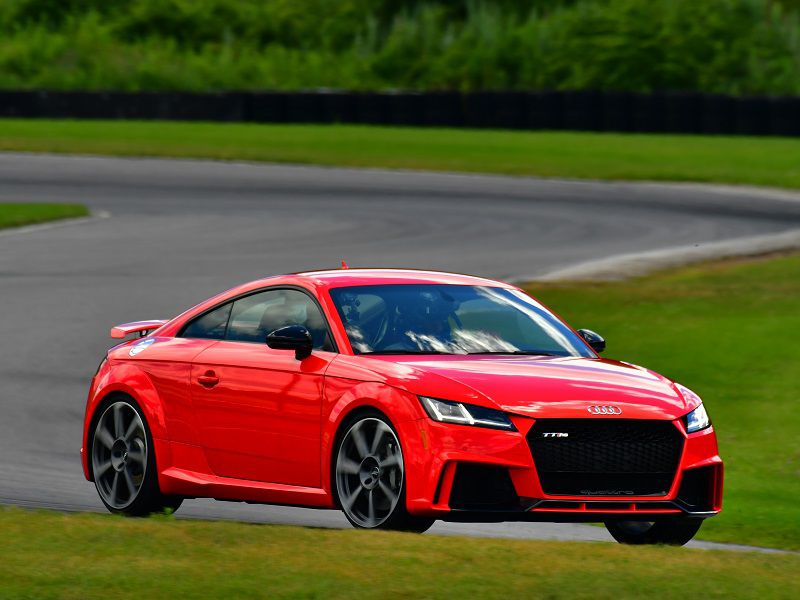 Photo by Audi
2020 BMW M2 Competition
The new generation of BMW Z4 follows the traditional sports car template a bit better than this car, since it's an open-topped two-seater. But the BMW M2 Competition is more, well, sporty.
BMW's M division is where engines are boosted, suspensions are sharpened, and brakes are strengthened, all in the pursuit of speed and thrills. The rear-drive M2 Competition, based on the 2 Series subcompact coupe, is the smallest M car (from around $59,000). There isn't a lot of bulk for the 405-hp turbocharged six-cylinder engine to lug around, so more of that power can go toward the serious business of driving fun. It also means responsive steering and an ability to change direction easily.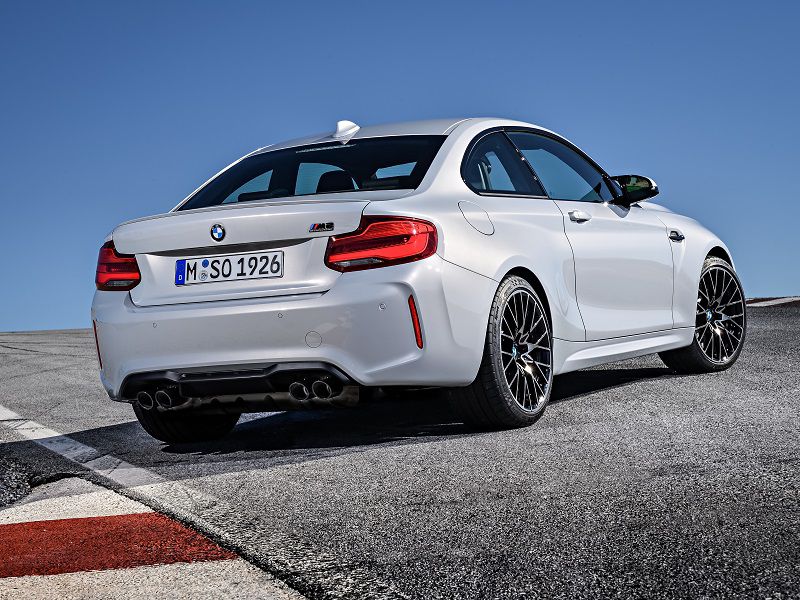 Photo by BMW
2020 Chevrolet Corvette C8
Small isn't the first thing that springs to mind with the new Chevrolet Corvette. And this new C8 generation still has to prove itself over many real-life miles. But we're making this one of our 10 best small sports cars because it is, after all, a compact two-seater and can blast from standstill to 60 mph in just 2.8 seconds. That's a full 1.1 seconds better than the previous generation, which is remarkable.
The thing about the new Corvette (from around $57,000) is that it's mid-engined. Other generations had a front-engine layout. Having that weight near the rear axle helps with traction, which partly explains the shorter sprint time. It's still powered by a small-block V8, now making 495 hp.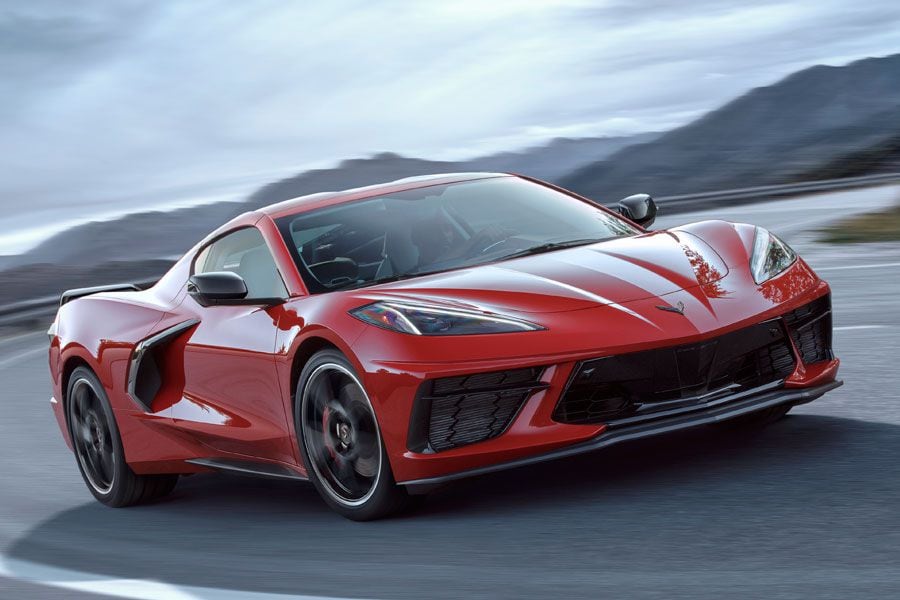 Photo by General Motors
2020 Jaguar F-Type
There's a revised Jaguar F-TYPE coming for the 2021 model year. But let's take a moment to appreciate what an amazing car the original F-Type is and has been.
Available as a coupe or convertible, priced from $62,625 (for the 2020 F-Type range), here is a true sports car, with a great suspension to go with sleek looks. At the lower end, it competes with a Porsche 718 Boxster. At the upper end, it could give a 911 some serious competition. The entry-level engine is a turbocharged 2.0-liter four-cylinder making 296 hp. For those desiring an F-Type primarily for its appearance, then this could work. The real Jaguar experience, however, starts with the 340-hp supercharged V6.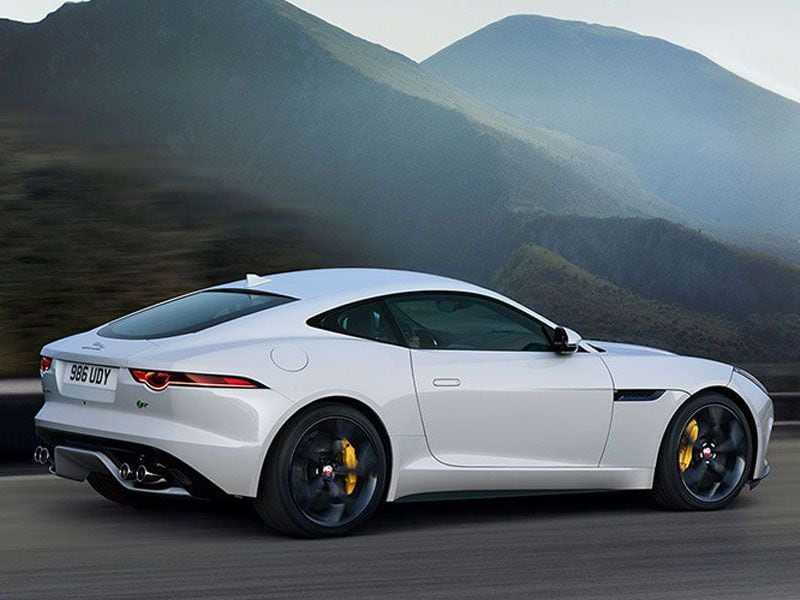 Photo by Jaguar Land Rover
2020 Mazda MX-5 Miata
Forget about 10 best small sports cars. If there was a list of 10 best cars ever, the Mazda MX-5 Miata would still merit a place. Anyone who gets even a slight kick from driving should own an MX-5 at least once in their lives. The thrills are accessible without being intimidating (181 hp), the pricing is affordable (from around $27,000, making this an ideal candidate for a weekend fun machine, although it's sweet enough to be driven every day), and the build quality is superb.
The current generation is arguably the best, having benefited from years of evolution, along with a steady stream of Mazda engineers who are continually thinking of improvements and often own an MX-5 themselves. That's quite an endorsement.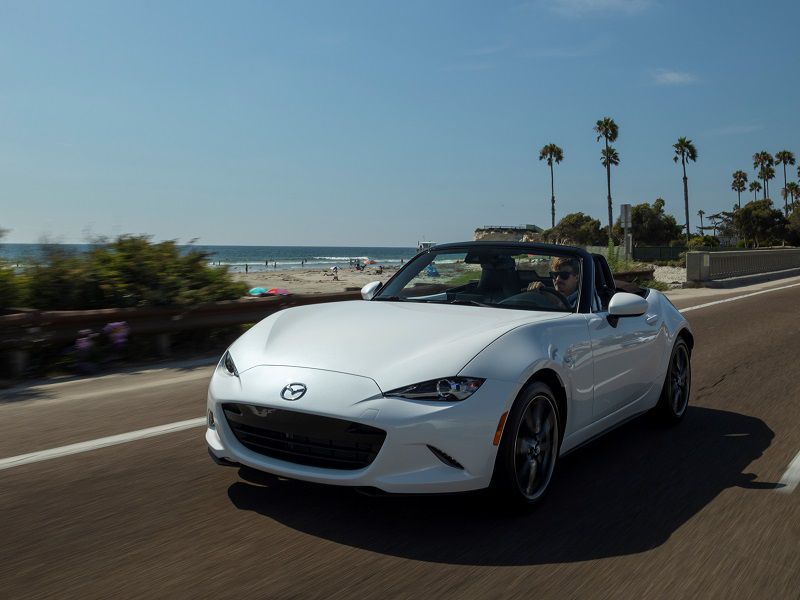 Photo by Mazda
2020 Mini Hardtop 2-Door John Cooper Works
The John Cooper Works is the sportiest version of the Mini, already one of the most enjoyable cars with front-wheel drive. This isn't, however, for everyone. The ride quality is firm, but that's part of the price paid for serious handling talent. And, starting in the region of $34,250, it's not exactly cheap.
If those things are considered merely trivial compared with the humongous amount of driving fun the JCW delivers, then there's 228 hp to start exploiting. There's also a convertible alternative, but the real enthusiast would probably prefer the lighter tin-top model. Upgraded Brembo brakes, are part of the JCW treatment, while there's still some scope for personalization — as with every other Mini.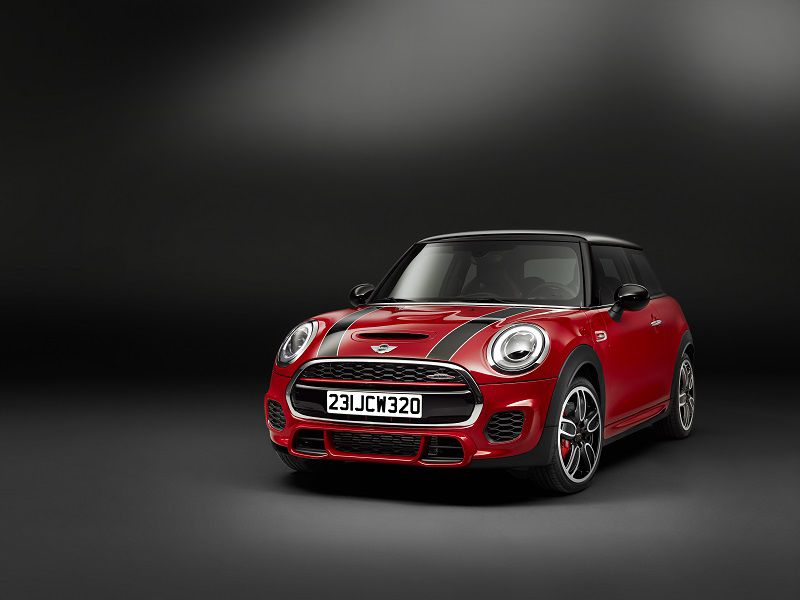 Photo by MINI
2020 Porsche 718 Boxster and 718 Cayman
Pretty much the best of the 10 best small sports cars, the Porsche Cayman (starting in the region of $58,000) and Boxster (about $60,000) are fixed-roof and convertible variants, respectively, of the company's entry-level sports car. Both share a chassis with a mid-mounted engine, sublime steering, pin-point balance, and fluid handling. Output ranges from 300 hp to 365 hp; the former is absolutely fine, the latter is great.
The 2020 model year brings a new T trim for both cars that includes 20-inch alloy wheels and a sportier suspension. It's the one up from basic, but strips some interior features to save weight. Interesting. Of course, anything by Porsche is interesting. And another good thing about the Boxster and Cayman is that they're (almost) attainable.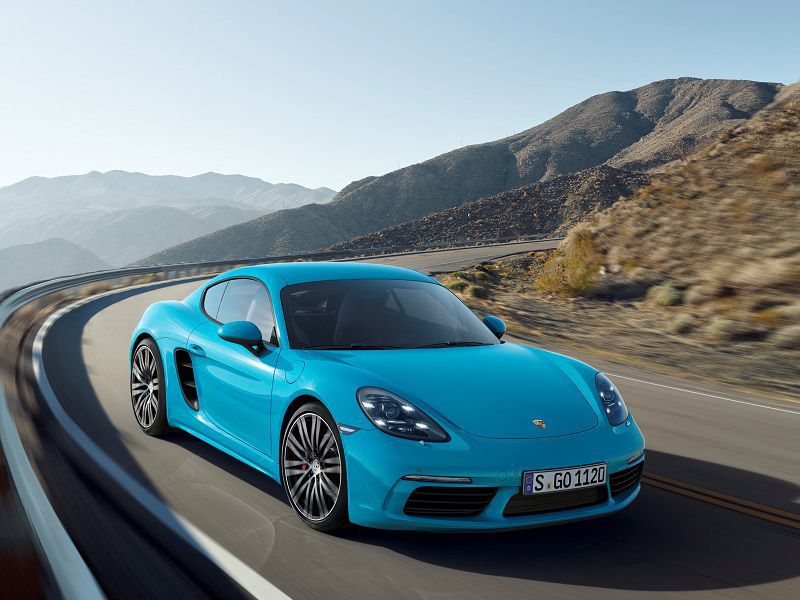 Photo by Porsche
2020 Subaru WRX STI
Subaru's road cars spawned from rally racing have become objects of desire for those in the know. The Subaru WRX STI is a compact sedan that comes with all-wheel drive as standard and a turbocharged 2.5-liter flat-four generating 310 hp, plus a huge rear wing and several other aerodynamic additions.
Swift and grippy, this is the kind of car that could blast along a twisting canyon road and outrun plenty of more expensive machines with greater power. Yet its starting price of $37,895 puts it squarely at the affordable end of our choices. There are compromises, as there are with any sports car. The ride is taut and the cabin can become noisy. But at least it has some practicality as well.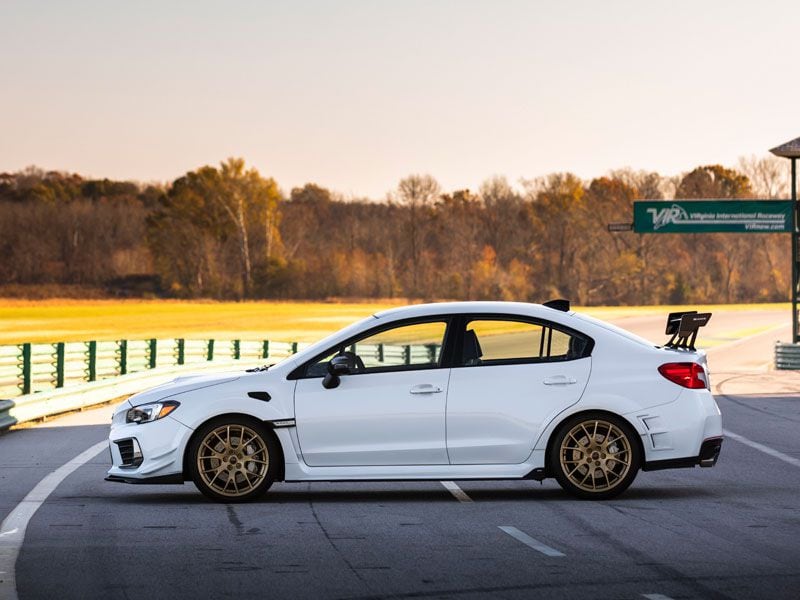 Photo by Subaru
2020 Toyota 86
Sending only 205 hp to the rear wheels might seem underwhelming on paper, but on tarmac it's a different story. The Toyota 86 compact coupe is light, well-balanced, and a joy to throw around. What it lacks in ultimate speed it makes up for in cornering abilities. It's also bearable as an only car and eminently affordable, priced from $27,940.
For the fledgling enthusiast just discovering the delights of rear-wheel drive and manual transmissions, the 86 could be a fine choice. Anyone who learned to drive in their parents' old Camry sedan will find this a sensation-filled revelation.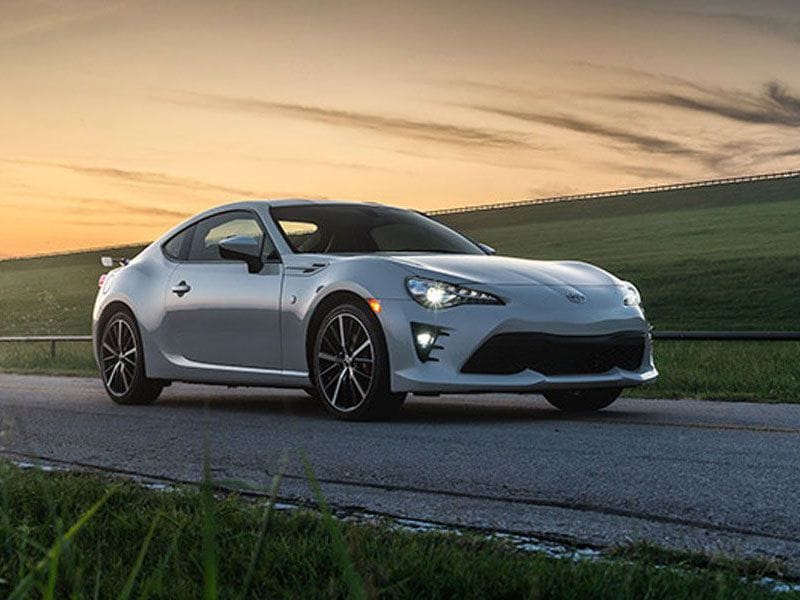 Photo by Toyota