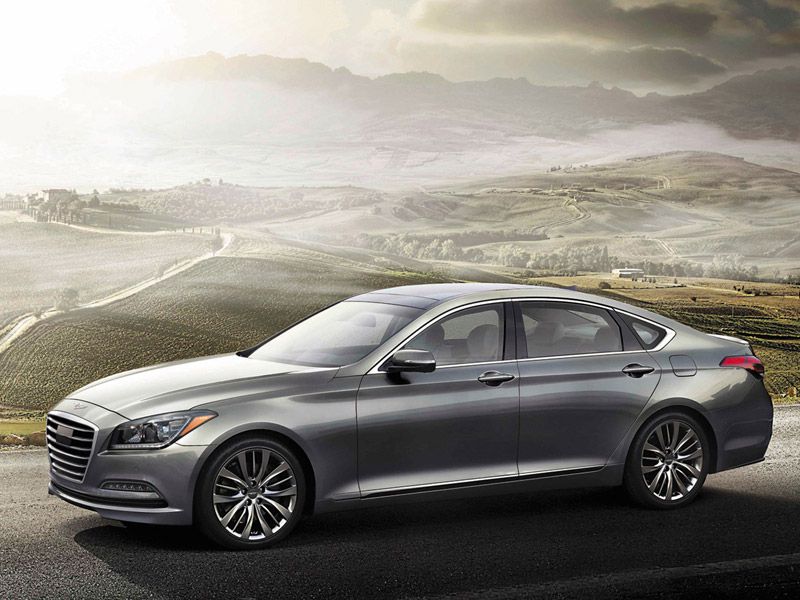 2017 Genesis G80 ・ Photo by Genesis
We could say, "Here are the 10 best midsize luxury sedans." But it's not stretching things too far to state that these are 10 of the absolute best cars, regardless of category. This class is often the first to receive the latest technology whenever a new generation debuts. They're also required to embody the values and heritage of each manufacturer. And when these makers include Mercedes-Benz and BMW, then the bar is set stratospherically high. Which explains why they're expensive. But now we're at a level where buying anything appreciably better would cost considerably more.
2017 Acura RLX
There's a lot to be said for not being flashy. Many buyers like cars that just get down to business. The spacious Acura RLX, for example. German cars often get more glory, but RLX owners will always award top scores to their rides. Equipment, safety, sophistication, serenity and quality are prime Acura assets, and they're all standard. The regular engine is a silken 310-hp V6; a 377-hp hybrid version brings an intelligent approach to more power and even better dynamics. When perusing the short options list, consider the Krell sound system in the Advance package. This brand is a favorite among home audiophiles and definitely hits the right notes here.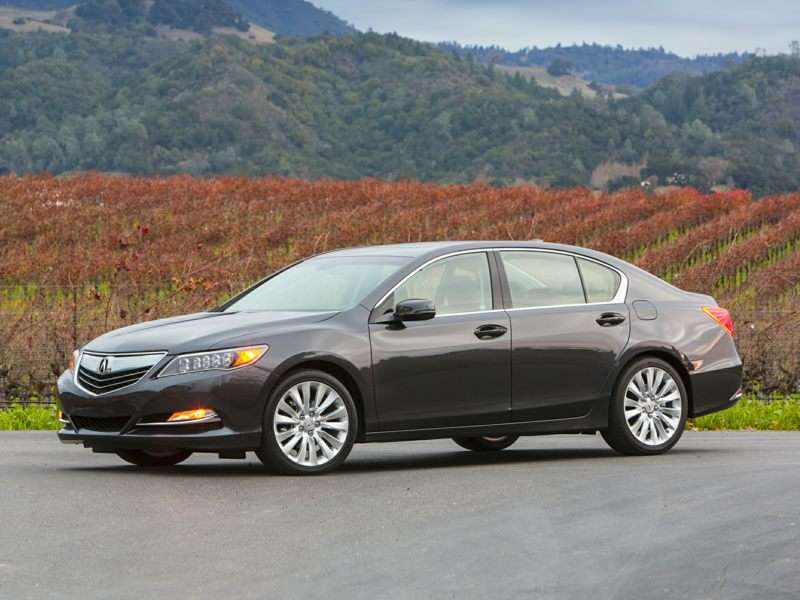 Photo by Acura
2017 Audi A6
Despite being out of sync with its German arch-rivals (a new generation is due in 2018, whereas the 5 Series and E-Class are all-new for 2017), the A6 is still a desirable machine. All it takes is five seconds sitting in the driver's seat admiring the build quality and shapes in the cabin, then driving it for a mile or so for it to become apparent that this is one of the best in an amazing segment. A Competition variant is 2017's A6 news, boosting the supercharged 3.0-liter V6 from the regular 333 hp to 340 hp. And it just wouldn't be sporty these days without a flat-bottomed steering wheel.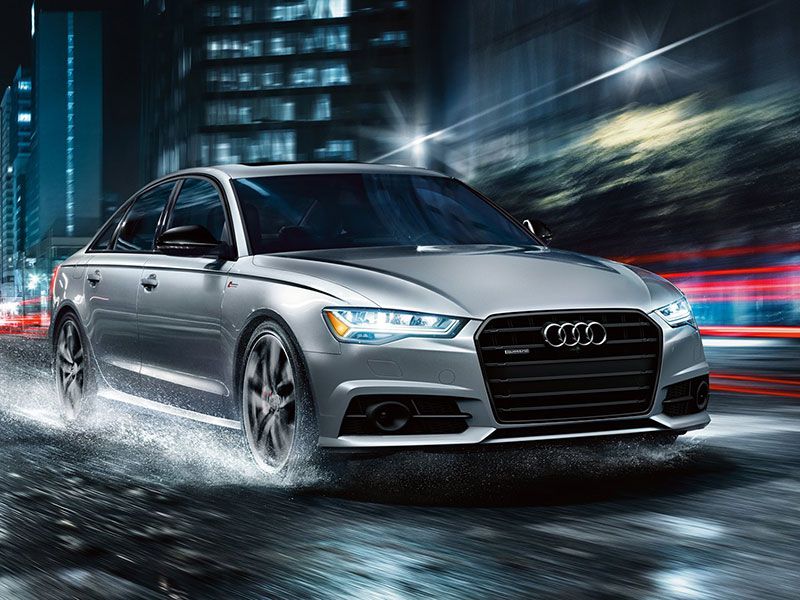 Photo by Audi
2017 BMW 5 Series
Generation Seven comes along for 2017. For many years, the 5 Series has been almost the perfect car because of the way it drives (fun, but not fidgety), the amount of space and the levels of technology. This new model is shaping up to be a fine continuation of the line. It's still a driver's choice, with a well-pitched balance between handling chops and ride refinement. And pardon the science pun, but technology takes a quantum leap in this generation, with gesture control for the infotainment system, remote parking function (while the driver stands outside the car) and even connection to the voice-controlled Amazon Alexa system. The range includes a plug-in hybrid as well as an inline-6 engine (a classic BMW configuration).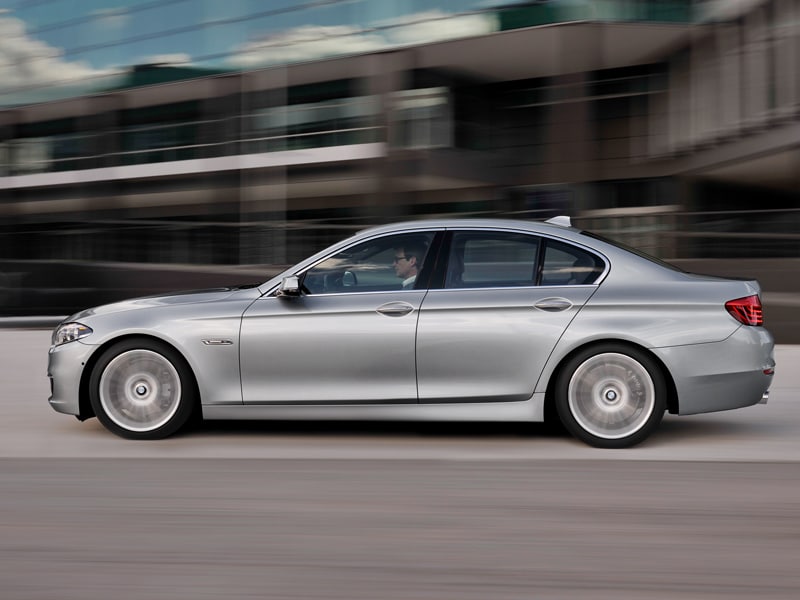 Photo by BMW
2017 Cadillac CTS
No other American marque comes this close to challenging the big names from Europe and Japan. Especially Europe, in fact, because that part of the world has a lock on driving dynamics and the CTS has the key. With agility to spare, the chassis can make the most of a turbo four, 3.6-liter V6, or 420 hp in the twin-turbo V6 found in the V-Sport model. And that's all apart from the mobile Wi-Fi, Apple CarPlay, wireless smartphone charging, or the sumptuous cabin. There's also a really high-performance 640-hp CTS-V model with a supercharged V8, which could give any BMW M5 a run for its money.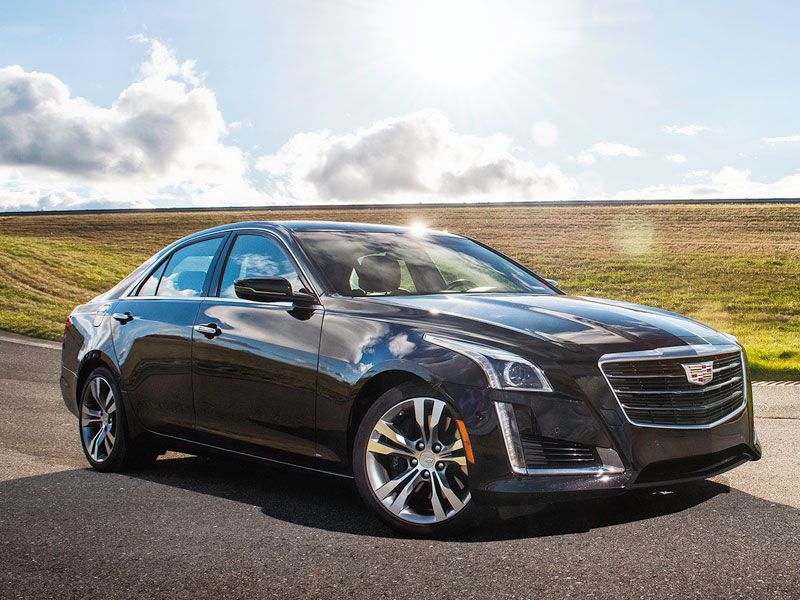 Photo by General Motors
2017 Genesis G80
In case anyone has been trapped in a well, Hyundai decided to spin off its Genesis luxury cars into a separate brand. And the 2017 G80 is one of the venture's first fruits. It's not an all-new car, but it has been upgraded significantly and comes with a level of standard equipment that demands serious consideration. Leather and navigation are just two items, plus many advanced safety features like blind spot monitoring. The cabin is super-quiet and build quality is exemplary. While some cars here are adept at providing some sportiness, the G80 puts itself squarely in the lap of luxury; the option of all-wheel drive is more for tackling bad weather than tight corners.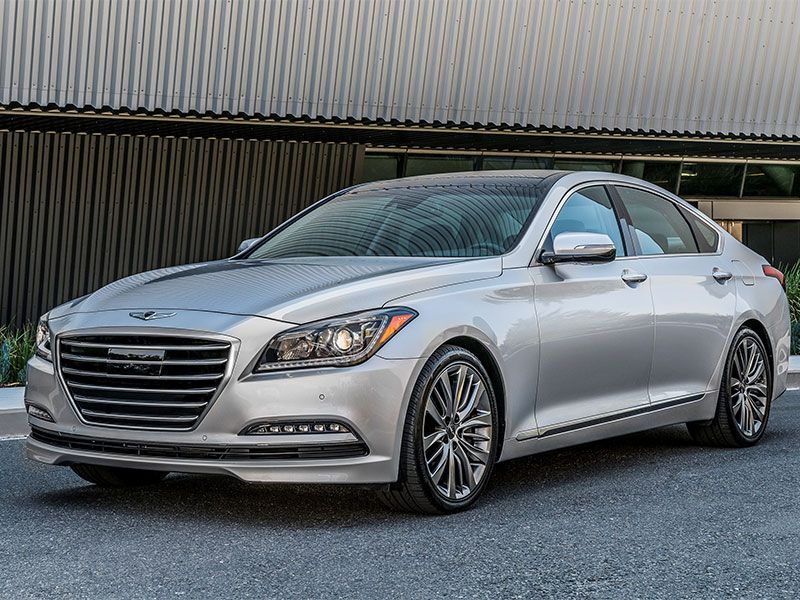 Photo by Genesis
2017 Infiniti Q70
Although the Q70 deserves a place among the best midsize luxury sedans, there is a downside. This is one of the older cars in its class and the 3.7-liter V6 does not have the best reputation for smoothness (still pretty fun with 330 hp, though). For something more in line with a luxury car, take a longer look at versions with the 420-hp 5.6-liter V8. What makes the Q70 stand apart from, say, a Lexus, is that Infiniti's engineers managed to calibrate a few thrills into the suspension. The steering is precise, especially in rear-drive form. And although Infiniti cars used to be noisy in the cabin, the marque has really stepped up its refinement game.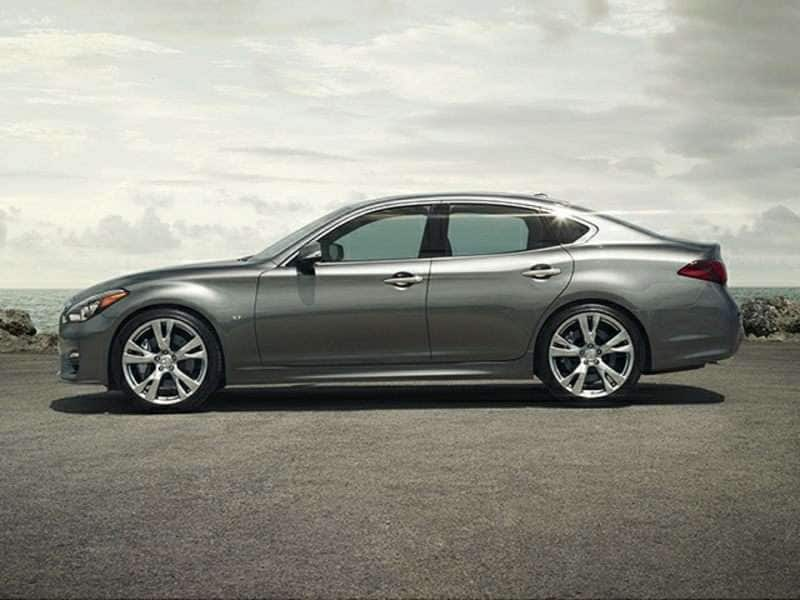 Photo by Infiniti
2017 Jaguar XF
Like every other Jaguar sedan, the XF uses a lot of aluminum in its body. So even though it's not particularly light on the scales, that weight is distributed in a balanced way that makes the car feel neutral, which is always a good thing. Then factor in a suspension that can reconcile the opposing demands of comfort and precision, plus authoritative power from a supercharged V6 engine, plus sleek, "it could only be a Jaguar" styling, and here's a recipe that goes beyond the description of mere luxury midsize sedan and soars into "must have it" territory. One thing that's good about all Jaguars is that their electronic driver aids come in subtly, as opposed to the somewhat abrupt actions from other marques.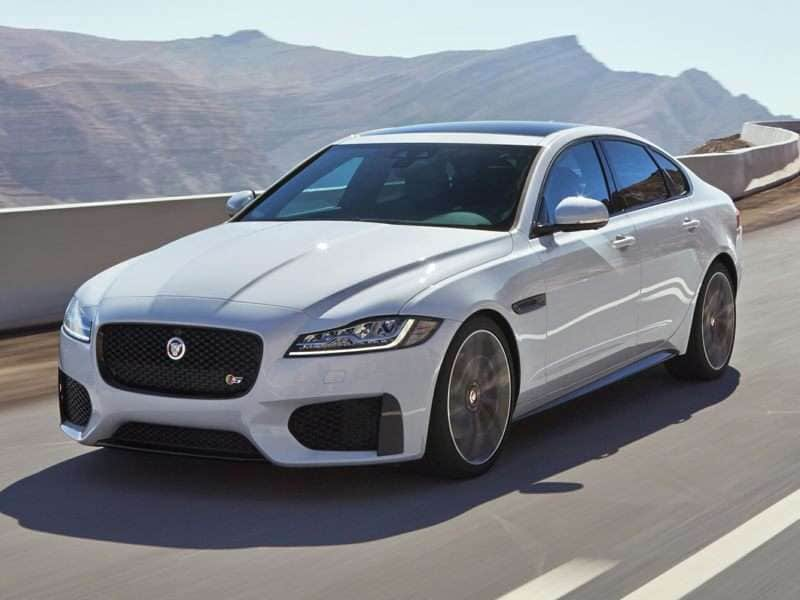 Photo by Jaguar Land Rover
2017 Lexus GS
While the front-drive ES handles the softer side of luxury midsize sedans, the GS is sportier. That's not to say it's uncomfortable, it's just more of an all-rounder. Over the years, the GS has evolved to provide serious competition against German dominance. Not least because it comes with several items of standard equipment that are expensive options in many rivals. Lexus build quality is as good as it gets and the dealer experience is usually a pleasure. The range starts with a turbocharged 2.0-liter 4-cylinder engine, which makes an agreeable 241 hp. But if we want power to go with our luxury (of course we do), then the 311-hp V6 is more appropriate.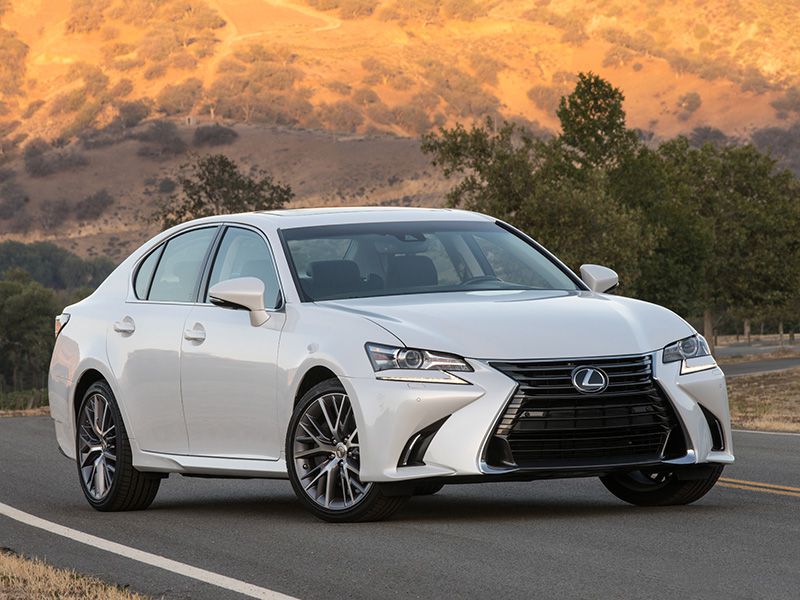 Photo by Lexus
2017 Lincoln MKZ
Although the MKZ name has been around since Lincoln's bad not-so-old days, this current model is part of the marque's rebirth and has been revamped for 2017. As well as a comprehensive list of standard equipment, buyers may also choose a muscular 400-hp turbocharged V6 for an entertaining (yet still luxurious) all-wheel drive sport sedan. Good luck trying to get this much power and technology in something German without blowing up the bottom line. Another admirable aspect is that the hybrid version costs the same as the regular car. The MKZ is based on the same platform as the already excellent Ford Fusion. But smart drivers and buyers will take good "bones" wherever they can find them.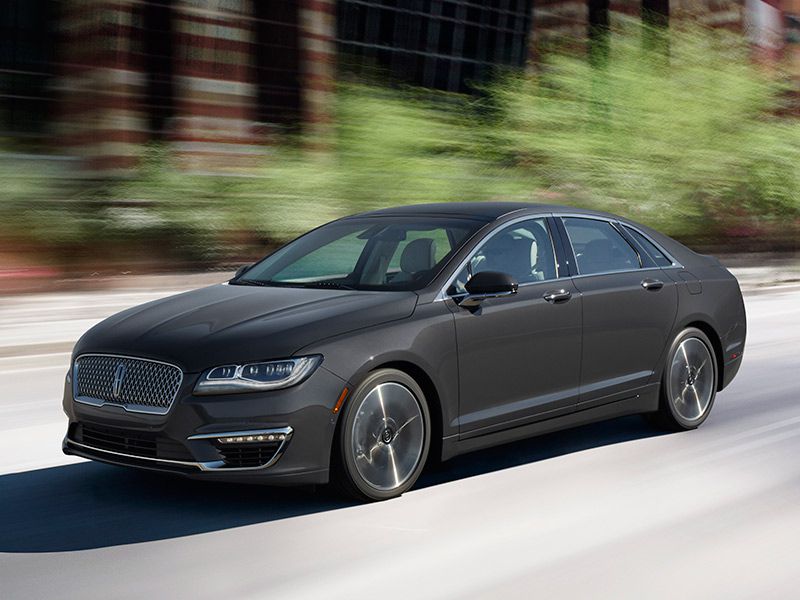 Photo by Lincoln
2017 Mercedes-Benz E-Class
The archetypal midsize luxury sedan. Part icon, part benchmark, all-new for 2017. Splash out on some extras and the new E-Class can be one of the most tech-filled cars on the road, with semi-autonomous functions like stop-go traffic assistance and self-parking, plus advanced safety features (one feature can help reduce hearing damage in the event of a collision). Even the basic car has great design, smart ergonomics, composed yet supple ride quality, and a refined 4-cylinder turbocharged engine making 241 hp. There's also the V6-powered E43 AMG (396 hp) and the super-endowed E63 AMG versions (563 hp or 608 hp in the S). These AMG versions come with all-wheel drive as standard.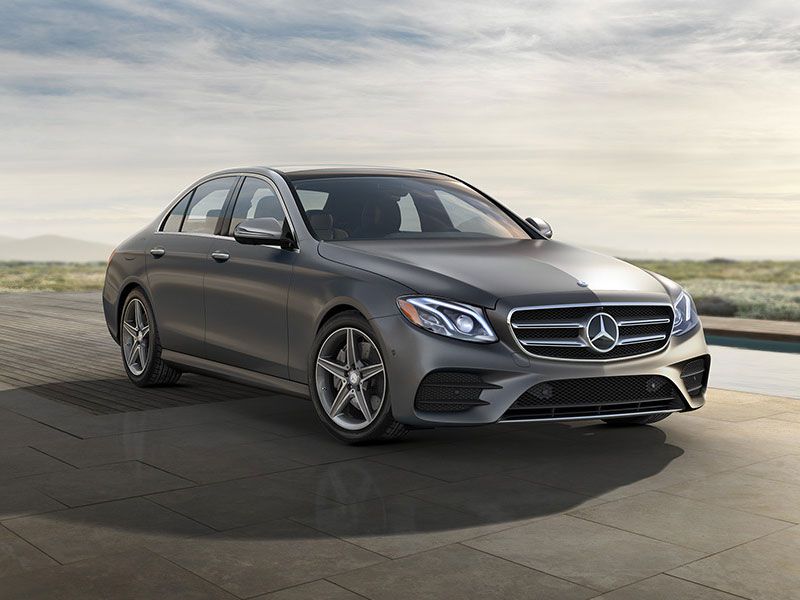 Photo by Mercedes-Benz