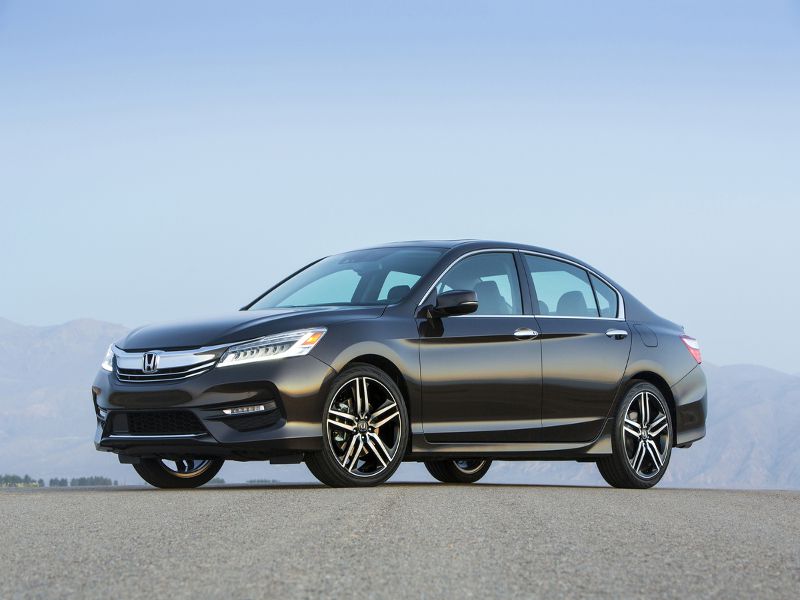 2016HondaAccordf3q
We buy Japanese cars because we assume they're going to be put together well, are reasonably priced, generally reliable, and operate less expensively than most other cars. And when the time comes to move on to a new model, we're also assured of strong resale values. The thing is, some Japanese cars don't come from Japan. Various Hondas are made in Ohio, while a few Toyotas are built in Kentucky. Is that a problem? No, because those companies (and other Japanese brands) have initiated manufacturing practices that echo the quality standards of their domestic factories. Most of the cars here are sedans, but a couple of minivans deserve a mention because they're well suited to the demands of family life.
2016 Honda Accord
Cars don't become best-sellers if they're merely okay. And the Accord has been a best-seller for years. Honda is respected for its engineering, but many people who buy an Accord do so for other reasons—such as the spacious and classy interior, the generous level of equipment, or the comfortable yet composed ride. The Accord can always be relied upon to get things right. Offering four-cylinder, V6 and hybrid versions, the Accord has been revised for 2016 with styling tweaks, a retuned suspension, new interior trim, and support for Apple CarPlay and Android Auto (methods of bringing smartphone-like operation to infotainment systems). It also offers the option of up-to-the-minute active safety features like forward collision warning. This generation scored five out of five stars in government crash tests.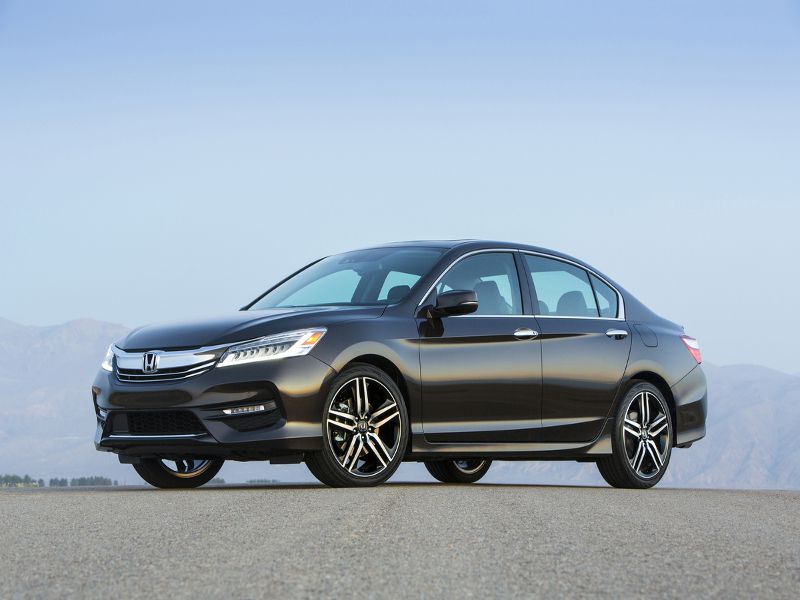 2016 Toyota Camry
It's easy to underestimate the Camry. It doesn't have a reputation for razor-sharp handling or breathtaking acceleration. It doesn't sport a design that's influenced the rest of the industry. But almost everyone's favorite midsize sedan is also a perfect way to get from here to wherever with zero fuss or drama. The only thing that's more dependable is the knowledge that the sun will set tonight and rise tomorrow morning. Rear passenger space is exceptionally generous, safety is exemplary, comfort levels — for seating and suspension — are high, and controls are simple to use. This is a car you don't have to think too much about. Just ponder several engine choices before buying: The 2.5 four-cylinder has adequate punch (178 horsepower) but only adequate consumption (28 mpg combined); the 3.5 V6 thrums smoothly to the tune of 268 horsepower and 25 mpg combined; or the hybrid model blends 200 horsepower with 43 mpg in the city, 39 mpg highway and 41 mpg combined.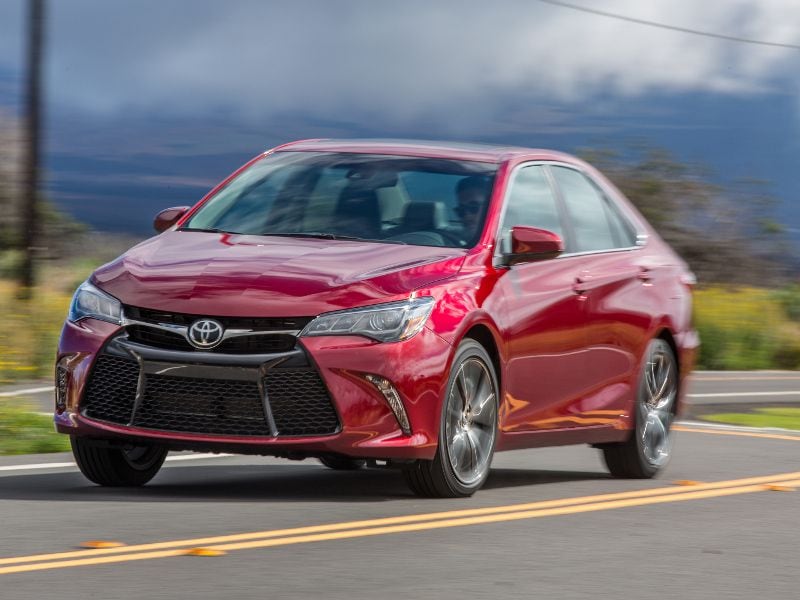 2016 Honda Odyssey
This latest generation debuted in the 2011 model year, and until then minivans were about as desirable as chickenpox. But the Odyssey breathed new life into the class (and sucked old dirt out, too; it came with an optional vacuum cleaner), and gave families just about everything they'd need to hit the open road.  Seating for up to eight, a chiller box, configurable seating, and rear entertainment systems are all available. A new trim for 2016, the SE, takes some of the equipment from the top-level Touring Elite model and offers it in a version that's more affordable for people with families big enough to warrant a set of wheels like this stylish Honda. Otherwise, the Odyssey in general has a ride that says "car" more than "van" and took five out of five stars in government crash tests.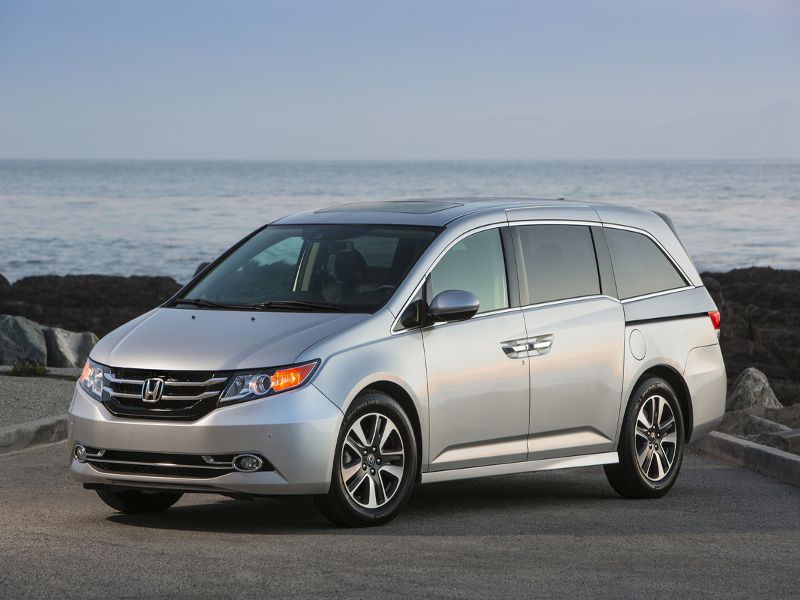 2016 Honda Fit
Not all families are big, and some might need a second car. The Fit fits both needs and won't bust the budget, but it will be worth its weight in usefulness. Need to bring something home from Ikea that's longer than the regular trunk area, but you still need to put a child seat in the back? Just fold the Fit's front passenger seat down, then fold the seat behind it, and there's plenty of cargo space on one side, plus room for Junior on the other. The Fit has four doors and a rear hatch for ideal access and practicality. It's quite an "upright" car, so strapping a youngster into a child seat doesn't require too much bending. There's enough room for rear-facing child seats, and even adults will be happy to sit in the back. In the engine bay is a 1.5-liter four-cylinder unit that achieves 35 mpg (automatic transmission), and the Fit is another five-star winner in crash tests.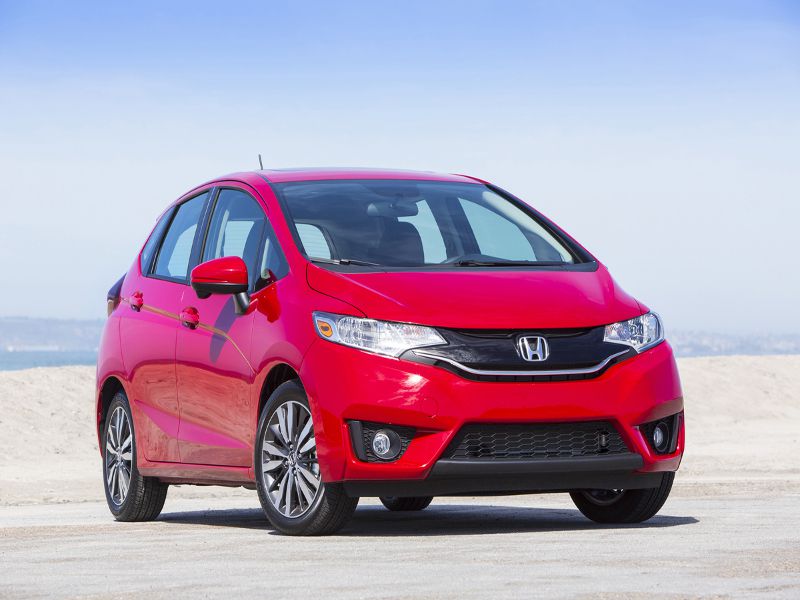 2016 Toyota Sienna
Despite being around since 2011 (although it was refreshed for 2015), the Sienna is still a solid choice as a family friend, ready to roll at all hours, providing space for up to eight occupants and offering all sorts of nooks and crannies for water bottles and gas station snacks. The Sienna's trump card is that it offers the option of all-wheel drive, a unique choice among minivans. Many parents will also love the Driver Easy Speak feature that picks up the driver's voice with a small microphone and then plays it to the rear quarters through the sound system. Another neat feature is the ability to fit an aftermarket wheelchair ramp and order a factory-fitted Auto Access Seat for the second row.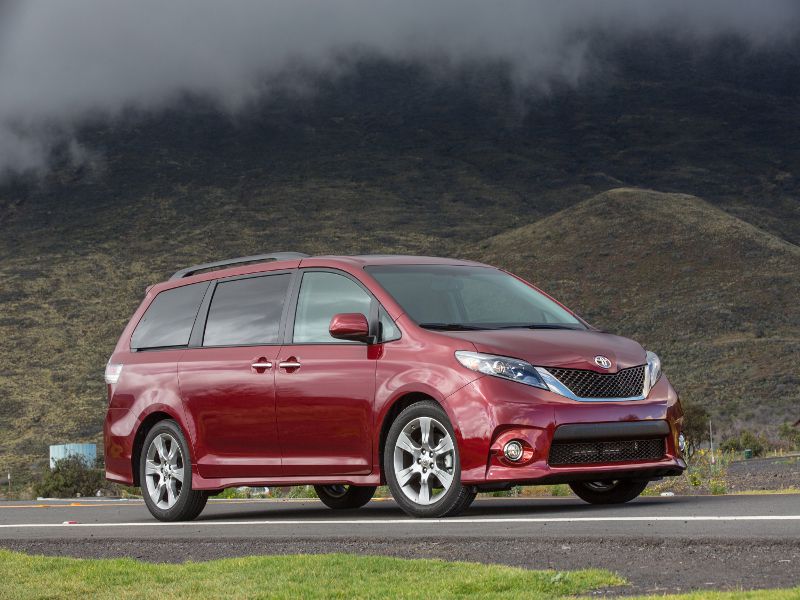 Photo by Toyota
2016 Mazda3
This isn't just one of the best Japanese cars for families, it's one of the best Japanese cars period. If a compact sedan or hatchback works for the school run, the weekly grocery shop and the ballet classes, then check out the Mazda3. Its ability to bring some thrills to an otherwise comfortable chassis is rare. Safety equipment is completely up to date, crash test scores are perfect, the interior is classy and well laid out, and there's even the option of hybrid-like regenerative brakes. Choose the 2.0-liter four-cylinder engine for 155 horsepower and 34 mpg combined (automatic transmission) or the 2.5 for 184 horsepower and 32 mpg combined (automatic transmission). Both feel pretty peppy. Another rarity in current mainstream compact cars is the option of a head-up display (in the Mazda3s Touring trim). Some cars do many things well, but this one does all of them well.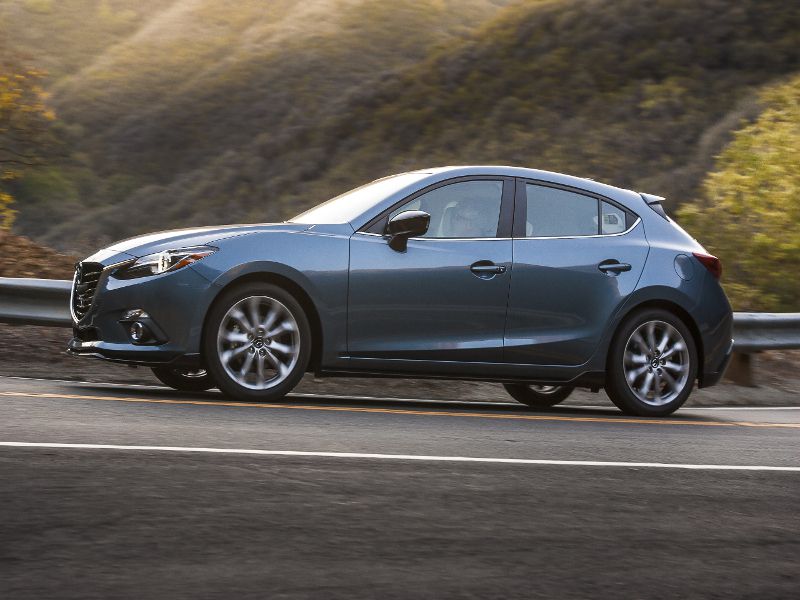 Photo by Mazda
2016 Mazda6
In some ways, the Mazda6 midsize sedan is a bit too nice for family duty. So let's assume this car is for parents and two kids who have grown sufficiently where they can be trusted not to crush a half-full juice box or throw around sticky candy. Not that the Mazda6 is a premium car as such; its pricing is still in line with rivals like the Accord and Camry, but Mazda has upped the game here with superior materials and designs. One more thing: The 6 is great to drive, arguably the most entertaining of the whole class. And just because someone becomes a parent, it doesn't mean saying farewell to driving fun until the kids leave for college. Propulsion comes from only one engine: a 2.5-liter four-cylinder that makes a healthy 184 horsepower yet returns 31 mpg combined (automatic transmission). Just make sure not to get the optional 19-inch wheels if ride comfort is a high priority.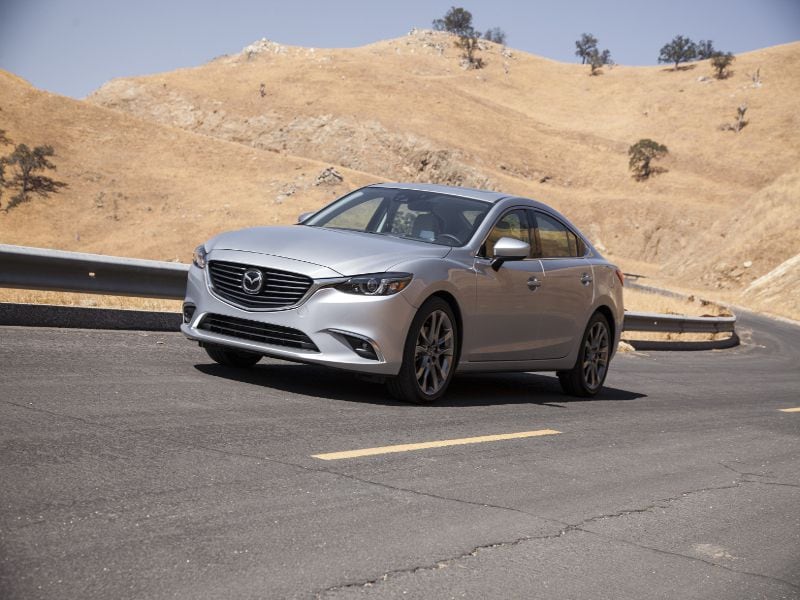 2016 Subaru Outback
It's close to being a crossover suv, especially because all-wheel drive is standard (so are roof rails), but the Outback is more of a raised midsize wagon. It was updated for 2015, so modern safety features like blind spot monitoring with rear cross-traffic alert and lane departure warning are now available. Other options include a power lift gate and adaptive cruise control. A 2.5-liter four-cylinder engine in typical Subaru flat-four configuration delivers 175 horsepower and returns 28 mpg combined — both unremarkable numbers. There's also the choice of a 3.6-liter flat six (in the R version) with 256 horsepower, but the penalty is 22 mpg combined. Visibility is a strong point. The front seats are notably comfortable. And there's a roomy 73.3 cubic feet of cargo space with the rear seats folded down (lever-operated). The Outback emerged from government crash tests with a top score of five stars. Ground clearance of 8.7 inches and a well-tuned suspension means it can handle a dirt road as confidently as any crossover of a similar size. For outdoorsy families, this could be the ideal choice.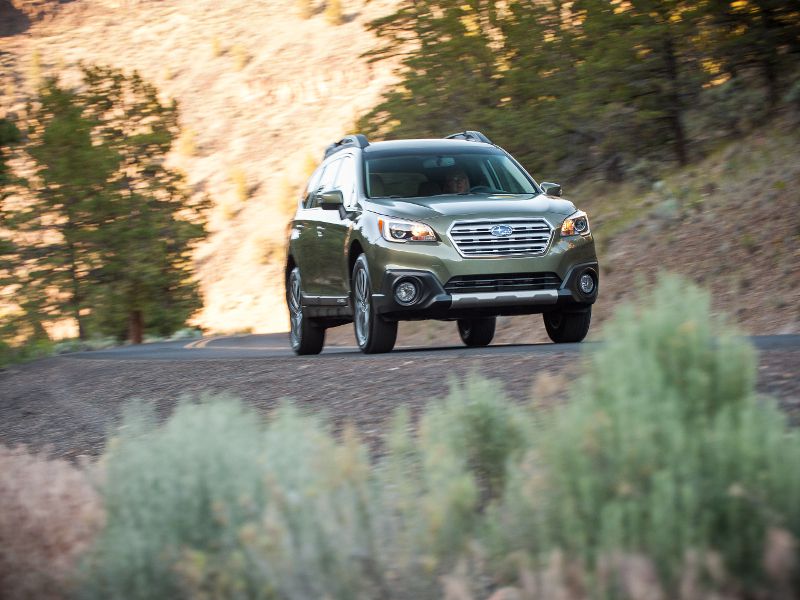 2016 Subaru Impreza
For a small-ish family living in an area that gets snow or just generally bad weather, the compact Impreza is perfect. It comes with all-wheel drive as standard. Subaru cars in general are tough customers, and the Impreza doesn't let the side down. Refreshed last year, it's available as a sedan but also makes great sense in practical hatchback form. Motivation comes from a 2.0-liter flat four making a modest 148 horsepowr. The upside is its 31 mpg combined (automatic transmission), which is great for a vehicle with all-wheel drive. The rest of the car is comparatively spacious for people and luggage alike, advanced safety features (forward collision mitigation with automatic braking, lane departure warning, etc.) are now available, and the Impreza has aced its crash tests.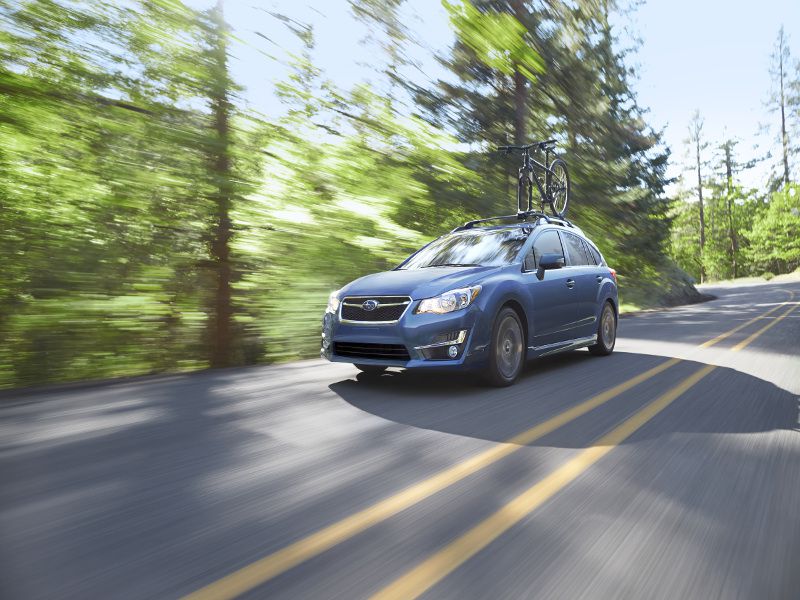 2016 Subaru Legacy
There are some parts of the United States where almost every other car seems to be a Subaru. With all-wheel drive as standard in most models, it's no wonder this company is a snow belt favorite. The midsize sedan offering, the Legacy, doesn't go for the "look at me" styling of something like a Hyundai Sonata. Instead, it's a straightforward car that offers a sure-footed feel even when the weather turns nasty, plus reassurance from excellent crash test results and comfort from plenty of space for an average family. Once everyone is on board, the 175-horsepower, 2.5-liter four-cylinder engine might feel underpowered. In which case, the 256-horsepower six-cylinder version could work, as long as 23 mpg combined is bearable. At least the 2.5 can achieve 30 mpg combined. Like its Subaru siblings, visibility and comfort are positives, and an array of advanced safety features is available.