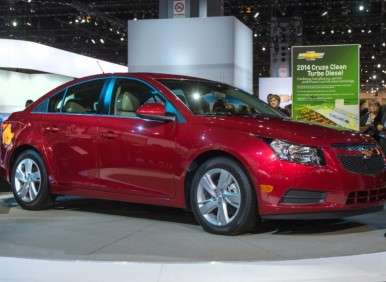 It's true, when the 2014 Chevrolet Cruze Clean Turbo Diesel goes on sale later this year it will offer the highest highway fuel-economy rating of any fuel-only car in America: 46 mpg. That's 4 mpg higher than the original Cruze, which currently sets the pace with the highest such mark of any gasoline-only car in the country.
"We harnessed generations of diesel expertise to adapt our world-class global engine for the North American market," said Gary Altman, chief engineer, Chevrolet Cruze Diesel. "The Cruze Diesel is the best diesel passenger car out there. Chevrolet is redefining the meaning of great fuel economy with this car."
Of course, more important is how the 2014 Chevy Cruze Clean Turbo Diesel stacks up against the competition, and in this case, the answer is "Very well." Its top rival will no doubt be the VW Jetta TDI, a car that does start with a lower price. However, per Chevrolet: "The Chevrolet Cruze Diesel is a better value than a similarly equipped VW Jetta TDI automatic.  Compared with Jetta, the Cruze Diesel offers standard equipment including the Chevrolet MyLink infotainment system, larger 17-inch alloy wheels, leather-appointed seating, a longer five-year 100,000-mile powertrain limited warranty, and a two-year maintenance plan."
The 2014 Chevrolet Cruze Clean Turbo Diesel also bests the Jetta TDI where it matters mechanically. The Bowtie brand's entry boasts a highway fuel-efficiency grade that's 4 mpg higher than that of the Volkswagen, while also producing 148 hp and 258 lb.-ft. of torque (and up to 280 lb.-ft. in short bursts thanks to an overboost function). The Jetta, on the other hand, offers outputs of 140 hp/236 lb.-ft.
The diesel-curious can begin checking out the 2014 Chevy Cruze Clean Turbo in "certain cities" beginning this spring, with the car scheduled to roll out nationally in the fall.