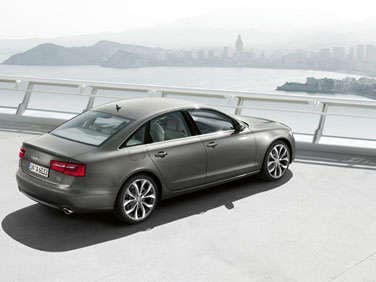 All-wheel drive has evolved from unusual option to almost-necessity in the northern parts of the United States, where slick winter roads are best tamed by sending engine output to each wheel rather than simply two at the front or two at the back.  Warmer climates, too, appreciate the additional grip provided by all-wheel drive, especially when it comes to taming torque steer in more powerful automobiles, or when these types of systems are used to improve cornering capability.
Let's take a quick look at 10 new sedans that offer all-wheel drive.
01. 2012 Subaru Legacy
It seems fitting to start off the list with a vehicle manufactured by the brand that has made all-wheel drive the centerpiece of its product portfolio in America.  With only one non-all-wheel drive model in its lineup, Subaru has hitched its star to the four-wheel traction concept, and the 2012 Subaru Legacy represents its flagship sedan.  The mid-size Subaru Legacy is available with three different engine options: a 2.5-liter, 170 horsepower unit, a turbocharged edition of that same mill that is good for 256 ponies, and a 3.6-liter, six-cylinder motor that generates 265 horsepower and 258 lb-ft of torque.  Transmission choices for the Legacy - which is available exclusively with all-wheel drive - include a six-speed manual, a five-speed automatic, and a six-speed automatic.
02. 2012 Lincoln MKS
The 2012 Lincoln MKS represents the top-of-the-line full-size sedan for the luxury automaker, and it is available in two different all-wheel drive editions.  The MKS features the option of all-wheel drive when ordered with its base, 275 horsepower 3.7-liter V-6, which is managed by a six-speed automatic transmission.  All-wheel drive becomes standard, however, when the MKS is found in the EcoBoost model, which swaps in a twin-turbo, 3.5-liter V-6 that provides 355 horsepower and 350 lb-ft of torque.  Also paired with a six-speed autobox, the MKS EcoBoost is in many ways a premium take on the Taurus SHO high performance sedan, which shares the same platform and an almost identical drivetrain.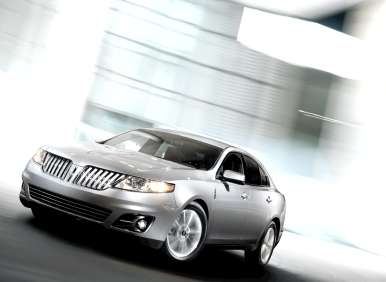 03. 2012 Infiniti G Sedan
The 2012 Infiniti G Sedan is known for its handling prowess, which makes it no surprise that the vehicle's optional Intelligent all-wheel drive system is designed to maintain the automobile's rear-wheel drive dynamics.  Most of the time, the G Sedan's all-wheel drive system maintains an 80 percent rear / 20 percent front torque split, but when wheel spin is detected (or when the Snow setting is selected by the driver) it can automatically shunt engine power to the appropriate axle.  Available exclusively with the G Sedan's 328 horsepower, 3.7-liter V-6, the all-wheel drive system is teamed with a seven-speed automatic transmission.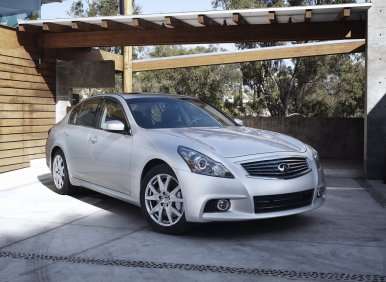 04. 2012 Chrysler 300
The 2012 Chrysler 300 is a full-size sedan that makes all-wheel drive available across a wide range of different configurations.  Stepping up from the base model to the Limited trim allows buyers to add optional all-wheel drive alongside the Chrysler 300's 3.6-liter, 292 horsepower V-6.  If more grunt is desired, that's not a problem either, as the Chrysler 300C and 300S can be had with both a 5.7-liter, 363 horsepower V-8 engine and available all-wheel drive.  This arrangement makes the rear-wheel drive sedan a more appealing choice for snow belt dwellers.  A five-speed automatic transmission handles the gear shifting duties for both all-wheel drive setups.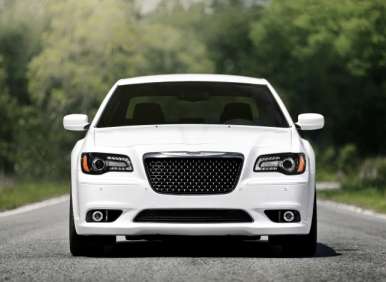 05. 2012 BMW 5 Series
The 2012 BMW 5 Series is another sporty sedan that makes all-wheel drive available across a broad swathe of its model lineup.  The mid-size BMW 5 Series identifies all-wheel drive models with the 'xDrive' tag, and the fun begins with the 240 horsepower, 2.0-liter turbo four-cylinder engine found under the hood of the base BMW 528i xDrive.  The automobile is also available in 535i xDrive (300 horsepower, turbocharged 3.0-liter six-cylinder) and 550i xDrive (400 horsepower, turbocharged 4.4-liter V-8) editions, and each of these vehicles is matched with an eight-speed automatic transmission that attempts to balance fuel economy with performance.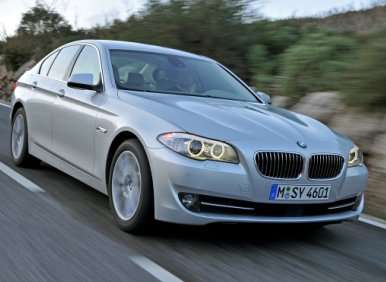 06. 2011 Cadillac STS
The 2011 Cadillac STS might no longer be in production but inventory is still sitting on dealer lots across the country - and some of those models are outfitted with the full-size luxury sedan's all-wheel drive option. The Cadillac STS is a large but athletic four-door automobile that features a 3.6-liter V-6 that generates 3402 horsepower and 272 lb-ft of torque as its only engine choice for 2011.  A six-speed automatic transmission is par for the course, and when flogged the STS (which is also available with bigger brakes and sticky rubber when ordered with the Performance Handling package) can reach 60-mph in just 6.5 seconds.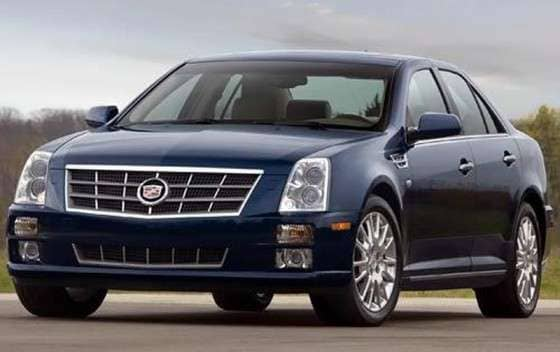 07. 2012 Audi A6
The 2012 Audi A6 makes a big splash in the mid-size premium segment thanks to a heavy dose of high end style both inside and out.  The Audi A6 features a pair of engines in its lineup, but only one of these can be matched with the brand's famed quattro all-wheel drive system.  The 3.0-liter, supercharged V-6 engine that is found between the front fenders of the A6 3.0T grinds out 310 horsepower and 325 lb-ft of torque, and quattro is included with this model as standard equipment.  An eight-speed automatic is the only available transmission with the six-cylinder A6.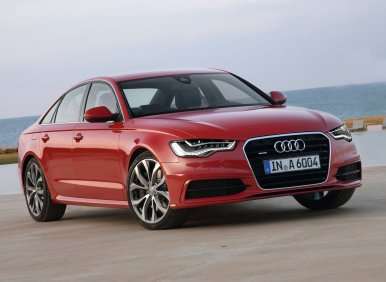 08. 2012 Acura TL
The 2012 Acura TL is a roomy mid-size luxury car that benefits from the installation of the company's Super Handling All-Wheel Drive system when ordered in its top trim level.  SH-AWD is one of the more advanced all-wheel drive setups on the market, as it is capable of shuttling torque from one wheel to another while cornering in order to improve both stability and exit speed - in addition to offering excellent foul weather traction.  The Actual TL SH-AWD model comes with a 3.7-liter V-6 engine that puts out 305 horsepower and 273 lb-ft of torque, and unlike many of the automobiles on this list it can be had with the choice of either a six-speed manual or a six-speed automatic transmission.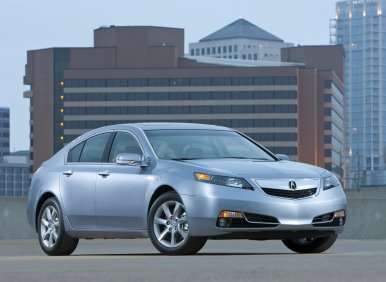 09. 2012 Volkswagen CC
The 2012 Volkswagen CC is another mid-size four-door with a premium bent that provides those who select its most powerful and most plush model with standard all-wheel drive.  The Volkswagen CC VR6 4Motion is a four-passenger 'coupe' offering a unique 2+2 interior design, and it comes with a 280 horsepower, 3.6-liter V-6 engine that is also capable of generating 265 lb-ft of torque.  "4Motion" is VW-speak for all-wheel drive, and the vehicle is outfitted with a six-speed automatic transmission and can hit 60-mph in a rapid 6.3 seconds.  Steering wheel-mounted paddle shifters that provide manual control over gear shifts add an extra degree of sportiness to the CC VR6 4Motion.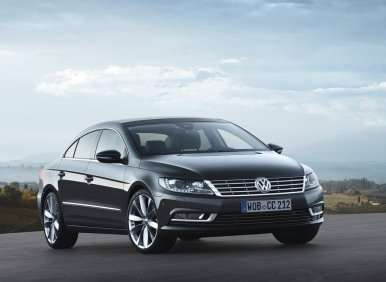 10. 2012 Buick LaCrosse
The 2012 Buick LaCrosse is a large mid-size sedan that currently serves as the standard bearer in the Buick lineup.  The Buick LaCrosse is available with a number of different drivetrain configurations, but buyers who are interested in piloting an all-wheel drive edition must select the vehicle's optional 3.6-liter V-6.  A power bump for the current model year sees this motor producing an appreciable 303 horsepower and 264 lb-ft of torque, shifted via a six-speed automatic transmission.  Despite the added weight and complexity of all-wheel drive, the LaCrosse manages to post fuel economy of 26-mpg on the highway, which is just one mile per gallon lower than the front-wheel drive version of the car.