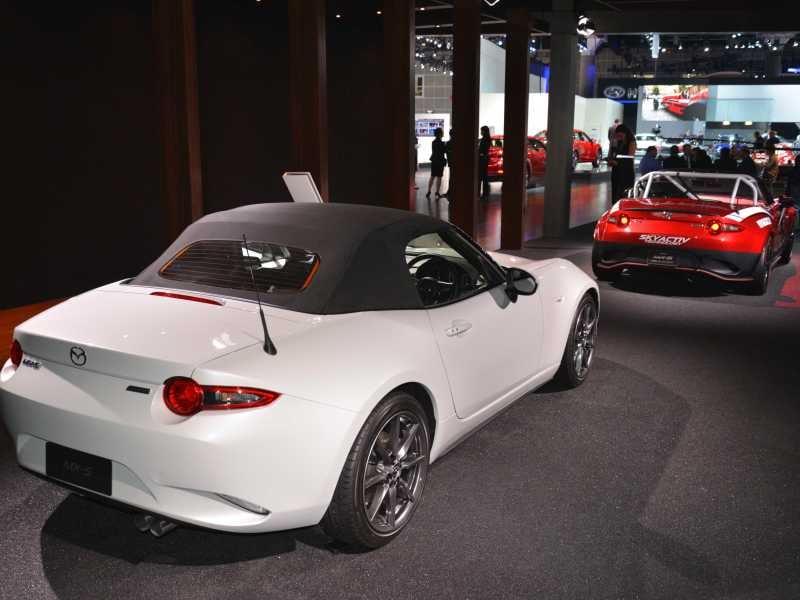 2016 mazda mx5 miata
Microsoft's Xbox marks the spot of a new promotional effort for the re-imagined 2016 Mazda MX-5 Miata, with the Zoom-zoom brand's hubs for Xbox 360 and Xbox One now offering a full 360-degreee, interactive walkaround for the next-gen roadster. And with a fresh and expressive design being a focal point of the car, there's plenty to see.
For example, although the new look for the 2016 Mazda MX-5 Miata does rely on the same "KODO--Soul of Motion" theme used throughout the next-gen Mazda lineup, the roadster's shape is unique in its embrace of the open-air driving experience. The result, according to the brand, is that the 2016 Mazda MX-5 Miata looks as if it were "firmly gripping the road surface" yet while remaining "ready to move instantly in any direction."
Also, with the 2016 Mazda MX-5 Miata making a noticeable return to its roots in terms of size, the Mazda brand is complementing its digital tour of the new version with an Xbox marketing execution that involves the original. More specifically, it's a contest that allows Mazda maniacs to design their own livery for the first-generation MX-5 that appears in the popular Forza Horizon 2 "open world" racing game.
Explained Russell Wager, vice president of marketing for Mazda North American Operations: "In addition to shining the spotlight on the 2016 Mazda MX-5 through the partnership, we also wanted to give Forza fans a way to engage and pick up some cool prizes and see their work featured in the game. Fans of the Mazda MX-5 are some of the most passionate enthusiasts out there and we look forward to seeing the creativity that comes from this contest."
Folks can submit their designs through Jan. 4, 2015, at 11:59 p.m. (EST), after which Mazda will fly two finalists to the (Mazda-sponsored) South by Southwest festival in Austin, Texas. There, following a "final design showdown," a grand-prize winner will be chosen and receive an entertainment package featuring a 55-inch curved-screen TV, a premium audio system, and an Xbox One Kinnect gaming console with a MadCatz Racing Wheel.
As for that 2016 Mazda MX-5 Miata, it's expected to debut in time for the 2015 convertible season, at a price that's still TBD.