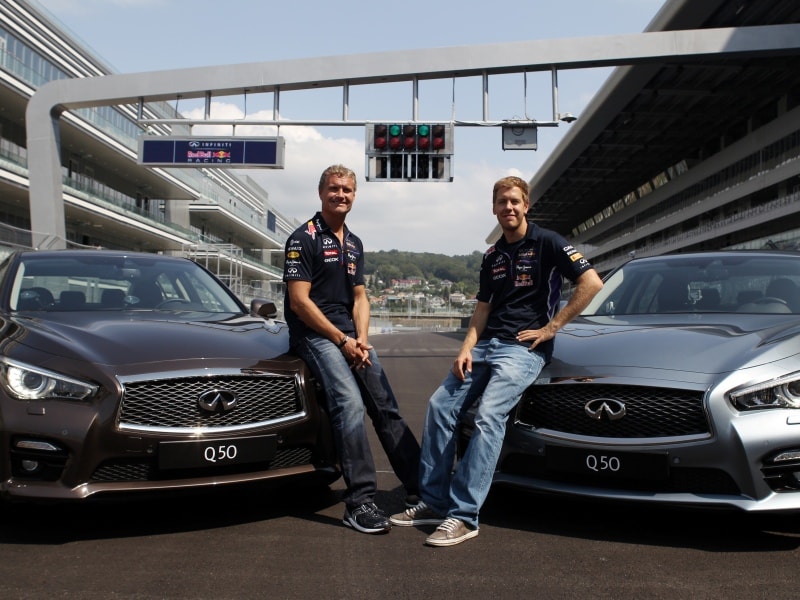 infiniti
If your fantasy is having four-time Formula 1 driving champion Sebastien Vettel chauffer you around downtown Austin in the 2014 Infiniti Q50 Eau Rouge prototype, it's time to put on your best "Infiniti race face" and try to make that dream come true. 
Just follow Infiniti USA on Twitter or Instagram, then use the hashtag #InfinitiRaceFace to post an appropriately race-y self-portrait, which will be carefully evaluated by the brand's panel of experts. The concept here, per Infiniti, is to capture "the excitement and adrenaline that represents the feeling of experiencing a Formula 1 car at speed." And remember: "Infiniti Race Faces are not ordinary. They embody the focus and determination it takes to pilot a Formula 1 car, the enjoyment that happens after hitting each apex flawlessly or executing the perfect lap, and the physical effects of a 180-mph wind hitting your face."
Folks have until October 8, 2014, to submit a picture for the grand prize drive with Vettel, who will no doubt give the winner a chance to see how well that imagined "race face" matches reality. True, it won't be in in the champ's RB10 racecar, but the chariot of choice—the 2014 Infiniti Q50 Eau Rouge—is plenty exciting itself.
Built on the foundation of the 2014 Infiniti Q50 sport sedan, the Eau Rouge leverages the brand's partnership with the Infiniti Red Bull Racing Formula 1 team to showcase 560 hp worth of twin-turbo V6, carbon-fiber body pieces, custom Recaro sport seats and a custom rouge paint job set off by 21-inch forged-alloy wheels and black-chrome accents.
Also, the thrill ride in the 2014 Infiniti Q50 Eau Rouge will be just part of a grand-prize package celebrating the 2014 Formula 1 United States Grand Prix, scheduled for November 2. The winner will attend an exclusive Infiniti pre-race event on October 29, when the ride-along also will occur, then get to see the race as well.
For more information, check out www.InfinitiUSA.com/RaceFace/, and note that pictures can be submitted through November 2 to win other prizes.