Quality used vehicles are in plentiful supply - and at great prices.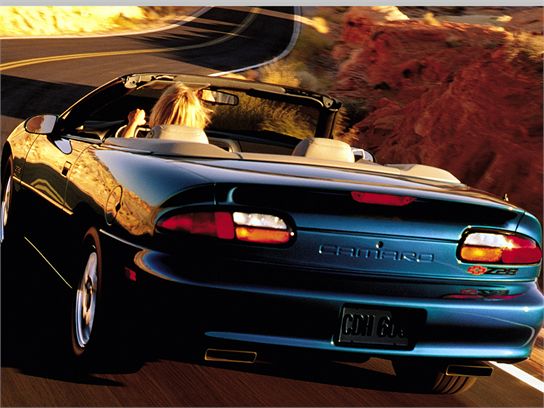 The old man looked at me, grimaced, looked sideways at the truck sitting in his garage, and uttered the words I had been hoping to hear. "Okay, $3000, but only because I like you, young man. But I need a check tonight, 'cause I got someone else coming to look at it tomorrow morning." I smiled inside but kept a straight poker face. "Can I borrow a pen?" I wrote that check fast, grabbed the pink slip, keys, shook his hand and hit the road. Three grand. It was $500 more than I had wanted to pay, and the color - yellow - wasn't ideal, but that was okay -- I had bought a used Chevrolet Luv truck, with camper shell and CB radio. It was almost exactly what I wanted. I had shopped for weeks, cruising used car lots and calling classifieds, never finding anything close at the price I was able to pay. So when I found the Chevy, I didn't hesitate - it was a matter of negotiating the price, and agreeing that if anything were wrong when I had it inspected, the old man would pay for it. He was also willing to pay for any repairs that occurred the first week that I owned the vehicle - provided it wasn't driver-related. As it turns out, my diligent footwork paid off. For the next four years, that truck took me up and down the state of California, driving to beaches and campsites from Morro to Mission with nary a problem or even the slightest headache. It was stolen. And found. I hauled a two-man sailboat with it. It carried people, rocks, lumber and dogs. When I finally traded it in, that Luv had no more love to give. I drove it to the dealership, and, fired up with the idea of driving something new and shiny, plunked down my cash on a brand new car. It didn't take long for me to wish I had my old truck back. The new car was cramped, expensive and, once the new car smell faded, decidedly uncool compared to my old truck. As it turns out, new cars aren't necessarily better than used. New cars break; sometimes the new glow fades completely when you live with it for just a week or two. With used vehicles, you get what you pay for. The trick is to make sure you know exactly what it is you're paying for, and that's getting easier than ever, thanks to the Internet. There's a tremendous amount of information available on third-party and government sites. Indeed, even the task of locating a car is simple, thanks to online classifieds and used vehicle inventory. Today, you can research, locate and make needed arrangements from the comfort of home. According to Russell Bartlett, director of product development, the Internet takes away the fear factor involved in purchasing a used vehicle. "Online, you can look at the car you're interested in and do your research," said Bartlett. "You can almost touch the car before you ever contact the owner." Bartlett recommends that used vehicle shoppers keep the following tips in mind when browsing online:
Make sure there's an actual photo of the vehicle. Generic photos are okay, but you should be able to view the actual condition of the vehicle before contacting the owner.
Purchase a vehicle history report.
Make sure the VIN number is listed.
Make sure the vehicle is certified. According to Bartlett, a certified used vehicle will have far fewer troubles than a vehicle that's uncertified. A vehicle is certified when technicians check the condition of specific mechanical elements and verify that they operate normally.
Check reliability ratings
Check crash test ratings
Take advantage of category searches online. If you're not quite sure what type of vehicle you want, these types of searches can quickly whittle down the number of potential vehicles.
As they browse, vehicle shoppers will find a plentiful supply of late-model used cars. According to Autobytel's Consumer Choice data, among the most popular used vehicles during the first quarter of 2003 were the 2002 Ford Explorer and the 2000 Honda Accord. This indicates that the supply of recently purchased used vehicles is growing, which is great news for car shoppers. "This is a great time to buy a used vehicle," said Bartlett. "Residual values are dropping, there are many late-model vehicles on dealership lots. It gives car shoppers a choice between buying new, or moving up in vehicle class or options, and buying slightly used." For example, shoppers looking to purchase a Ford Explorer can choose between new trim levels and model years. Consider: the MSRP for a 2003 Explorer XLT 4x4, with a 4.0 liter V6 engine, is approximately $31,000. You can purchase the 2002 version for up to $6,000 less. A 2000 Honda Accord EX sedan, with an automatic transmission and four-cylinder engine, goes for around $17,000. The new 2003 version is listed at $22,400. Vehicle changes and improvements notwithstanding, the price difference reflects the value shoppers can find in late-model used vehicles. That value is steadily increasing, fueled by the recent zero percent/zero down new car discount phenomenon. As people trade-in 1999 - 2002 model-year vehicles for zero/zero deals on new vehicles, the pool of quality used cars grows. And as it grows, prices drop as residuals take a beating. It adds up to a very strong buyer's market for people interested in finding a vehicle - new or used -- that reaps the most value from their vehicle purchase dollars. by Brian Chee Photo credit: Automakers