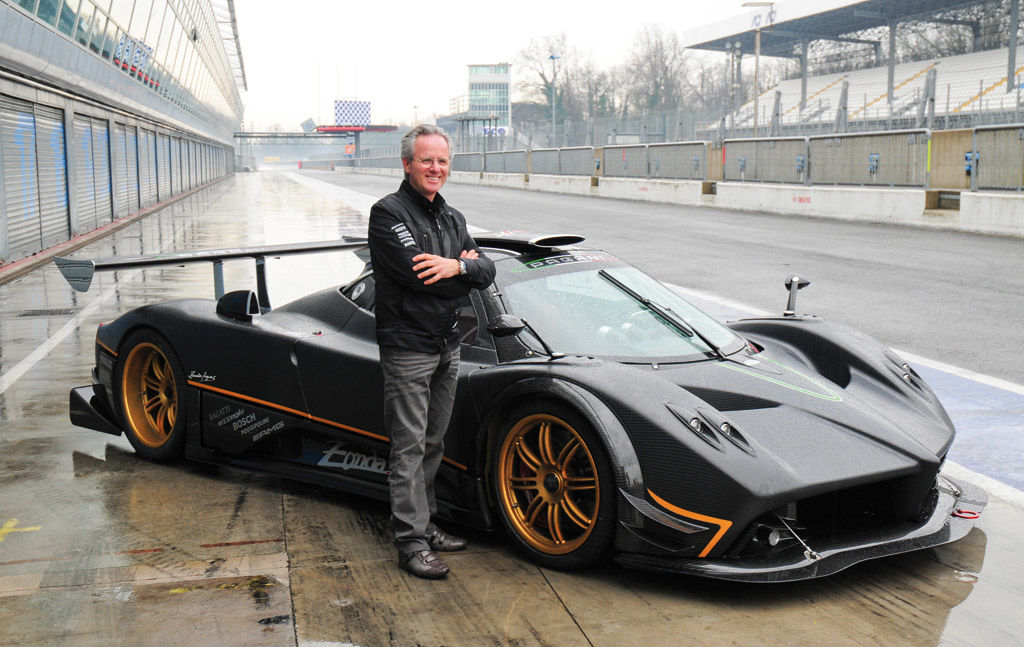 Horacio Pagani is the founder of Pagani Automobili, the company responsible for both the Zonda and Huayra supercars. Born in Argentina in 1955, he studied Industrial Design at the University of La Plata and Mechanical Engineering at the University of Rosario. During the last half of the 1970s and early part of the 1980s he worked on various projects, including furniture design, motor-home and camper design and construction, and a home-built single-seat F2 racecar.
In 1983 Pagani moved to Italy, and by 1984 he was working with Lamborghini on the design and engineering of various versions of the Countach and Diablo. He was also involved with the Lamborghini Formula 1 project from 1988 to 1993. While at Lamborghini he tried to convince the company to buy an autoclave so that they could produce their own composite parts in house. When they refused he bought his own, and in 1991 founded Modena Design, a company specializing in the design and construction of composite components.
In 1992 Pagani was founded, and in 1993 Horacio started working on what would become the Zonda. During the remainder of the 1990s he continued to work with Lamborghini as well as with Nissan, Aprilia, Renault, Ferrari, and Dallara, while continuing design on the Zonda. In 1999 the Zonda C12 was publicly unveiled at the Geneva Motor Show. Powered by a 6.0l Mercedes-Benz V12 making 389 HP, the car was capable of 0-60 mph in around 4.2 seconds. The exquisite interior and exterior details of the car made it an instant pin-up model. The C12 was followed by the Zonda S 7.0 in 2000 with a 7.0l AMG engine making 540 HP, the Zonda S 7.3 in 2002 with a 7.3l AMG V12 making 547 HP, and the Zonda Roadster S 7.3 in 2003. In 2005 the Zonda F was unveiled, named for Formula 1 driver Juan Manuel Fangio. This car featured tweaks to the 7.3l AMG engine to give it 594 HP as well aerodynamic improvements and optional carbon-ceramic brakes.
Numerous other versions of the Zonda followed, but in 2011 the all-new Pagani Huayra officially made it's world premiere. The Huayra is powered by a twin-turbo 6.0l AMG V12 that puts out 720 HP and should be able to accelerate the car to 60 mph in around 3.3 seconds. The car uses a 7-speed single-clutch automated manual transmission and active aerodynamics that help it through the corners by using individually controlled flaps. The car weighs in at approximately 3000 lbs, and has a top speed of around 230 mph. Pagani is a small company, and each car is practically hand made. As is typical for a car designed and built by Horacio Pagani, every detail has been thought through - for example, where possible every bolt is titanium, and branded with the Pagani logo.