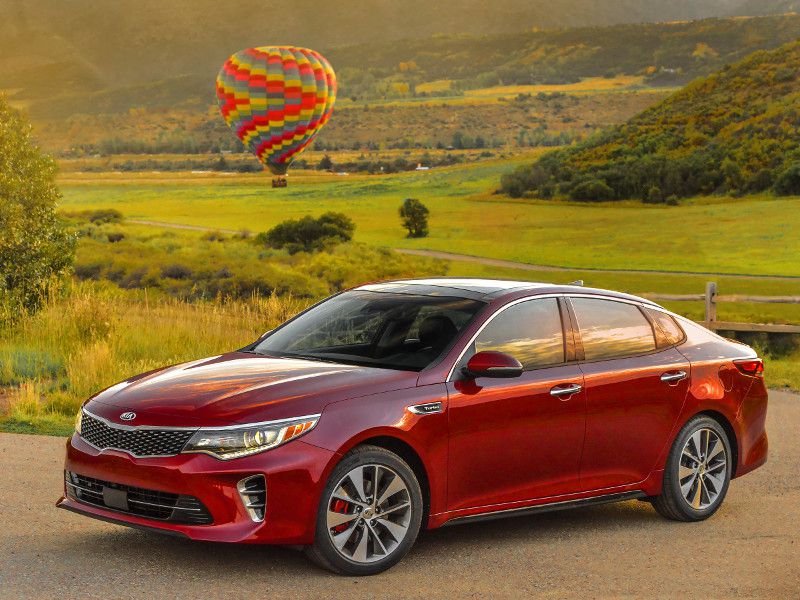 2018 KIA Optima red side ・ Photo by Kia
When it comes to shopping for mainstream midsize sedans, we're often asked: "Which is best, the 2018 Kia Optima or the 2018 Ford Fusion?" Well, today we'll answer that question by taking a close look at two of the most stylish members of an important vehicle segment. Remember, even though SUVs and trucks have become more popular for U.S. customers, people continue to purchase tens of thousands of midsize sedans each month. The Fusion and Optima each bring their own unique advantages, too. For the Optima, this includes a major increase in standard technology for 2018. The Fusion carries over for the 2018 model year, yet it still has exclusive benefits in terms of performance, and both cars offer hybrid and plug-in hybrid powertrains. With that in mind, let's find what else they offer before we reach any final decisions.
Exterior Design and Content
As mentioned, 2018 Kia Optima and 2018 Ford Fusion each feature attractive exterior designs. We especially like the sporty front end of the Fusion, with its aggressive grille, swept-back headlights, and sculpted hood. That said, we actually prefer the overall package with the Optima, thanks to its more modern and sophisticated appearance. The Optima also introduces upscale details like fender-vent accents behind the front wheels.
As far as content goes, the Fusion is available with 19-inch wheels and standard blind-spot mirrors, both of which are missing from the Optima. Both vehicles showcase LED headlights and other LED exterior lighting, but again, we feel the Optima takes things to the next level with a larger panoramic sunroof, power-folding mirrors, and a handsfree trunk that customers with packages will certainly enjoy.
Optima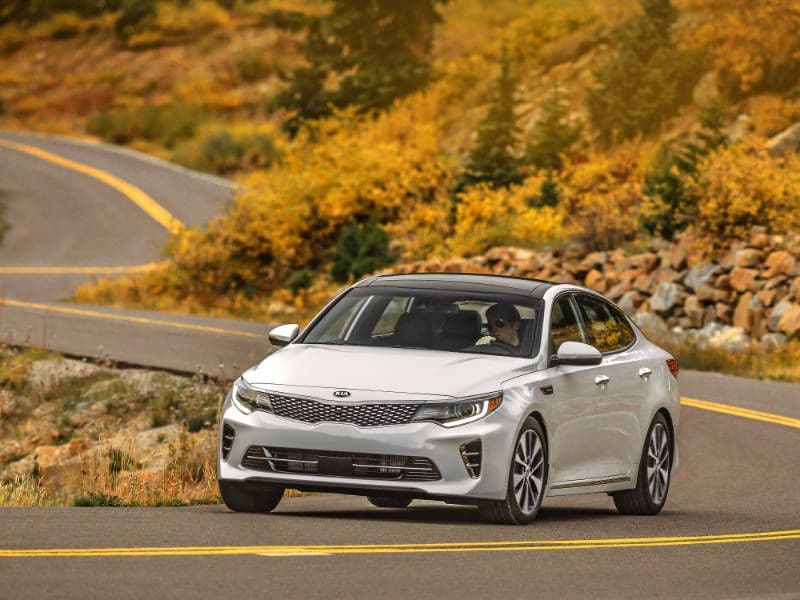 Photo by Kia
Hybrid Efficiency
With each rival providing very similar hybrid and plug-in hybrid powertrains, this category is just about too close to call. Consider: the 2018 Kia Optima and 2018 Ford Fusion Hybrids earn the exact same EPA ratings for combined travel, although with slightly different details. The Optima Hybrid is listed at 39 mpg city/46 mpg highway/42 mpg combined, while the Fusion Hybrid puts up an EPA line of 43/41/46. As for output, the Kia system produces 192 horsepower and the Fusion up to 195.
On the plug-in side of the picture, the Optima offers 29 miles of all-electric driving at 103 MPGe (combined) and 581 miles of gas-powered hybrid driving at 40 mpg (combined). The Fusion plug-in? It has a lower EV range and less efficient electric powertrain, at 21 miles and 97 MPGe (combined.) But it also has a higher 42-mpg rating for combined travel in gas-hybrid mode, along with the same overall driving range of 610 miles. 
This category is a tie with no clear winner.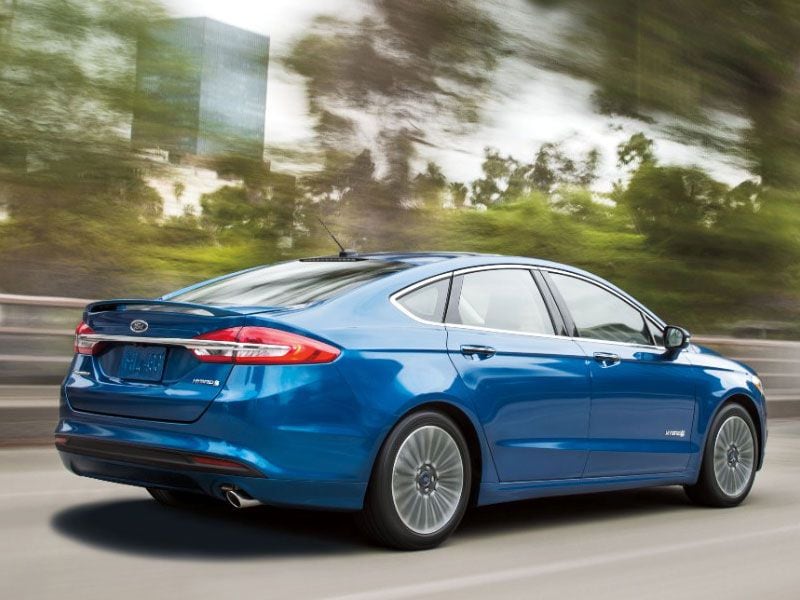 Photo by Ford
Infotainment Technology
The 2018 Kia Optima is a clear leader in standard infotainment technology. In fact, with standard Android Auto and Apple CarPlay, the Optima serves up features some premium vehicles don't offer at all. The Optima's six standard audio speakers are also two more than you get with the entry-level Fusion, which only has a 4.2-inch display as standard. Nor does the Fusion match the Optima with standard HD Radio or SiriusXM Satellite Radio.
The Fusion does catch up to the Optima in its higher trims, and customers can order eight-inch touchscreens and navigation systems for each of these rivals. Additionally, Kia and Ford turn to premium audio partners for their top sound systems. Ford's Sony setup leverages more speakers (with 12,) but Kia's 10-speaker Harman Kardon system is much more powerful. Optima owners can pump up the volume with 630 watts; the Fusion makes do with 390.
Optima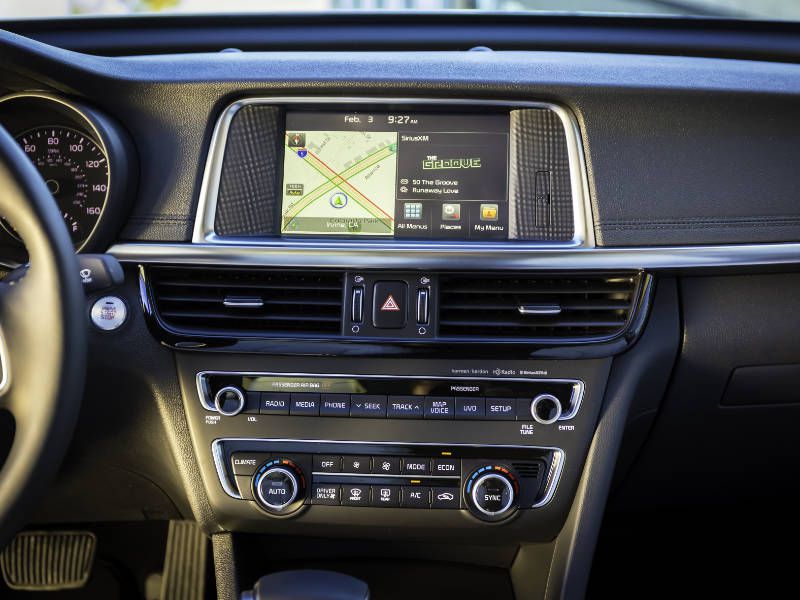 Photo by Kia
Safety Ratings and Technology
Again indicating how competitive this segment is, the 2018 Kia Optima and 2018 Ford Fusion are near equal for safety ratings and technology. For example, both cars are equipped with standard rearview cameras and can supply safety measures such as automatic emergency braking, adaptive cruise control, lane-keeping assistance, blind-spot systems, and more. The Optima and Fusion also earn Top Safety Pick ratings from the Insurance Institute for Highway Saftey (IIHS) and 5-Star Overall Safety Scores from the National Highway Traffic Safety Administration (NHTSA.)
Optima-only benefits start with Five-Stars in all NHTSA safety tests, not just a 5-Star Overall Score, and extend to a "Good" score in the IIHS headlight test and an "Acceptable" grade for child-seat use. The Fusion counters with a "Good" rating from the IIHS for front-passenger protection in small-overlap front impacts; the Optima hasn't gone through that test yet. The Fusion further stands out with an available automatic parking-assistance system that's missing from the Optima.
Another tie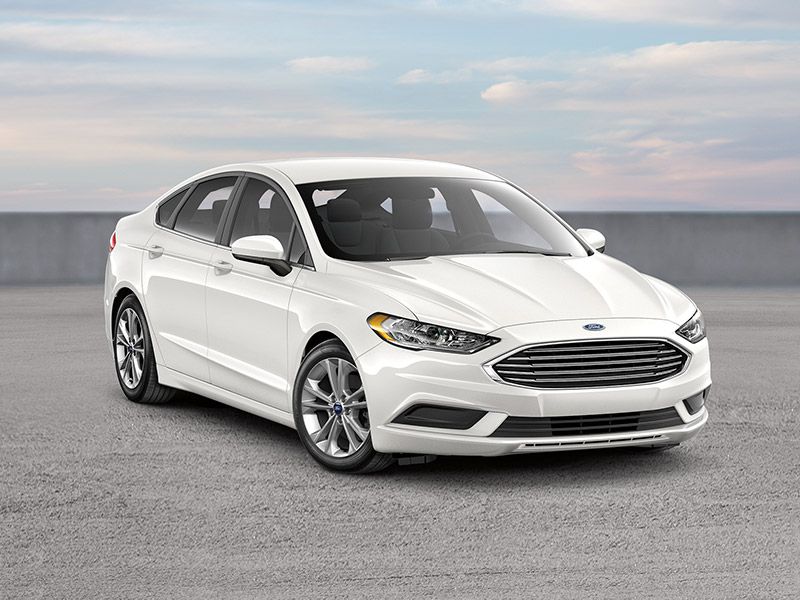 Photo by Ford
Interior Space
It may seem counterintuitive, but despite having slightly less total passenger volume than the 2018 Kia Optima, the 2018 Ford Fusion has a significant advantage in a key measure of cabin space.
Here's the deal: with 104.8 cubic feet of cabin space, the Optima provides 2 extra cubic feet as compared to the Fusion. This includes an additional 1.2 inches of front headroom and .6 more inches of front-seat legroom. The Optima and Fusion also check in with 37.8 inches of rear-seat headroom. However, if you need to maximize back-seat comfort, the Fusion sets the pace with 38.3 inches of second-row legroom. That's a relatively lengthy 2.7 inches beyond what you get in the Optima, and a surprising 4.2 inches more than in a Mercedes-Benz S-Class flagship sedan.
Fusion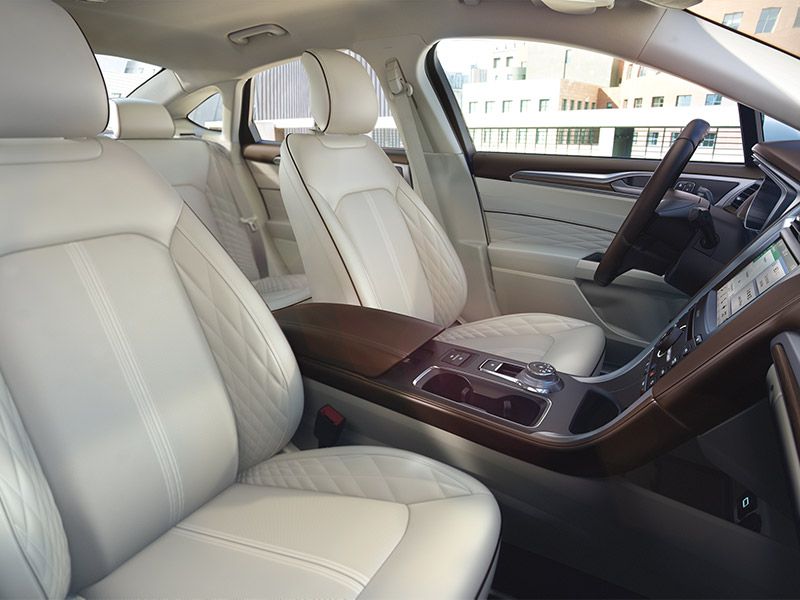 Photo by Ford
Performance
The Blue Oval definitely takes the checkered flag for performance. Sure, the 2018 Kia Optima is available with a 2.0-liter turbocharged engine that can deliver 245 horsepower and 260 pound-feet of torque. But the 2018 Ford Fusion features a full-on sport sedan. The aptly named V6 Sport trim is equipped with a 2.7-liter EcoBoost engine that cranks out 325 horsepower and 380 pound-feet of torque. This high-performer also handles the corners with continuously controlled damping and intelligent all-wheel drive. Moreover, all that is standard in the Fusion V6 Sport but completely unavailable from the Optima.
Another Ford exclusive is a pothole-detection system. It leverages the car's high-tech suspension so that as soon as a wheel starts falling into a pothole, the shock absorbers automatically adjust to reduce the impact.
Fusion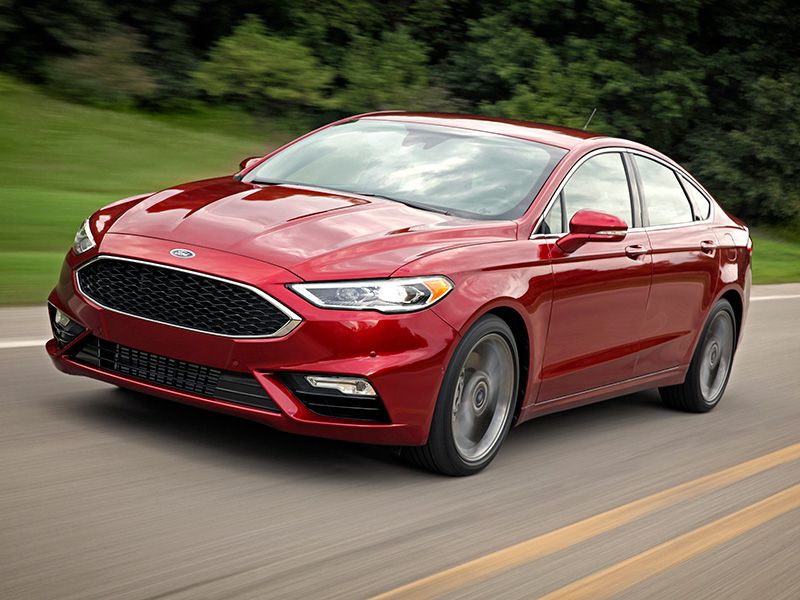 Photo by Ford
Luxury Features
The range-topping trim levels each push the envelope for mainstream luxury features with heated and ventilated front seats, heated and leather-wrapped steering wheels, and leather upholstery are merely a few of the uplevel cues supplied by 2018 Ford Fusion and 2018 Kia Optima. The Optima then raises the stakes with the elegant touches that the Fusion can't match. For instance, the Optima also comes with heat for the outboard rear seats and premium Nappa leather surfaces. Up front, the Kia's high-end seats have 12-way power adjustability while the Fusion compares with 10-way power-adjustable front seats.
It's subjective, but we prefer the Optima's esthetics, too. Highlights here are the quilted upholstery and two fashion-forward cabin themes, one with Ivory Nappa leather and the second in Aubergine.
Optima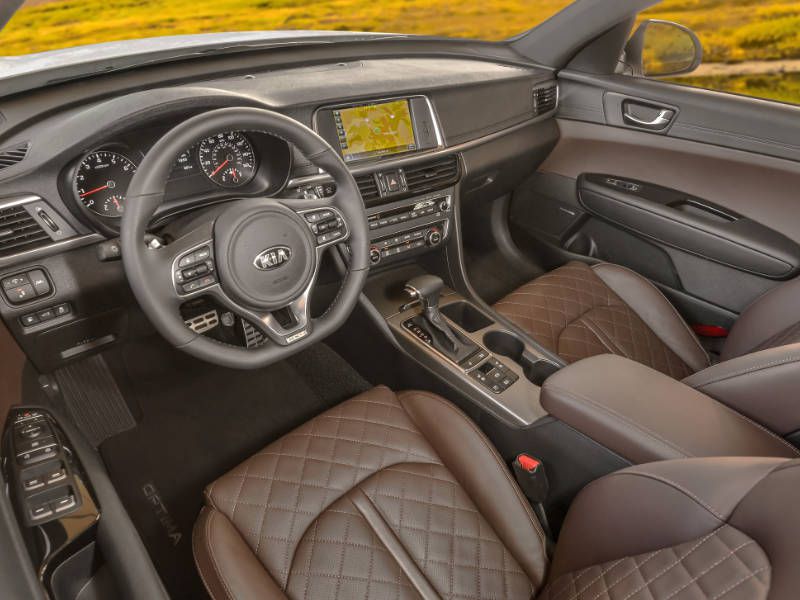 Photo by Kia
Value
We've got a bit of an upset in this category. The 2018 Kia Optima certainly lives up to its brand's reputation for value, yet the 2018 Ford Fusion undercuts the Optima's pricing by hundreds of dollars in gas and hybrid trims, and by thousands of dollars when the plug-in models are compared. Looking at MSRPs, the Fusion S entry model opens at $22,120, which is $480 less than the comparable Optima. In their hybrid trims, the Fusion's price tag of $25,295 is $700 below the opening price of its Optima counterpart. And the Fusion plug-in, stickered at $31,305, is $3,905 lower to start than its Kia competitor.
Of course, the entry-level Optima does have its premium-level standard infotainment system, bolstered seven-inch touchscreen, Android Auto, and Apple CarPlay. Those features cost extra in the Fusion.
Fusion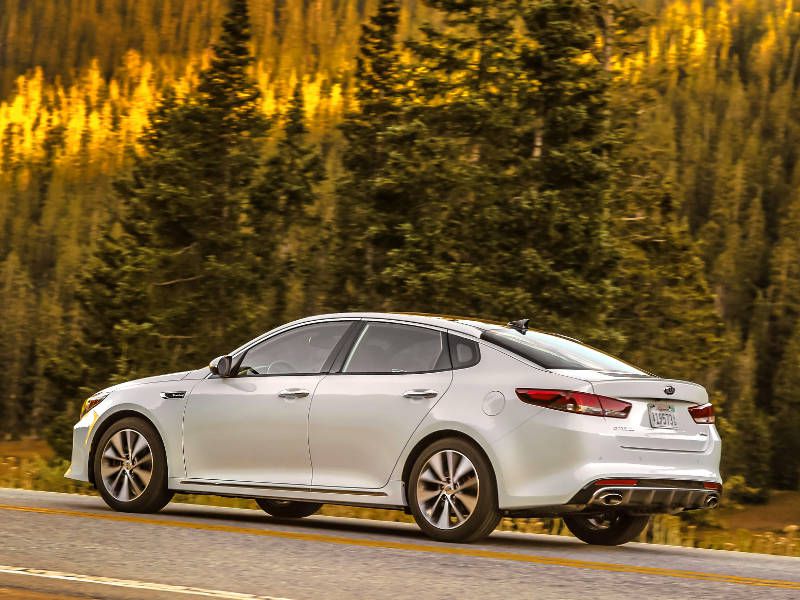 Photo by Kia
Final Verdict
This is one of the closest comparisons we've ever come across. After all, the 2018 Kia Optima and 2018 Ford Fusion each have their own unique advantages, but both share some of the segment's most popular features. Both also earned top honors in three of our categories. The Optima led for exterior design, standard infotainment technology, and luxury content, but the Fusion countered with victories for interior space, performance, and value. Their results for hybrid efficiency and safety technology were essentially dead even.
Nonetheless, the Fusion ekes out an overall victory in today's comparison. That's because it brackets the Optima with a lower starting price one side, a higher-performing model on the other, and a nearly equal number of benefits elsewhere in the lineup.
Fusion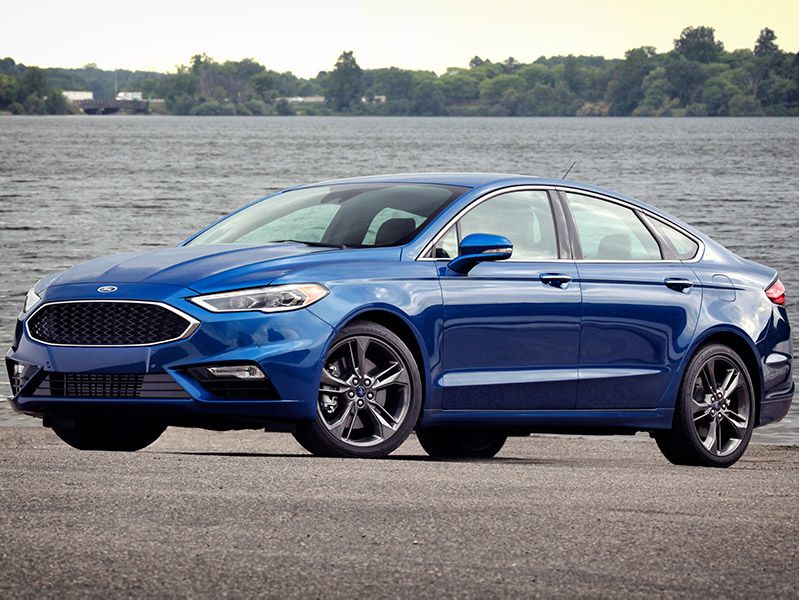 Photo by Ford