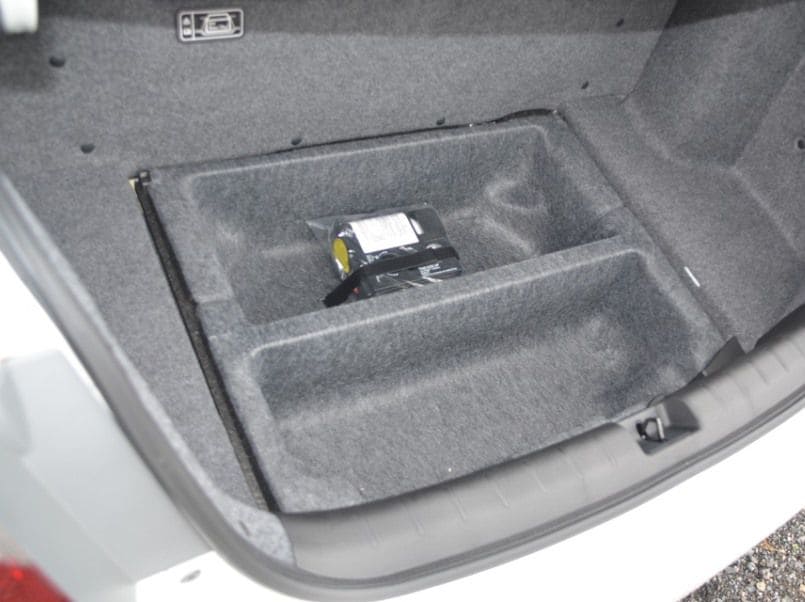 no spare tire
A piece of rusty metal shrapnel, just out of view, slices into your vehicle's right front tire and carves a two-inch section out of the sidewall. You react properly, easing off the throttle and coasting gently to the side of the two-lane road. It is dark, raining, and you are alone.
Had this been 1975, you would have walked to the trunk of the vehicle and started the laborious process of swapping the wheel and tire for its identical spare, tucked safely away, before continuing your journey. But this is 2015, and the only thing in your trunk is a small aerosol tire inflator, filled with temporary sealant, designed to fix a small puncture – not a jagged gash. Frustrated and disheartened, you quickly realize that you aren't going anywhere.
Spare tires, whether full-size or compact (same diameter as the original tire but narrower and with lower load and speed capabilities), have been disappearing from cars at an rapid rate as automakers have exploited their absence in return for increased trunk capacity, reduced weight and improved fuel economy. Today's car shoppers are very likely to find that their new vehicle arrives with tire inflators or run-flat tires.
Run-Flat Tires
Tire engineers call them "zero-pressure" tires, as they are designed to run without any air pressure. The marketing folks coined a different description — run-flat tires — even though it is a bit misleading.
In the simplest terms, run-flat (RFT) tires have reinforced sidewalls that are designed to support the weight of the vehicle in the event the tire loses pressure. Bearing the weight of the car or truck on sidewalls alone is a lot of work (there is upwards of 1,500 pounds of weight on each tire), which creates heat, so RFT tires are only designed to work at lower speeds for a limited distance. In other words, they are designed to get you safely off the road or highway to a shop that can fix or replace the original flat tire.
Unfortunately, RFTs only work when the tire's tread suffers a clean puncture (e.g., a nail or screw). If there is any damage to the sidewall, which prevents it from supporting the weight of the vehicle, you are stranded.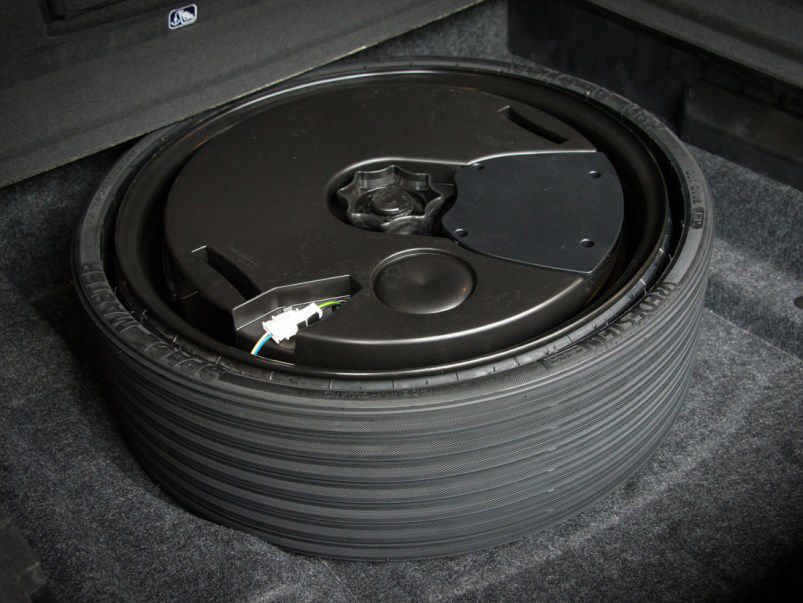 Tire Inflators
Tire inflators utilize proprietary sealing chemicals in a pressurized aerosol can to seal punctures (Fix-a-Flat is a popular commercial brand). They are easy to operate – screw them onto the valve stem and fill the tire in an action that takes only a few minutes – but they coat the inside of the tire with a messy chemical that must be cleaned before the tire is repaired.
Sadly, tire inflators share the same drawback as the RFT. They only work on small punctures, and they assume the tire is still in excellent physical condition (driving on a flat tire may destroy its structure).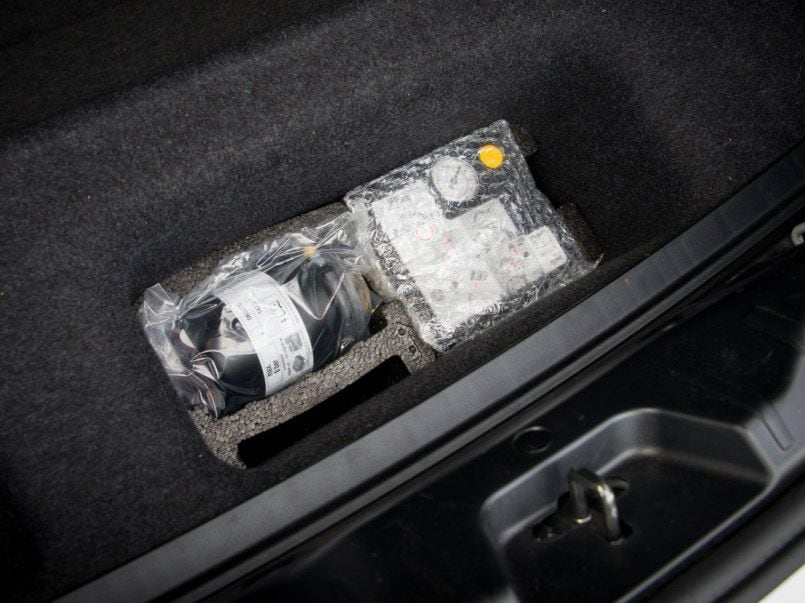 Why are the Automakers Doing This?
The answer is threefold. The two biggest reasons are weight and fuel economy, both of which are inexorably linked. The general rule of thumb is that, for every 100 pounds added to a vehicle, fuel economy is cut by one to two percent. That may not seem like a significant reduction — spare tires typically range in weight from 30 to 50 pounds, and inflators weigh just five or six pounds — but every little bit counts when looming CAFE standards are waved in front of an engineer's face.
The third reason for ditching the spare is financial. Whether you like it or not, automakers are in the business of turning a profit. Spare tires are more expensive than run-flats or inflator kits, so ditching that fifth wheel and tire can result in some serious savings, according to an employee at a major automaker who preferred to remain anonymous. "Moving away from spares can save us about $20 or $30 per car. Extrapolate that out over hundreds of thousands of cars, and the savings jump up to seven digits," our source said. "It is cheaper to remove the spare than it is to engineer those weight savings into other parts of the vehicle."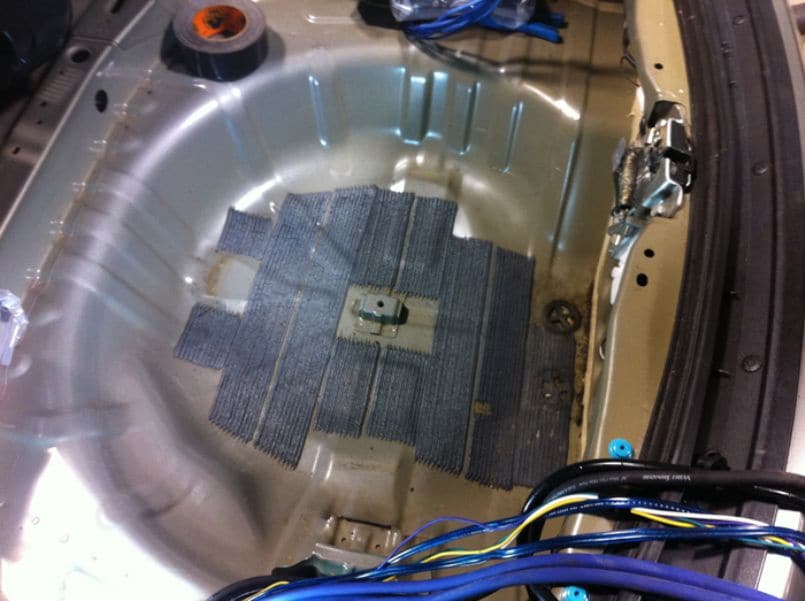 May We Choose a System?
Consumers are not afforded the ability to choose between a full-size spare, temporary spare, zero-pressure tire or a tire inflator – this decision is made by the manufacturer and is not highly publicized.
Nicholas M., an eCommerce developer from Wisconsin, owns a 2014 BMW 435i xDrive that is equipped with standard zero-pressure tires. "Since I don't have a spare, I filled the extra space with additional safety items, but I would trade every single one of them to get that spare tire back," he told AutoWeb. "I have always had roadside assistance, but it won't be much help if I'm a few hours into rural Wisconsin."
Not surprisingly, many owners are unaware of this sea change in equipment. According to Spencer Parker, BMW Genius at Knauz BMW in Lake Bluff, Illinois, approximately 30 percent of that dealership's customers are unaware of BMW's preference for run-flats. "BMW is one of the leading fitters of run-flat tires in the industry, so most of our returning customers already know about it," Parker told Autobytel. "That said, I explain everything to each customer I encounter, just to make sure everybody is on the same page."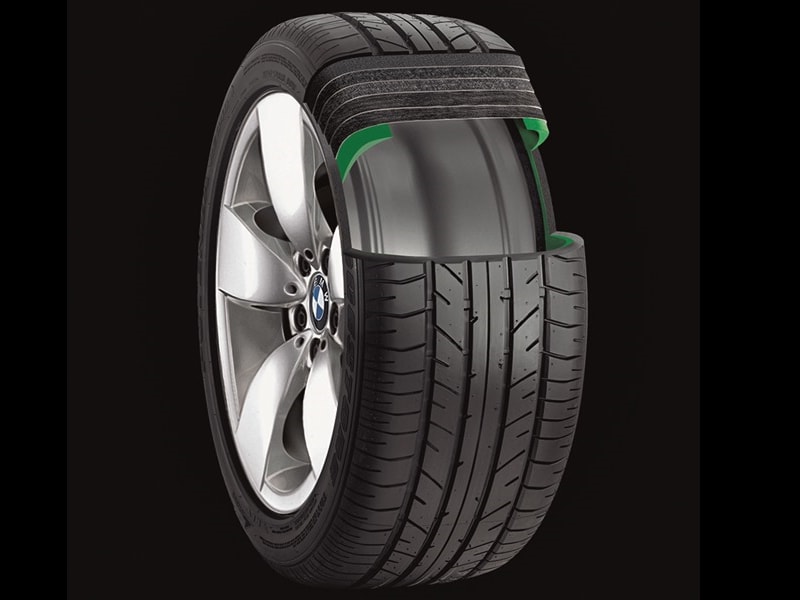 Photo by BMW
Are there Benefits to the Consumer?
Removing the spare tire does confer some benefits to the vehicle owner. In theory, a tire inflator is much easier to wield than a 50-pound spare tire and a scissor jack, especially when traffic is whizzing past your backside. Plus, the removal of the spare created additional space in the trunk, which allows for more luggage or packaging of batteries and electronics in the case of hybrids. Finally, there is the aforementioned rise in fuel economy — consumers never complain about improved efficiency.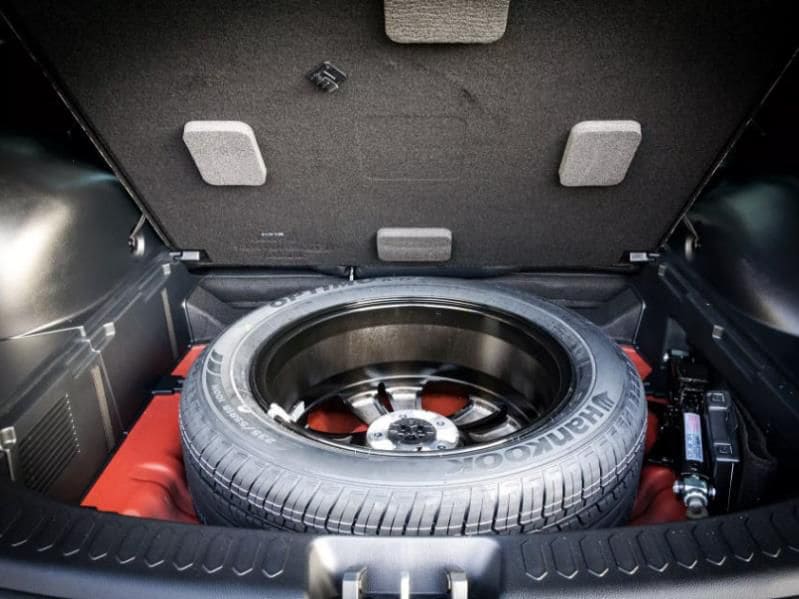 Are Full-Size Spares Gone?
Thankfully, the traditional full-size spare tire hasn't completely disappeared from the automotive landscape. Most automakers retain spares on their larger, heavier offerings. "We are keeping spare tires on vehicles that are more likely to head off the beaten path, including our full-size trucks and utility vehicles," said Fred Ligouri of General Motors' communications division. "We also continue to offer compact spares on crossovers and mid-size vehicles." So not all hope is lost.
Multiple automakers, including Jeep and Land Rover, also offer full-size spares as part of off-road-specific packages, but those spares often arrive bundled with several other options, costing three or four figures.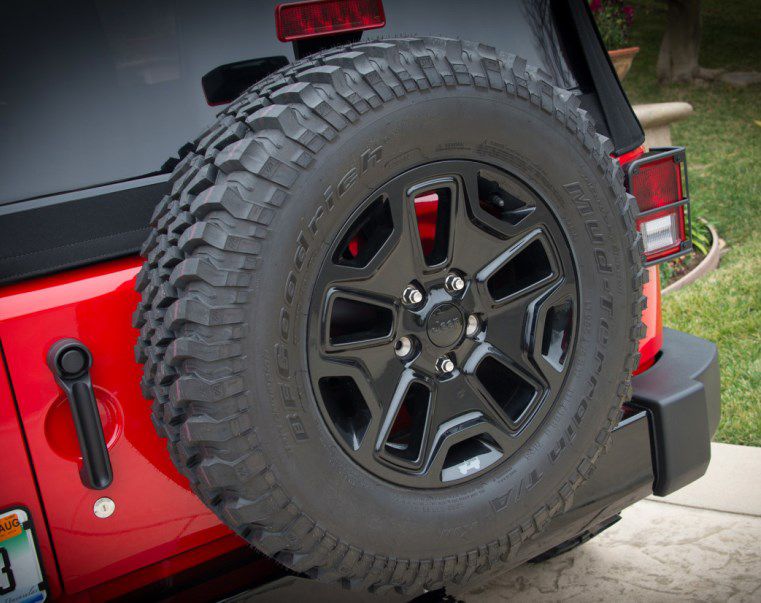 What is the Bottom Line?
A campaign directed towards automakers to save the spare tire would be a futile effort — they are not coming back.
Instead, use that time to educate yourself. Read the vehicles owner's manual to find out what system your vehicle uses, and look in the trunk to double-check that all of the components are in place. Knowing what to do in the event of a flat tire before it occurs not only improves safety, but it adds piece of mind.