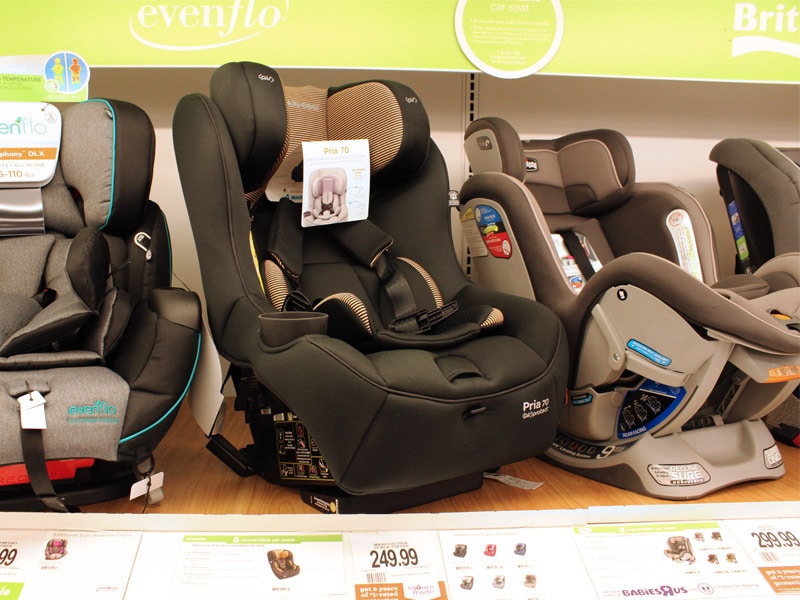 Every parent wants what will be safest for their child. When it comes to car seats, safety should absolutely be the top priority--unlike a stroller or swing, a car seat is a life-saving device. But do you have to shell out big bucks to keep your child safe like with this $700+ seat designed by Porsche? Should you feel guilty for "putting your child in danger" if you can't afford to spend hundreds on a premium-brand seat?
In short, no. Please don't feel guilty about that! 
Depending on who you ask, somewhere between 70 and 90 percent of car seats are installed incorrectly (despite 96% of parents believing that theirs are correctly secured). The fact is, a properly fitted and installed restraint decreases a child's chance of serious injury in a crash to less than 1%. In the vast majority of cases, the more expensive seat isn't going to provide significantly better protection. 
Which car seat is best for you?
In the following pages I'll outline the notable differences between two extremes: the least and most expensive car seats available (as of September 2015) in each of the four main categories of car seats. Please keep in mind, I said "extremes!" There's a HUGE variety of child restraints on the market in all price ranges. For some suggestions that will probably work well for you, check out the recommended seats list at Car Seats for the Littles.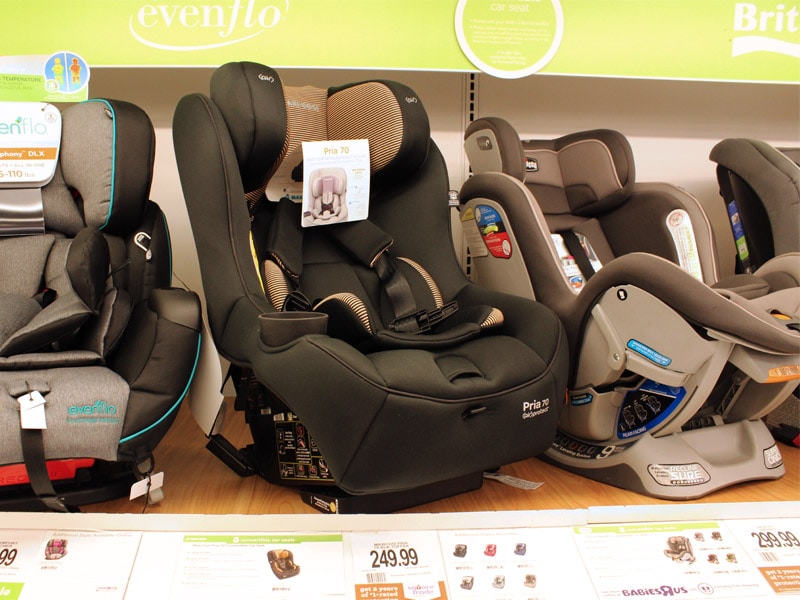 Infant Car Seats
Least expensive (on left): Evenflo Nurture – MSRP:  $60
Most expensive (on right): Peg Perego Primo Viaggio 4-35 – MSRP: $350
Infant seats, or rear-facing-only, are the first seats most families buy. The least expensive of these is the Evenflo Nurture, which retails for about $60. The most expensive, the Peg Perego Primo Viaggio 4-35, carries a retail price close to $350. 
The Evenflo Nurture is one of the most basic infant seats on the market. While completely safe, it has very few frills or additional features. The weight and height limits are on the lower end for this type of seat, and the padding is thin. The rear-adjust harness makes it rather inconvenient to loosen and tighten the straps. 
The Peg Perego Primo Viaggio 4-35 is what you might call the Ferrari of infant car seats—right down to being made in Italy. With high weight and height limits, it should get the average baby to well past a year old before a new seat is needed. It has plush, soft fabric; strap covers and infant inserts for additional comfort; and is designed to be very easy to install and use. This luxury model definitely comes with all the bells and whistles.
Of course, there is a whole range to choose from between these two ends of the infant seat spectrum. Between $100 and $200 would be a typical middle-of-the-road price range for this category. An infant seat around that cost would offer much of the comfort and user-friendliness of the highest-end model. It may not have top-of-the-line fabrics or memory foam padding, but most parents would be quite happy with a more moderately priced infant seat to keep their littlest ones safe and sound.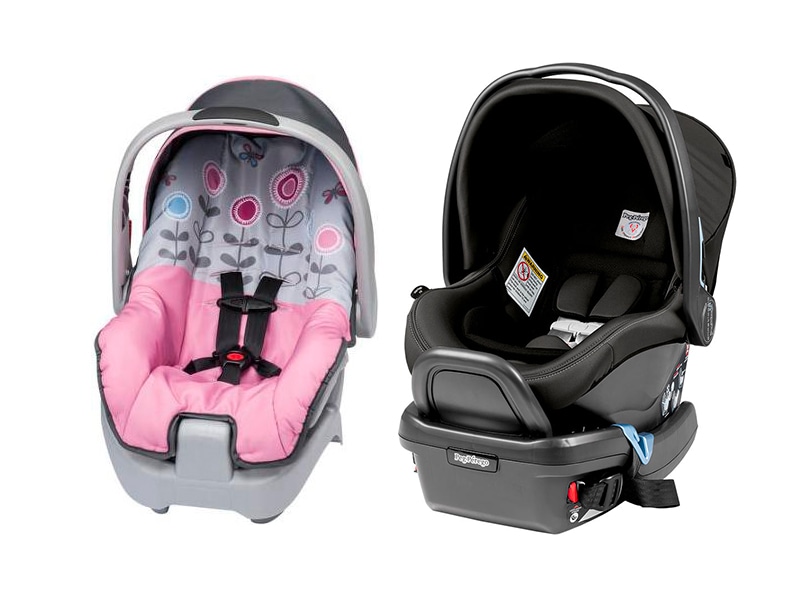 Convertible Car Seats
Least expensive (on left): Cosco Scenera NEXT – MSRP: $45
Most expensive (on right): Clek Foonf with leather cover – MSRP: $800
A convertible seat can be installed either forward- or rear-facing. Many parents consider the convertible car seat to be a very significant purchase, since it can often be used for several years and grow with the child. There are probably more options for convertible seats than for any other type of seat available.
The least expensive convertible car seat on the market is the Cosco Scenera NEXT. This budget convertible is a new offering, and surprisingly long-lasting in terms of rear-facing height and weight limits. The NEXT isn't very padded, and lacks comfort features such as strap covers or infant inserts. While completely safe, it is what you might consider a bare-bones model. It is simple, rather than fancy.
On the other end of the price range for convertible seats is the Clek Foonf with leather cover. The fabric-cover Foonf is pricey to begin with at around $500, but the leather takes it to a new level of extravagance. It includes numerous features meant to increase safety and ease of use, such as rigid LATCH connectors, an anti-rebound bar, seat belt lockoffs, and an adjustable headrest.  It was also the first car seat on the U.S. market to rear-face to 50 pounds, which in and of itself brings the price up quite a bit. It's heavy and feels very solid; it sits high in the vehicle, so babies riding in it look like they're buckled onto a small throne. This is the car seat for those who insist on the ultimate in luxury.
There's plenty of room for compromise between a Scenera NEXT and a leather Foonf. A budget of $150-200 would be more than enough to get a convertible seat that will keep the average child rear-facing until the recommended age of 4, and forward-facing until they're ready for a booster around age 6. These mid-priced seats offer convenience features like a no-rethread harness and push-on LATCH connectors for a quicker, easier install. All seats on the shelves are safe when used correctly, so there's no need to spend your life savings on a car seat, but a convertible at this moderate price point should be a good balance of convenience and value.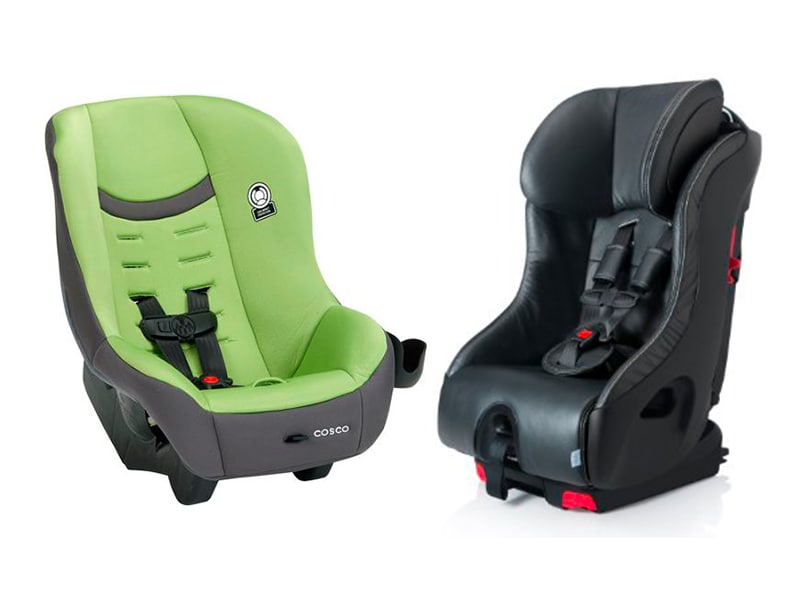 Combination Seats
Least expensive (on left): Cosco High Back Booster – MSRP:  $45
Most expensive (on right): Britax Pinnacle – MSRP: $370
A combination seat, also known as a harnessed booster, is typically used first for forward-facing with the five-point harness (remember, forward-facing is not safe for children under age 2!). When the child is ready, around age 6, they can then be converted to a belt-positioning booster. Here's the lowdown on the least and most expensive seats currently available in this category.
The Cosco High Back Booster (which, despite its name, does include a five-point harness), is suitable for children at least age two who are forward-facing. While safe when used correctly, the limits are very low. Many children will outgrow the height and/or weight limits by age 3, which is far from the recommended minimum booster age of 5. This seat is thinly padded and does not offer recline adjustments. Only two sets of harness slots are available, and only two height options for the shoulder belt guide in booster mode. For children who can safely fit in the Cosco HBB, there is nothing wrong with using it; however, since it can't be used at all until age two and could be outgrown by a year or two from then, it isn't going to be a good long term option.
The Britax Pinnacle is the most costly of the combination seats sold at this time. This harnessed booster boasts quite a few nice features, but what really bumps up the price here is the high limits. With the tallest harness position and highest weight limit of any harnessed seat in the U.S., it should keep virtually 100% of children in a five-point until they are ready for the high-back booster. The Pinnacle also boasts the super-easy ClickTight installation system, a no-rethread harness, and large cushions on either side of the head area for extra side-impact protection.
Many in the $100-150 range will offer a no-rethread harness, the ability to convert from harness to booster, and a 65-pound harness weight limit. They often include comfort features such as strap covers or padded inserts for smaller children. Typically, a harnessed booster in this price range will easily keep the average child comfortably in a five-point harness until they are ready for a booster.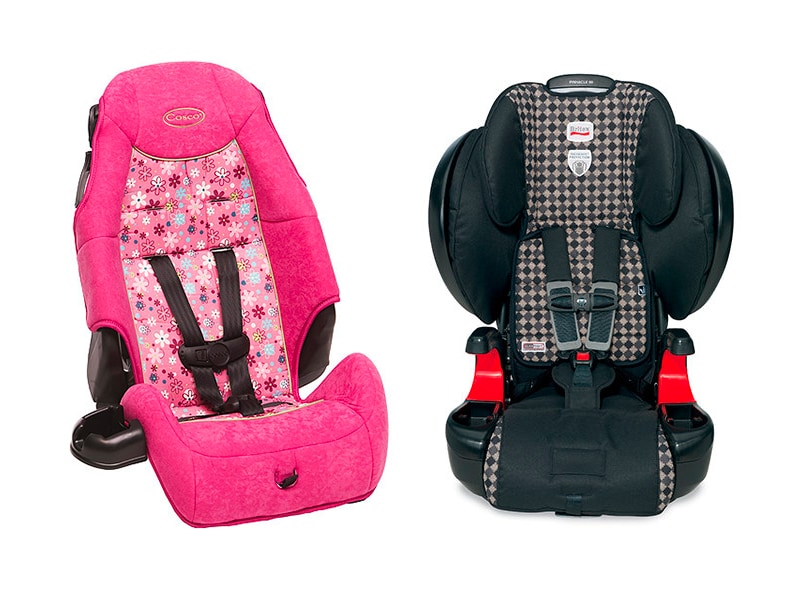 High-Back Booster Seats
Least expensive (on left): Cosco Pronto – MSRP: $35
Most expensive (on right): Clek Oobr with leather cover – MSRP: $550
A high-back booster is appropriate for a child who is booster-ready and at least five years old. These seats do not have a five-point harness. They are used to position the seat belt correctly, and the two models described here can also be converted to backless when needed. Most children will need at least a backless booster until age 10-12.
The Cosco Pronto is a simple high-back booster that gets the job done. It has an adjustable headrest and shoulder belt guide. With a very high top belt guide position and an upper weight limit of 100 pounds, it will easily get most children to a size where they can fit safely in the adult seat belt. While very safe, some children might find it uncomfortable given the thin padding. This basic, no-frills seat isn't too exciting, but it's hard to beat the price.
By far the most expensive high-back booster is the Clek Oobr with leather cover. As with the leather Foonf, a lot of the cost is due to the premium upholstery. It also offers rigid LATCH connectors to hold the booster solidly in place when unoccupied, which is good because it's quite heavy due to the steel frame, intended as an additional safety feature. Surprisingly, the height and weight limits are actually quite low compared to much less expensive boosters. It has a very modern, space-age look to it, and when you add the leather, your child will be in for a very cool, classy, and luxurious ride indeed.
Most parents, of course, are going to go for something much less spendy than an Oobr. For around $60-80, one can easily find a high-back booster with flexible LATCH connectors, an adjustable shoulder belt guide, and high weight and height limits. Most of these moderately-priced boosters seem comfortable, and would keep an average or above-average-sized child safely boostered until they are ready for the adult seat belt, around age 10-12.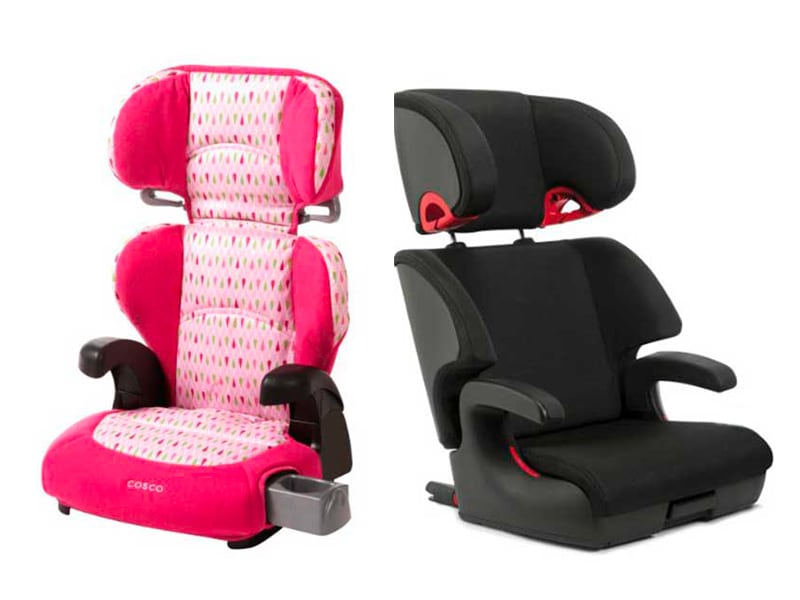 Backless Booster Seats
Least expensive (on left): Harmony Youth Booster – MSRP: $13
Most expensive (on right): Clek Olli with leather cover – MSRP: $150
The vast majority of children will need a booster until at least age 10-12. As kids get to school age and begin riding in carpools and such, a backless booster is a far more portable solution than a high-back. These seats are appropriate for children who are at least five years old and booster-ready. A backless booster might seem like a simple concept, but as with any other product, there's a range of options at different price points with various features.
The Harmony Youth Booster is your classic, simple backless booster. With a maximum weight limit of 100 pounds, it should get most kids to a safe age and size for the adult seat belt. While it doesn't have thick padding or any cool bells and whistles, it does what it needs to do just fine.
Just like the other two Clek seats discussed in this article, the leather cover on this booster is what really sets it apart price-wise. It has a 120-pound weight limit, so children who are heavier but still too short for the adult seat belt alone will get more use out of it than those with lower limits. The Olli also offers rigid LATCH connectors, a steel frame, a carry strap, and a cup holder. This heavy, solid seat is definitely quite a bit more substantial, physically, than your average booster. If you absolutely must have your booster match your leather car upholstery, the leather Oobr is just what you are looking for.
For backless boosters, there's really no need to go over the top price-wise. $30-40 will get you a very nice, cushy booster with a high weight limit, LATCH connectors, and cup holders. Your big kid will be safe and comfortable, without you spending big bucks.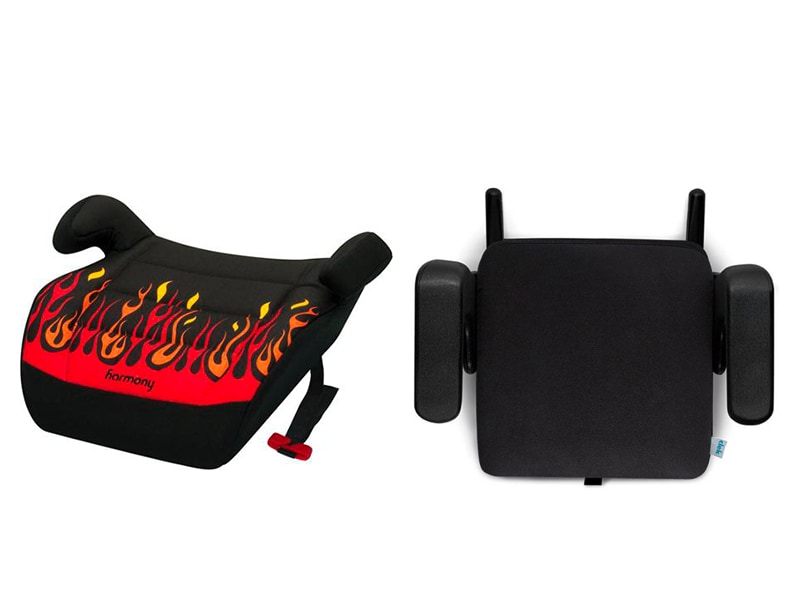 What about safety ratings?
Most people don't realize that, unlike vehicles, child restraints aren't given "crash test ratings" or safety scores by the government based on their performance on the required standardized crash testing. All of the tests are pass/fail, and a seat must pass very strict safety standards in order to be sold in the United States.
Scores on these tests aren't released, but we know that this isn't a case of some seats barely passing with, say, a 70% while others got 99%. It's more like, if they don't get at least 95%, they fail and aren't sold at all.
A few independent organizations have endeavored to do their own comparative crash tests and give safety ratings for child seats, but their methodology has generally been found flawed and/or unreliable. Car seat manufacturers also perform their own crash testing of various features that are marketed as having safety benefits, but since the manufacturers don't also test other brands of seats to the same standard, there's no way of knowing whether the feature actually results in better crash test performance.
As of 2015, there is no standardized side impact crash test done on child restraints in the United States. These standards are in development and expected to be part of the required tests within the next few years. Until then, though, "side-impact tested" may not mean what you think it means. Since manufacturers can decide for themselves what this test will be, there's no way to tell whether additional side-impact protection actually makes any difference in overall performance.
The one safety rating that I do recommend looking at is the IIHS booster fit evaluations. The IIHS rates boosters based on how likely they are to provide a good belt fit to most children. However, this is not a case where you have to pay more to get a top-rated booster. There are well- and poorly-rated models at various price points.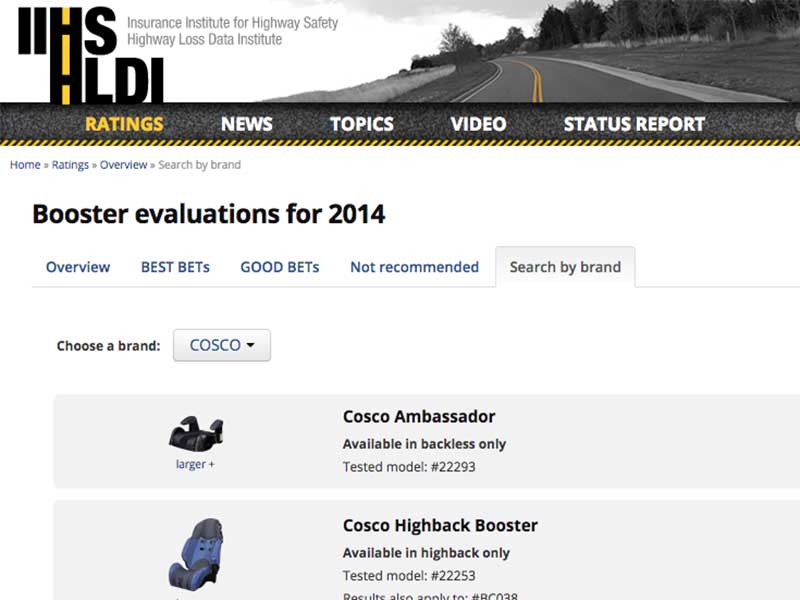 So if I'm not paying for safety, what am I paying for?
As you've just read, there are a variety of factors that can pump up the price of a car seat; yet most of those factors aren't directly related to safety. The "extras" you pay more for can include higher weight or height limits, additional ease-of-use and convenience features, extra padding or comfort inserts, cool designs, more luxurious fabrics, or even just the brand name that appears on the seat. From there, it's your job as the customer to decide which of these things are worth paying extra for. But don't worry—as long as you install and use your seat correctly, your child will be very safe, regardless of the price tag.
If you need individualized, expert help in choosing the safest seat for YOUR situation, check out the Facebook group of the non-profit organization Car Seats for the Littles.