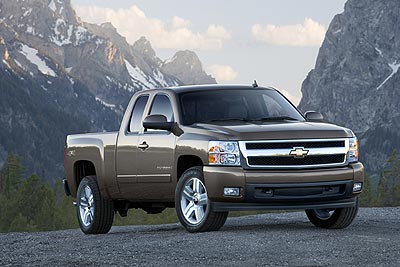 Silverado vs. Tundra -- What's New: So the sky isn't falling after all, though most automotive journalists proclaimed it when Carlos Ghosn, aka clambered out of the Titan pickup and slapped a leather glove across the cheeks of Ford, GM and Dodge. Yeah. Looks like the Titan made just a tiny dent in the big truck market, failing to become the Import Truck Americans Prefer. Today, however, the sky may indeed be falling – especially if you're Ford or Dodge. But it's not an import that threatens to run away with truck sales, it's General Motors and a vastly improved Chevrolet Silverado and GMC Sierra.
Introduction, Tundra
It's Toyota's turn to build a big truck, and they're ready to debut a "Bigger Than the Boat You're Towing" Tundra squaring off against the all-new Silverado. Who wins? We don't know – yet. On paper, it looks like an interesting match. It's game on, so choose your side: Silverado, with the Mellencamp Melodrama about America, or the Bustin' Out All Over Tundra?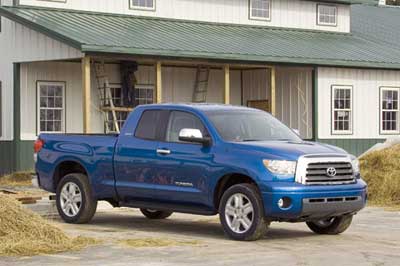 Silverado sheetmetal
Sure, the fender blisters are new, and take a little getting used to, but the Silverado carries with it an updated look that follows the lines and heritage of Silverados past. Note the large, expansive grille and blocked out light units.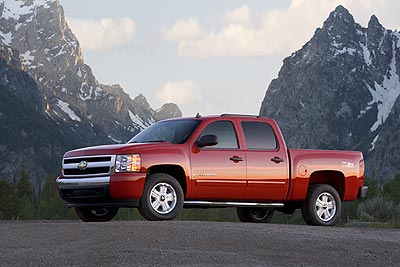 Tundra sheetmetal
The new Tundra features broad shoulders, curvaceous fenders and what looks like a high beltline. There's a stylish cab line that's quite different from the Silverado's blocky, squared-off stance and a huge grille ringed with chrome.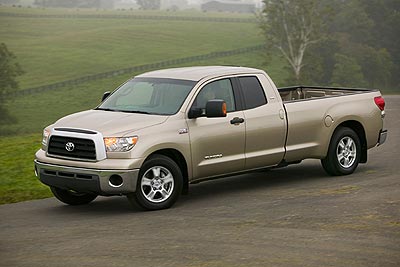 Silverado sheetmetal, side view
From the back, the Silverado shows off classic truck lines drawn with a touch of modern style. Note the tailgate blister, as well as the black composite protector on the lip of the gate, as well as the wide expanse of window in the back.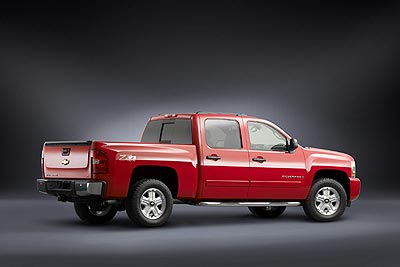 Tundra sheetmetal, side view
You want big? Toyota brings it with the Tundra. The new model has increased ten inches in length, five inches in height, and is four inches wider.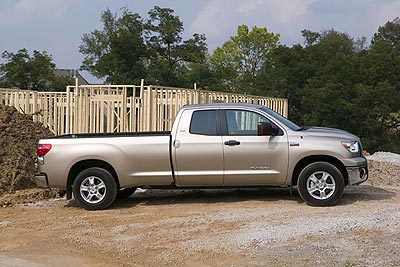 Silverado, grille
Underneath all that new Silverado sheetmetal is a stronger chassis, upgraded suspension and steering system. The new Silverado will tow just about anything, with a 10,500 lb. max tow capacity, when properly equipped.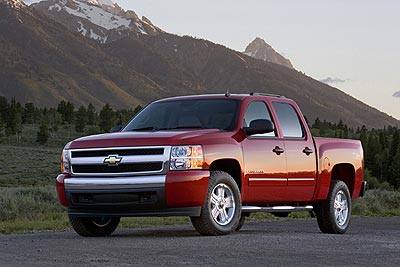 Tundra, grille
Technically, it's a re-do of the existing Tundra. But really, it's an all-new truck, with a 30 percent stiffer chassis and a tow capacity that reaches more than 10,000 lbs.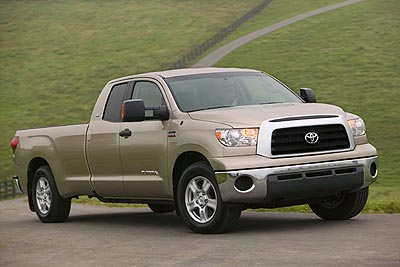 Silverado, on the inside
Upgraded materials abound in the new 2007 Silverado. Seen here, the leather seats are spacious and comfortable, bins are large enough to hold some laptops, and faux wood grain is nicely applied along the front of the cabin.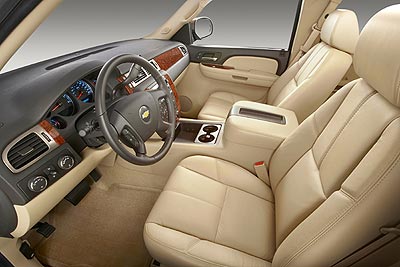 Tundra, on the inside
Cavernous seems to be an apt phrase for the new Tundra, when you consider that the interior boasts an additional six inches of hip room for rear seat passengers. The glovebox is big enough for a thermos, and the center console doubles as a filing cabinet or laptop carrying case.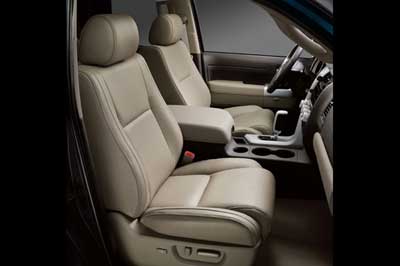 Silverado, from the back seat
It used to be that additional passengers had to sit out back in the truck bed. Now they get their own row, with plenty of legroom. Consider the Silverado: Extended Cab versions feature side access doors that open a full 170 degrees, power rear windows, and a rear split bench seat that folds up.