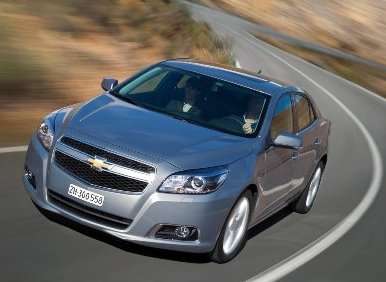 The Chevrolet Malibu receives a full redesign for the 2013 model year that has some auto reviewers whispering "best-in-class." With enhanced refinement, improved fuel efficiency and a longer set of standard features, the 2013 Malibu is worth a look for anyone in the market for a midsize sedan. Keep reading to review pricing, features and what's new on the 2013 Chevrolet Malibu.
Styling: 2013 Chevrolet Malibu
Exterior changes to the 2013 Malibu give the sedan a sleeker and more athletic appearance. The vehicle loses a bit in length thanks to a smaller wheelbase. However, a wider frame helps make up for the lost space. In fact, a few punches on the calculator indicate that the overall interior is larger than last year's model.
Inside, car shoppers will likely be pleased by the noticeable upgrade in fit and finish. The dashboard and other components deliver a slightly upscale appearance, and soft-touch materials abound. Additionally, it should be mentioned that Chevy incorporated a number of sound deadening materials in order to achieve a superiorly quiet ride.
Seating is roomy enough and should prove adequate for average-sized passengers in both the front and rear positions (though, taller individuals may have a few quibbles). Still, it should be noted that there are other models in the class that provide more legroom. Trunk space comes in at 14.3 cubic feet for Eco models. This is average for the class. However, an odd layout and need to make room for a lithium-ion battery diminish its functionality.
View more 2013 Chevrolet Malibu photos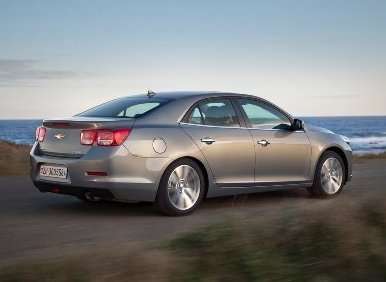 Performance: 2013 Chevrolet Malibu
Chevy has chosen to make the mild-hybrid Chevrolet Malibu Eco available before the standard Malibu goes on sale later this year. Eco models receive a 2.4-liter four-cylinder engine mated to a single electric motor. Combined, this powerplant promises 182 horsepower and 172 lb-ft. of torque. Fuel efficiency is estimated at 25 mpg in the city and 37 mpg on the highway (29 mpg combined). It should be noted that unlike full-hybrid vehicles, the mild-hybrid Malibu Eco is incapable of functioning solely on electric power.
Later in the year, Chevy will also make available a standard 2.5-liter engine that delivers 197 horsepower and 191 lb-ft. of torque. A 2.0-liter turbocharged four-cylinder will also be available (offering 259 horsepower). Fuel estimates for these models have yet to be released by the EPA.
View full 2013 Chevrolet Malibu specifications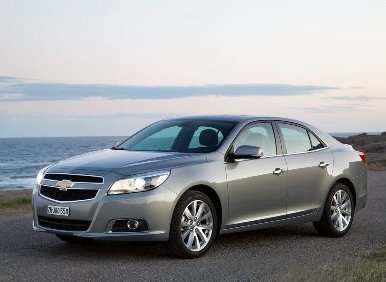 Safety: 2013 Chevrolet Malibu
Standard safety features available on the new Chevy Malibu include antilock brakes, brake assist, traction control, GM OnStar and eight airbags. Available options include rear seat side-impact airbags, rearview camera and lane departure warning system. The Malibu Eco has been named a "Top Safety Pick" by the Insurance Institute for Highway Safety (IIHS).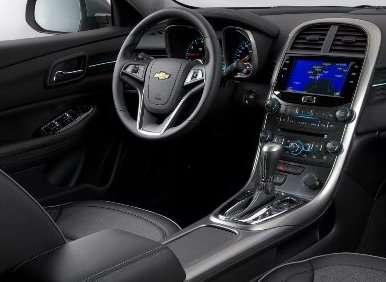 Pricing and Features: 2013 Chevrolet Malibu
Base price for a 2013 Chevrolet Malibu Eco is set at $25,235. Non-hybrid models will come with a slightly more affordable sticker price. Standard features for the Eco model include 17-inch alloy wheels, automatic headlights, keyless entry, dual-zone climate control, cruise control, Chevy MyLink, Bluetooth, touchscreen interface, six-speaker stereo, CD player, satellite radio, iPod input and auxiliary input.
Available upgrades include remote ignition, eight-way power driver's seat, sunroof, foglamps, leather-wrapped steering wheel, leather seats, GPS navigation, premium stereo and more. 
Find a 2013 Chevrolet Malibu dealer near you