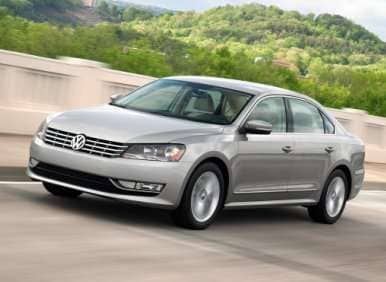 A complete redesign now makes the 2012 Volkswagen Passat larger, more affordable and better at conserving gasoline. Add it all up, and most reviewers agree this latest Passat is a far more enticing midsize offering than the outgoing model. Keep reading to take a virtual test drive of the 2012 VW Passat to determine if it is the right vehicle for you.
Styling: 2012 Volkswagen Passat
Previously, the VW Passat was a somewhat pricey niche vehicle that catered to drivers looking for something in between the affordable and upscale sedan markets. In an attempt to broaden the appeal of the Passat, the price has been lowered significantly, while still managing to maintain a good portion of the upscale feel found in the previous model.
Outside, the vehicle takes a fairly conservative styling approach. If you don't mind blending into the crowd, then you'll likely find the Passat a quietly reserved and handsome vehicle. Inside, the Passat grows by monster proportions, making it a good midsize option for those concerned about rear passenger comfort. For 2012, rear leg room grows by a full three inches. This, along with other expanded dimensions, combine to make the vehicle comfortable regardless of which seat you happen to be sitting in. Trunk space is listed at 15.9 cubic feet, which is above average for the midsize class.
View more 2012 Volkswagen Passat photos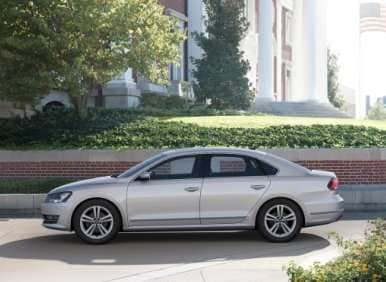 Performance: 2012 Volkswagen Passat
2012 models receive an all-new engine lineup. The entry-level Passat comes with a 2.5-liter inline-5 engine that is good for 170 horsepower and 177 lb-ft. of torque. Opt for the manual transmission, and you'll get an estimated 22 mpg in the city and 32 mpg on the highway (26 mpg combined). Automatic transmissions lose one mpg on the highway.
If those fuel figures aren't good enough for you, then you may want to take a look at the turbodiesel model. This 2.0-liter four-cylinder power plant offers up to 31 mpg in the city and 43 mpg on the highway (35 mpg combined). Power for the diesel engine is listed at 140 hp and 236 lb-ft. of torque.
Rounding out the engine lineup is a high-powered 3.6-liter V6 that promises 280 hp and 258 lb-ft. of torque. Of course, all that extra power results in lower gas mileage. The EPA rates the V6 model at 20 mpg in the city and 28 mpg on the highway (23 mpg combined).
Review full 2012 Volkswagen Passat specifications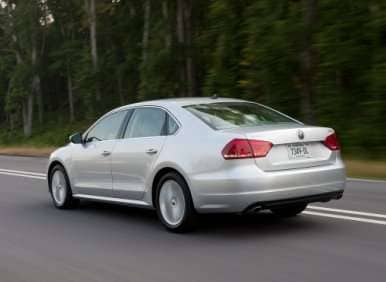 Safety: 2012 Volkswagen Passat
The 2012 Passat's list of standard safety features includes antilock disc brakes, front side airbags, side curtain airbags, traction control, stability control and Intelligent Crash Response (ICR). ICR is designed to sense a vehicle crash and automatically do things like cut the fuel supply, unlock doors and switch on hazard lights. In crash tests performed by the Insurance Institute for Highway Safety (IIHS), the 2012 VW Passat earned a best-possible rating of "Good" in all categories.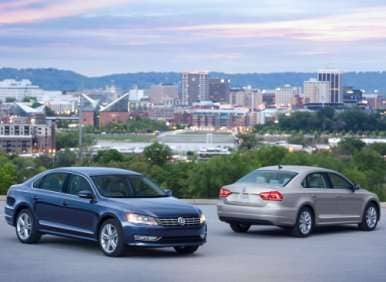 Pricing and Features: 2012 Volkswagen Passat
Base price for the new Passat is listed at $19,995. In comparison, the previous model started at $26,995. Standard features for the 2012 model include keyless entry, full power accessories, eight-way adjustable driver's seat, dual-zone automatic climate control, eight-speaker stereo, CD player, auxiliary input, Bluetooth and steering-wheel controls. The SE trim adds such things as 17-inch wheels, chrome accents, power driver's seat, vinyl seats, heated front seats and touchscreen interface. Top-of-the-line SEL model start around $30,000 and come outfitted with a premium sound system, navigation, keyless ignition, foglights, power passenger seat, leather seats and driver memory functions.
Find a 2012 Volkswagen Passat dealer near you