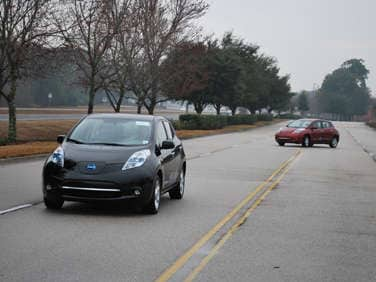 The Nissan Leaf returns for its sophomore year with an increased base MSRP and additional standard features. According to Nissan, these changes directly address customer feedback that suggested most shoppers want more features built into their all-electric Nissan Leaf. Keep reading to review changes for the 2012 Nissan Leaf.
Vehicle Updates: 2012 Nissan Leaf
Initial asking price for the 2012 Leaf is now $35,200. Compare those dollar signs to last year, and you'll see the price tag has increased by a margin of $2,420. This price increase is a result of a bolstered base package, which include cold-weather features such as a battery warmer, heated steering wheel and heated seats (for both the front and rear). Though Nissan hasn't divulged an official list of standard features, it is also likely that all models of the Leaf will now be available with a quick-charge port. This handy feature allows a Nissan Leaf to recover 80 percent of its battery power in less than 30 minutes.
Returning standard equipment from last year includes keyless ignition, cruise control, full power accessories, automatic climate control, Bluetooth, six-speaker stereo, satellite radio and more.
Pricing for the upper-trim 2012 Nissan Leaf SL also receives a price increase. Now listed at $37,250, the model is $3,530 more expensive than last year's model. That price includes a solar panel mounted on the spoiler, automatic headlights, foglights, rearview camera and a cargo cover.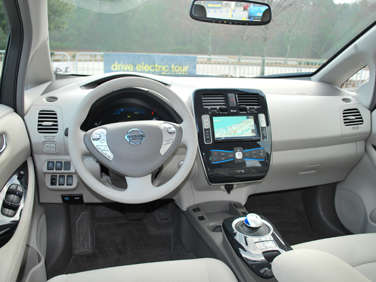 2012 Nissan Leaf Specifications
The Nissan Leaf returns with an 80-kilowatt electric motor that is mated to a 24-kWh lithium-ion battery pack. This power plant is good for 107 horsepower and 207 lb-ft. of torque. The EPA lists the Leaf's official battery range at 73 miles (though distances around 100 may be possible in the real world). Mileage equivalence rating for the 2012 Leaf is set at 106 mpg in the city and 92 mpg on the highway.
On the inside, the 2012 Leaf offers 12.2 cubic feet of trunk space – a figure that is below average for the compact hatchback class. Rear passenger seating is also a bit tight, making the Leaf a better option for those who largely require two-seater functionality.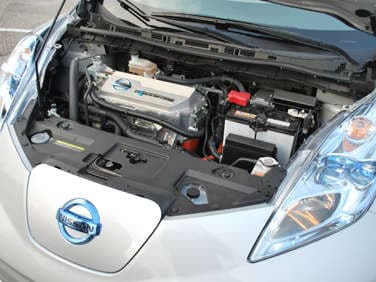 2012 Nissan Leaf Tax Credits
Nissan is quick to point out that the 2012 Nissan Leaf still qualifies for a federal tax credit of $7,500. This brings the net cost of a base Nissan Leaf down to $27,700.
2012 Nissan Leaf Availability
If you're interested in a 2012 Nissan Leaf, then it is recommended you order a vehicle in advance (due to limited availability). Residents of Alabama, Florida, Georgia, Illinois, Maryland, Mississippi, North Carolina, South Carolina, Virginia and Washington D.C. who have already been placed on the wait list may start placing orders on July 25. Order placement will be extended to residents of Arizona, California, Hawaii, Oregon, Tennessee, Texas and Washington on August 4. Residents of Connecticut, Colorado, Massachusetts, New Jersey and New York will have to wait until this fall to place an order. Come winter, orders will also be taken in Delaware, Indiana, Louisiana, Nevada, Ohio, Pennsylvania and Rhode Island.