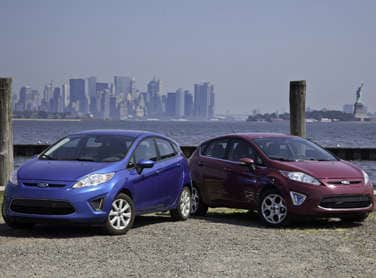 Earning solid reviews pretty much across the board last year, Ford has decided not to mess too much with success for the 2012 Ford Fiesta. However, a few new customization options are available for those who want a more unique interior or exterior appearance. Keep reading to find out what's new on the 2012 Ford Fiesta and review new specs and pricing.
New Custom Packages for the 2012 Ford Fiesta
Mechanically, the Ford Fiesta is the same as last year. However, Ford has added two new interior feature packages and one new exterior feature package to the list of available options. These additions are in response to the fact that Ford Fiesta customers have a history of adding personalization options to the vehicle (40 percent of those who purchase the vehicle add at least one accessory).
The interior packages deliver the option to add a two-tone color theme. The Race Red package offers an aggressive red/black two-tone combination for the seats, steering wheel and other interior components. The Oxford White package offers similar premium upgrades with a black on white combination. These top-of-the-line interior options deliver a much sportier and upscale appearance. The two-tone leather seats are available on SEL and SES 2012 Ford Fiesta models.
The exterior features package is modeled after the design of the Euro-spec Ford Focus RS. Notable inclusions include Tuxedo Black paint for the side mirrors, headlights, grille surround, license plate and rear spoiler. Drivers opting for the package also get 16-inch wheels and a shorter final drive ratio for the manual transmission.
Performance: 2012 Ford Fiesta
The Ford Fiesta's returning engine has earned accolades for offering above-average fuel efficiency without sacrificing driving performance. This engine comes in the form of a 1.6-liter inline-four that musters 120 horsepower and 112 lb-ft. of torque. Estimated fuel efficiency is listed at 29 mpg in the city and 38 mpg on the highway. Opt for the SFE trim, and these figures increase to 29 mpg in the city and 40 mpg on the highway. As a point of reference, these mileage figures are better than top competitors such as the MINI Cooper, Chevrolet Cruze and Honda Fit.
Review full 2012 Ford Fiesta specifications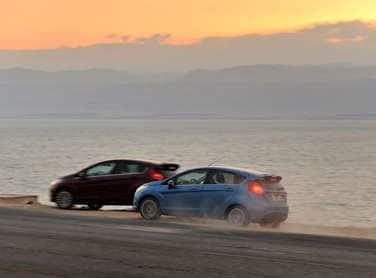 Interior: 2012 Ford Fiesta
The 2012 Ford Fiesta is a compact vehicle. Despite this fact, reviewers seem impressed with the amount of passenger space in both the front and rear of the vehicle. In terms of trunk space, the Ford Fiesta sedan offers average storage with a total of 12.8 cubic feet. With the rear seat folded, the hatchback model delivers a maximum of 26.0 cubic feet of storage. However, it should be noted that the rear seat does not fold flat. Additionally, competitors such as the Honda Fit and Kia Soul offer more than 50 cubic feet of maximum storage space.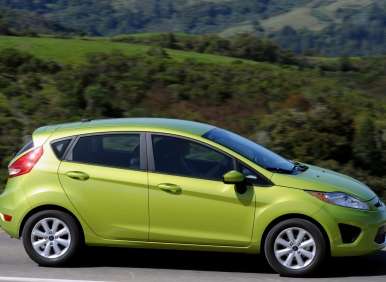 Pricing and Features: 2012 Ford Fiesta
Base MSRP for the 2012 Ford Fiesta remains around $13,300. For this price, you won't get much; standard features include four-speaker stereo, auxiliary input jack, power mirrors and 60/40 rear seat. Most shoppers opt to upgrade to the SE trim, which adds power windows, power locks and a CD player (MSRP: $15,500).
If you want those snazzy new custom appearance packages, then you'll need to upgrade to the SES or SEL trims, which go for around $17,500. However, there is no word yet on how much extra the appearance packages will add to this price.
Find a 2012 Ford Fiesta dealer near you