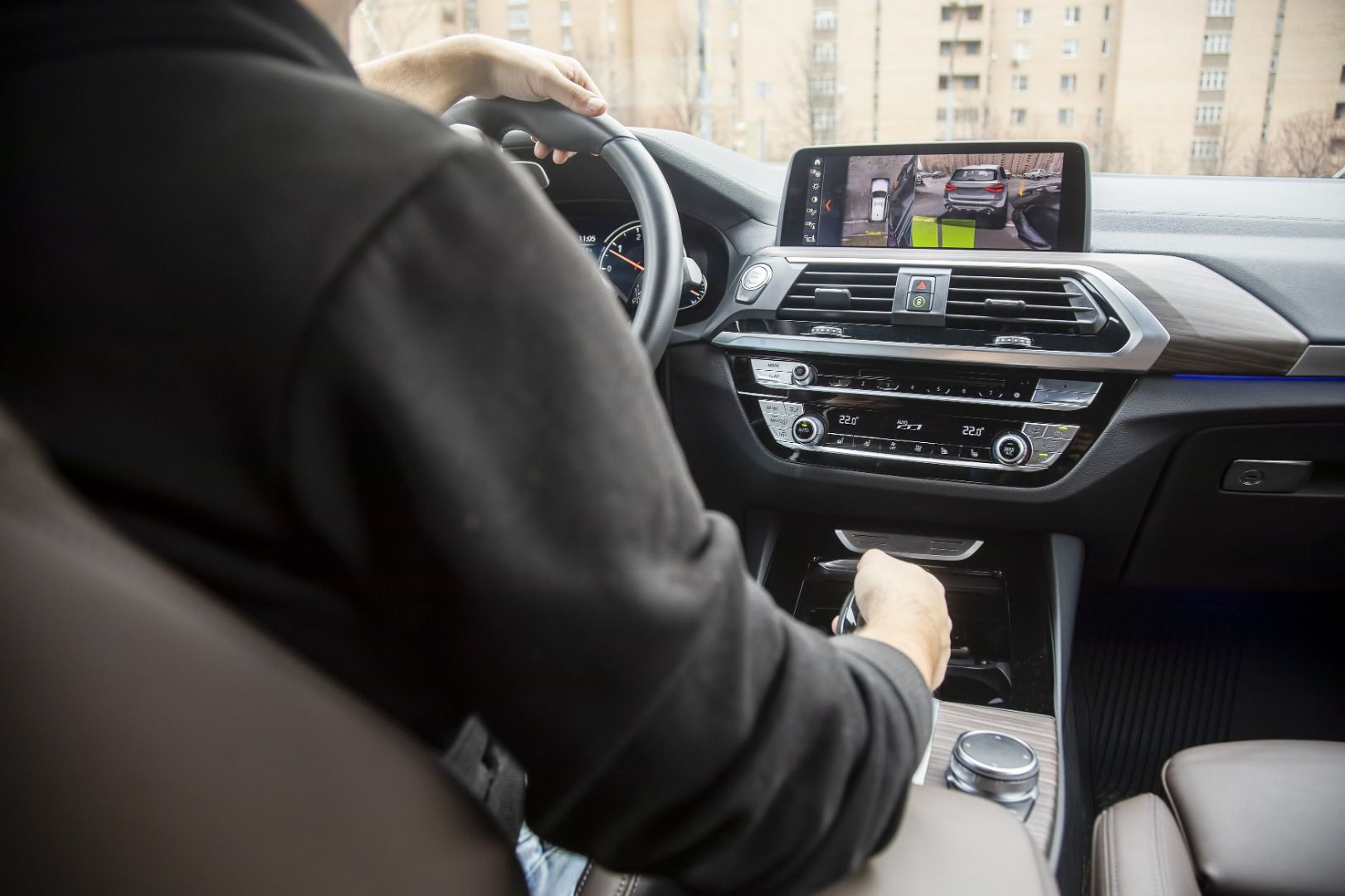 AdobeStock 309670750 ・ Photo by Maria - stock.adobe.com
Today's vehicles are better than they have ever been, but a test drive is still a very important part of the car-buying process. You wouldn't buy a pair of shoes without trying them on, so why should you buy a $40,000 vehicle without driving it? While today's cars are generally well-built, reliable, and backed by comprehensive warranties, some are better than others. My 30-plus years as a vehicle tester have taught me that some vehicles are better suited for some individuals than others.
A key way to determine if a certain car is right for you is to test drive it. To get the very best car for the money, it is extremely valuable to take the time you need to give the vehicle you're about to buy a thorough test drive. You're going to be driving it, looking at it, and paying for it for years. You should take the time you need to determine if the car is right for you.
Test Drive 101
Let's establish the overall goals of the test drive right off the bat. They are twofold: First, you want to make certain the model you have chosen to test drive is a vehicle that is well-suited to you; second, you want to determine that the actual car that you will buy and drive home is the actual car you want to buy.
To accomplish that, you need to act like a professional road tester. As a professional road tester myself, I can tell you that the process is as much about looking, exploring, and probing as it is about driving. Don't discount the driving portion of the test drive, but don't think your only task is to take a spin around the block to see if the car goes and stops.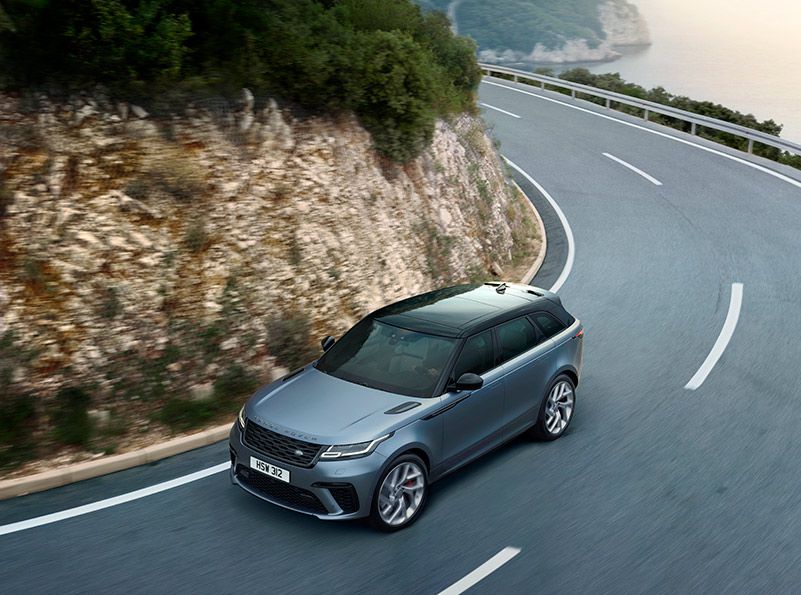 Photo by Jaguar Land Rover
Overall Exterior
A good first step is assessing the vehicle's exterior. Do you feel comfortable with its overall proportions? Do you like the way it looks? Does the vehicle seem too big or too small? Walk around it. Is it big enough to fulfill the purposes you will use it for? Is it so big that it won't fit into the parking places outside your apartment or in your garage? Open the doors and experience getting in and out of the car. Is it so low you have to pull your way out? Is it so tall you feel like you should have a ladder to get in?
Open the trunk or the tailgate. Is it easy to open and close? Is it power-operated? Is the trunk or cargo area large? And don't fail to consider the size of the trunk lid or hatchback opening. A small trunk lid can make it difficult to get bulky items into the cargo area even if the trunk itself is big.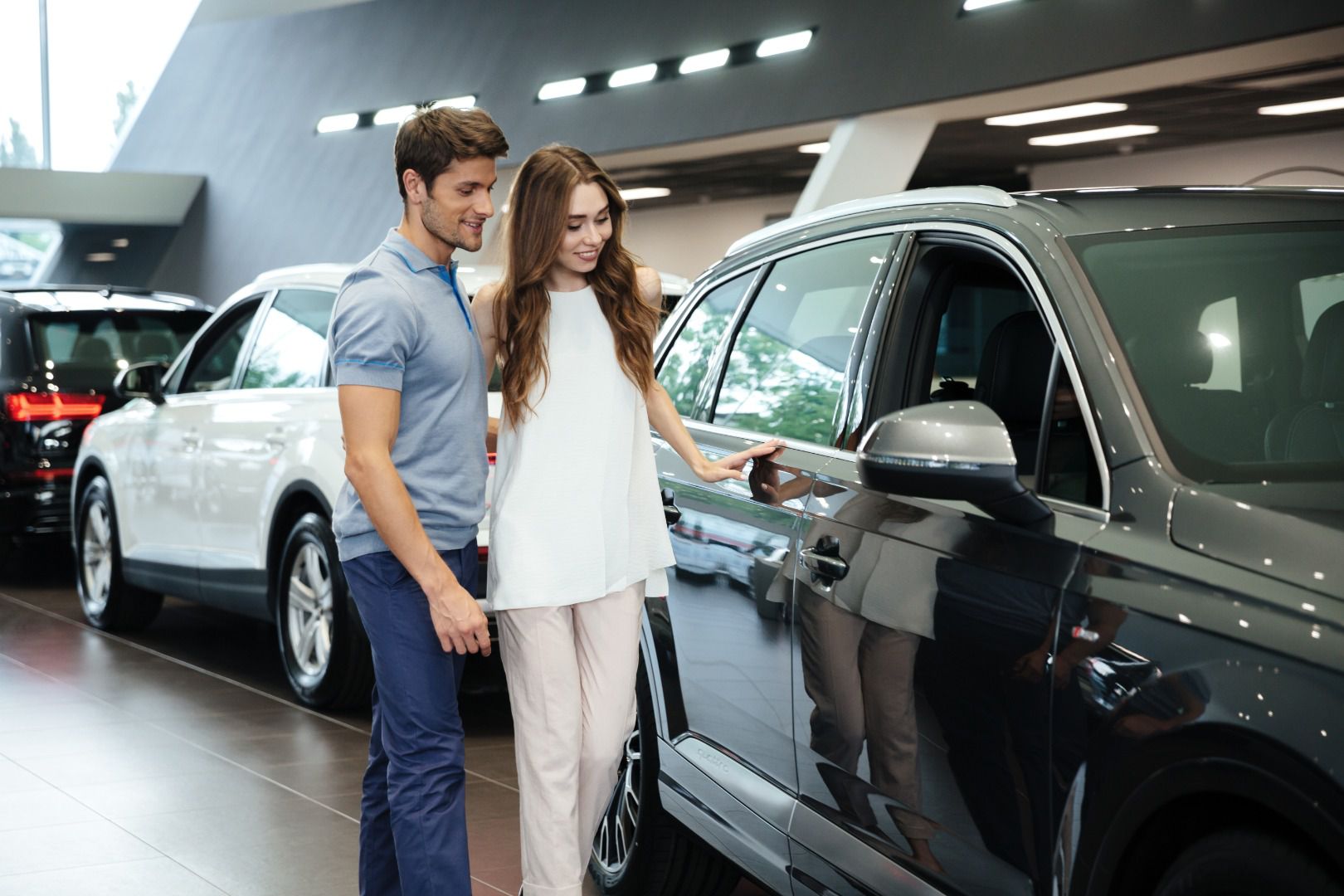 Photo by Drobot Dean - stock.adobe.com
Exterior Finish
After you've examined the vehicle as a whole, it's time to start considering the details. Take a close look at the paint in various places on the vehicle's body. This is best done in full sunlight, which will enable you to see imperfections like ripples, drips, and "orange peel." Today's cars typically have excellent paint quality, but checking will help assure yourself that you didn't get the car that came out of the paint booth late on a Friday afternoon before quitting time. Is the paint glossy, smooth, and even?
Closely inspect the quality of the chrome and other decorative brightwork that includes things like emblems and badges. Pay special attention to the wheels. Alloy wheels look great, but they can also be easily damaged. Make sure the wheels on the car you're going to take home with you aren't. Finally, examine the bumpers and other soft plastic pieces. Fit-and-finish on those parts can often be a problem.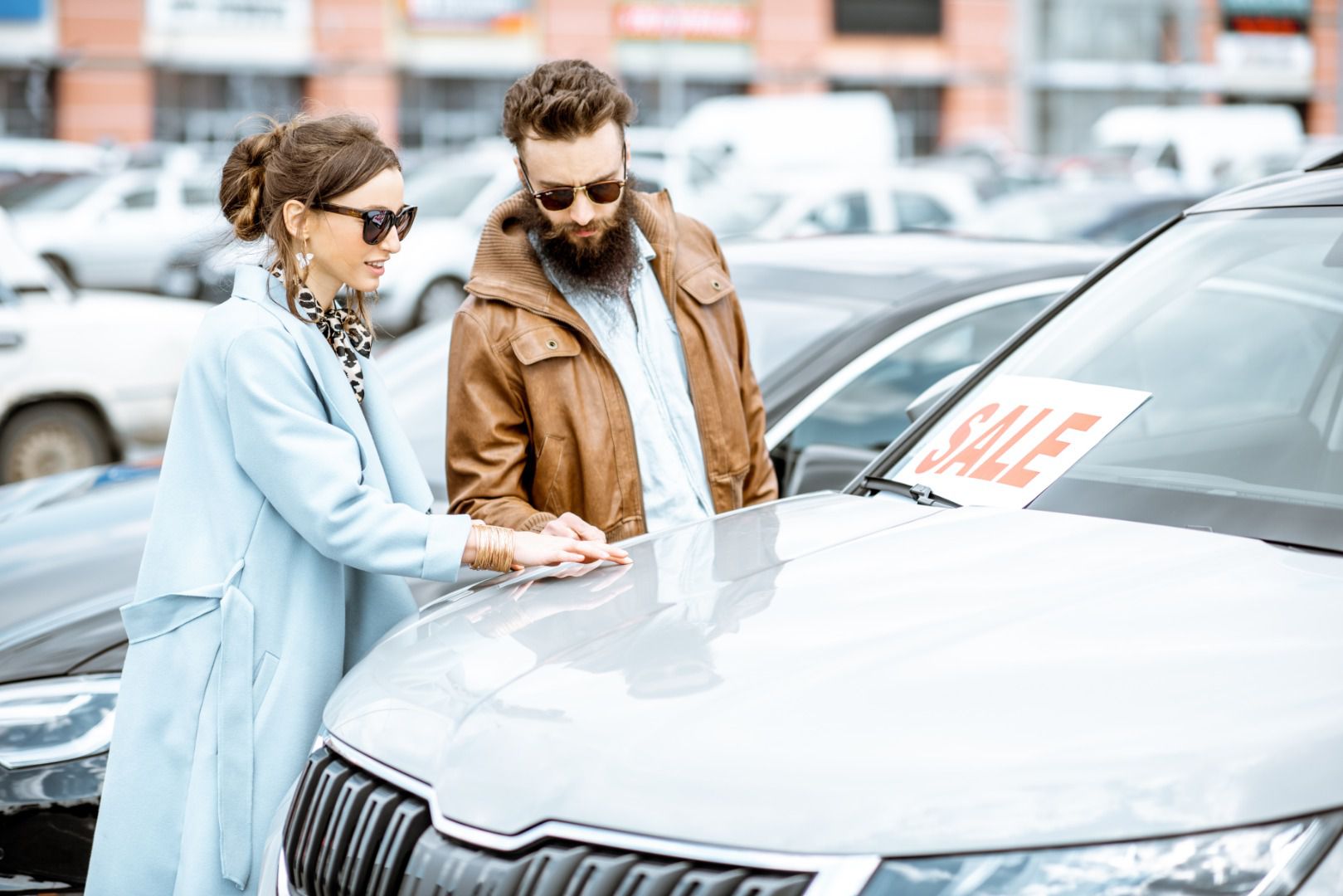 Photo by Ross and Helen photoqraphers
Overall Interior
Once you have examined the exterior of the vehicle, it is time to take a good, long look around inside. Do you like what you see? This is going to be your living room for untold hours in the years ahead. Is this a space you want to live in? Do the design, materials, and color choices feel right to you or areas?
Sit in the driver's seat and adjust it to a comfortable position. Does that position enable you to grip the steering wheel properly? Does it give you good sightlines ahead, to the sides, and to the rear? Or do you feel like you're sitting in a hole? Run your fingers over the dashboard, the seats, glove box, and console. Do the pieces fit together well? Sit in the rear seat behind the driver's seat that you have adjusted to suit you. Do you have sufficient foot and knee room?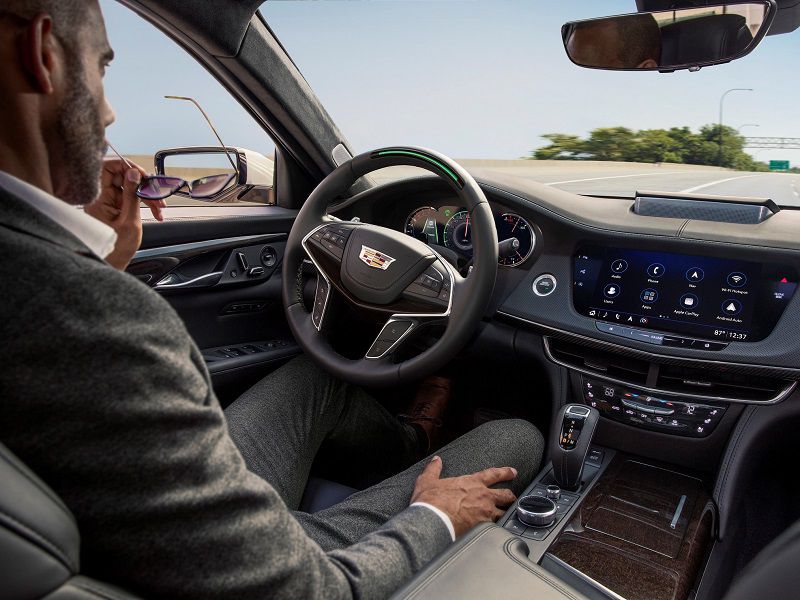 Photo by Cadillac
Interior Details
Now it's time to assess the interior details. With the ignition on and the engine running, check out the legibility of the dashboard instruments. Do they clearly convey the information you'll need as you drive? Are they pleasing to your eye? Are they configurable, giving you some control of how they look and function?
Switch your attention to the controls in the vehicle's "center stack," the space directly under and perhaps around the infotainment display. Are the controls easy to understand? Easy to operate? Feel right to the touch? When you are driving, do you think you can manipulate them without looking at them or will you need to turn your attention to them when you want to turn up the heat or turn down the volume of the audio? Pay some attention to the steering wheel, not just its size and feel but also the controls that are housed in it. Are they easy to understand and operate?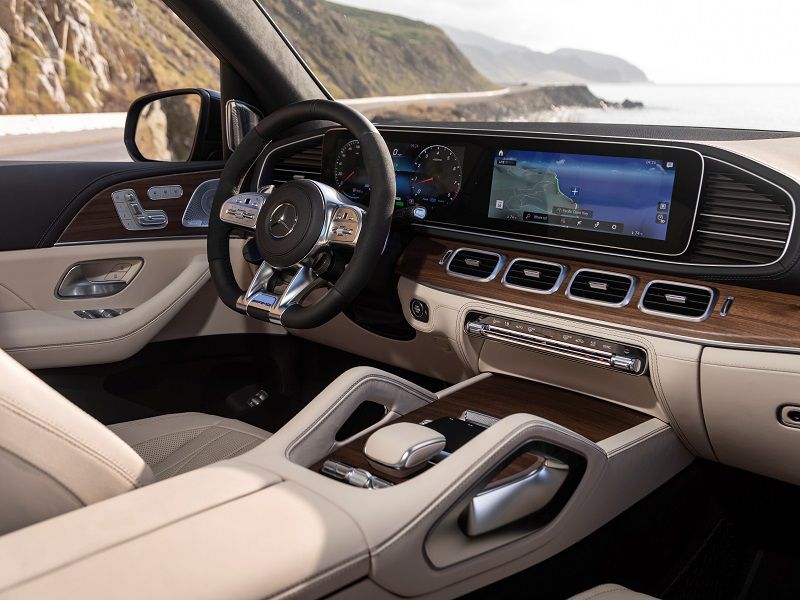 Photo by Mercedes-Benz
Infotainment System
An infotainment system is far more than a radio or a music player these days. It can plan your route, keep you out of traffic jams, and construct a music playlist for you. Some can enable you to order food and beverages, keep up with the progress of your stock portfolio, and read your emails and messages to you. Take 10 or 15 minutes to "play" with the system.
Plug in your smartphone and see the Apple CarPlay or Android Auto interface. Pair your smartphone to the system via Bluetooth to assess how that works. Check the screen for glare, legibility, resolution, and overall looks. Assess the way the system is controlled. Does it use a touchscreen, a console-mounted trackpad, or a control knob? Do you like how it works, or will it irritate you every day? Use the voice commands and determine how responsive the system is.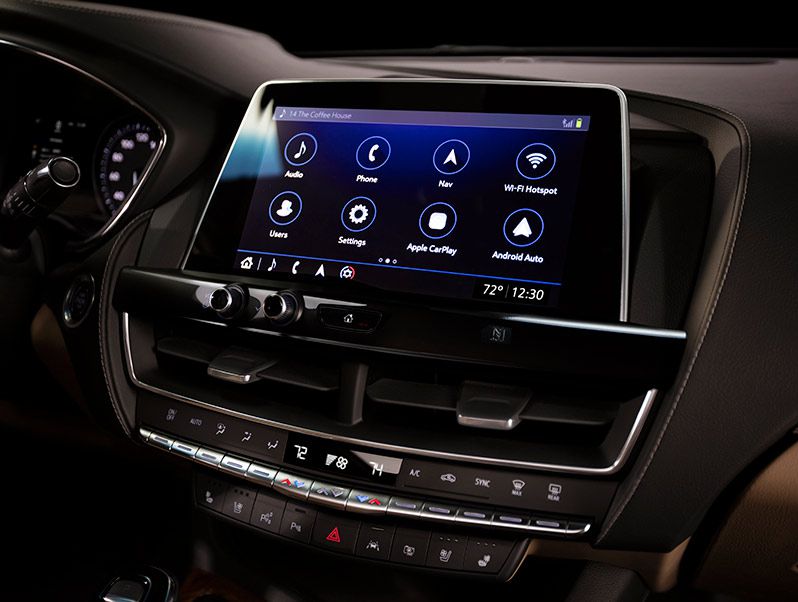 Photo by General Motors
Ride Comfort and Interior Noise
Now — finally — you are ready for the driving portion of your test drive. You've made certain that the new car will fulfill all the functions you can assess with it standing still. It's time to put it in gear and get going. Adjust the seats, mirrors, and steering wheel, click your seatbelt on and start it up. Now you can begin to evaluate how you like it not as a dynamic vehicle in motion.
First off, overcome your desire to flick on that fancy audio system. Instead, it is better to drive for several minutes in normal traffic as you assess interior noise. Do you hear wind wailing around the exterior mirrors? Do you detect tire slap as you drive over compromised pavement? This is a good time to assess ride comfort, too. Does the car give you a satisfying feeling of solidity and comfort? Or does it vibrate and pitch like the deck of a ship in a gale?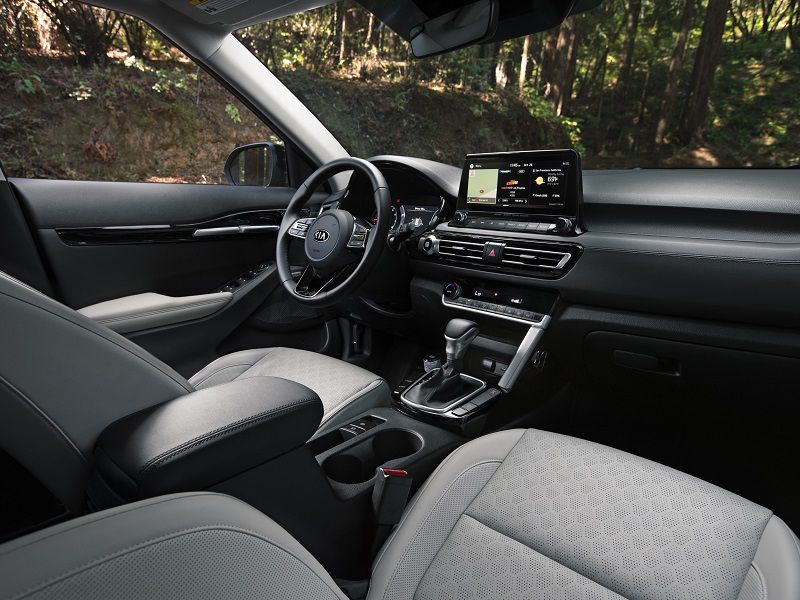 Photo by Kia
Acceleration and Braking
In the right car, acceleration is an adrenaline rush. We don't suggest that you turn each green light into the excuse to drag race, but you should assess the car's ability to gain speed from a dead-stop. Further, in an appropriate setting like an uncrowded freeway or expressway, you can test the car's ability to accelerate quickly from cruising speed when you need to pass. Accelerating and then merging at the end of a freeway on-ramp is a good exercise as well.
The other side of acceleration is braking. At some point, you will want to stop. It is probably unnecessary to do a panic stop as part of your test drive, but as you apply the brakes, assess the pedal feel and how the stopping power matches the pressure you put on the pedal. If the car seems to turn on its own as you brake, something is wrong.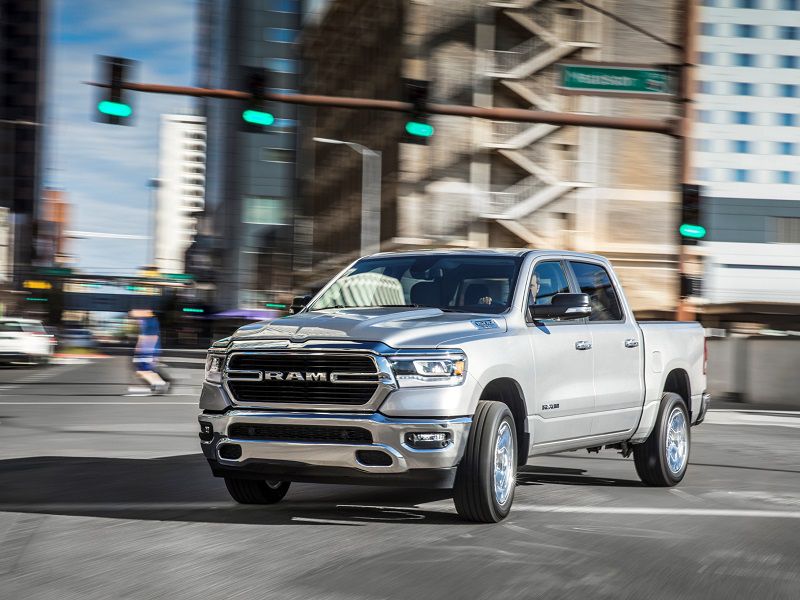 Photo by Ram Media
On-Road Handling
A vehicle's ultimate acceleration, braking, and road-holding characteristics are important. But the vast majority of drivers simply don't drive on the edge of a vehicle's capabilities. What is important is how you feel about the car's overall characteristics. Is it easy to steer? Does it track well, or does the steering require constant corrections? When you go around curves, does the vehicle feel comfortable, or does its body lean excessively.
If you can, drive the car over differing types of pavement to feel how it performs. Does it proceed without incident, or are you forced to fight the wheel and correct its course? When you apply more pressure to the accelerator pedal, does the car move forward immediately, or is there a lag between the application of the accelerator and actual acceleration?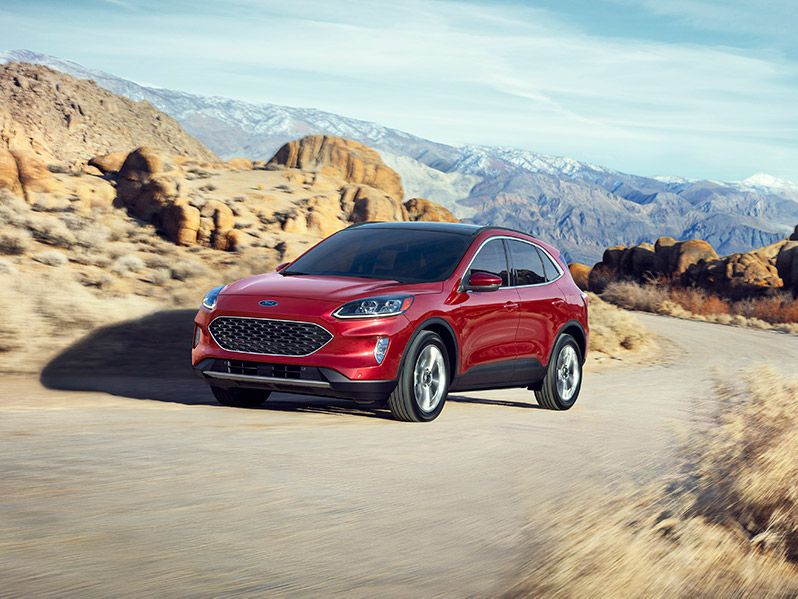 Photo by Ford
Driver's Aids Including Parking Assists
The test drive is the right time to try out the many electronic driver's aids that many cars now offer. For example, it is wise to find a relatively uncrowded stretch of Interstate or freeway to get the hang of adaptive cruise control and lane-keeping assist. Advanced adaptive cruise control will maintain your vehicle speed and the interval between your car and the car ahead plus automatically slow your vehicle or even stop it if that is required for safety. The most advanced systems will also accelerate from a stop and help you keep your vehicle centered in its lane.
The test drive is also the right time to try out parking assist features that can include the ability to control virtually every aspect of parallel parking. Other systems like rear cross-traffic alert/assist and automatic forward alert and stop are more difficult to test, but getting an understanding of how they work is important.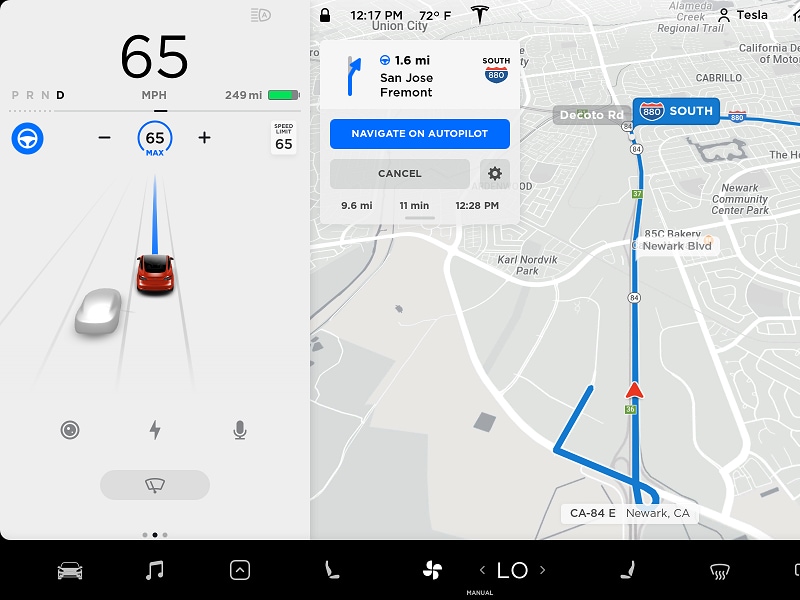 Photo by Tesla