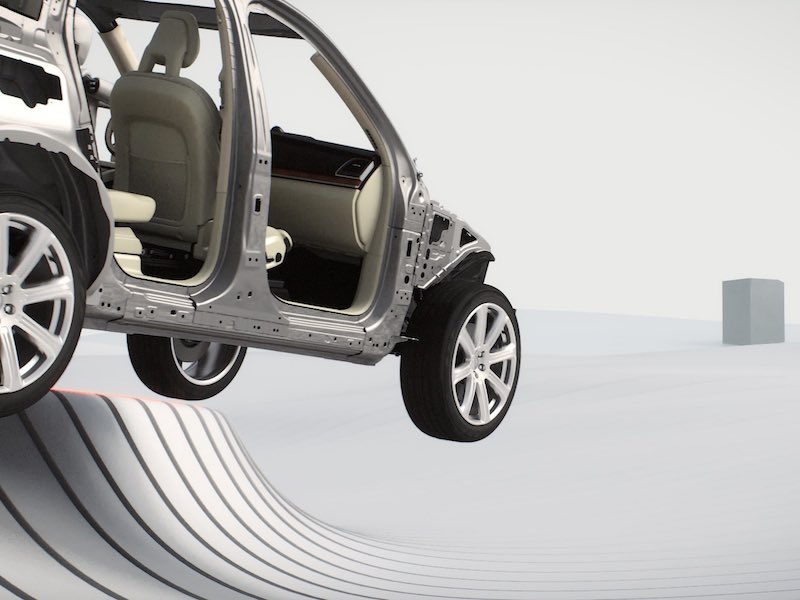 volvo xc90 road protection package ・ Photo by Volvo Cars
Volvo's new XC90 is designed to address crashes where the car leaves the road with a world-first run-off road protection package. These types of accidents are common, with a wide variety of causes, including driver inattentiveness, fatigue, and poor weather conditions, and they account for half of all traffic fatalities in the United States. Spinal injuries are another serious and fairly common consequence of this type of accident. While the risk of being seriously injured or killed in a new Volvo has been reduced by around two-thirds compared to cars designed in the 1970s, the frequency of thoracic and lumbar spine injuries has not been reduced by the same extent.
During a run-off road crash, occupants often move in random directions, putting high demands on the interior restraints. Volvo's solution focuses on keeping the occupants firmly in position and adding energy-absorbing functionality to the seat to counteract spine injuries. By keeping the occupant in an upright posture while cushioning the impact, the vertical forces they are exposed to can be reduced by up to a third.
The run-off road protection in the new XC90 is composed of two parts. The first acts to keep the passenger securely in an upright position by automatically tightening the safety belts as much as possible when the advanced sensor system detects a run-off road scenario. The system is capable of retracting the belts 3.9 inches (100 millimeters) in only 0.1 seconds, and keeps the belts firmly tightened for as long as the vehicle remains in motion. The second part helps to prevent spinal injuries by using energy-absorbing functionality between the seat and seat frame that deforms mechanically in the event of an impact in order to cushion vertical forces.
Volvo has also developed a run-off road test which was inspired by an amusement park ride. During a trip to Legoland, safety expert Anders Axelson observed people being thrown around by the Robocoaster ride, and realized that the rapid random movements resembled the forces occupants are exposed to in a crash. ABB, an industrial robot manufacturer, was able to build a machine designed to move a car seat around in a seemingly random pattern. A vehicle seat and restraint system with a crash test dummy strapped in is mounted onto the multi-axis industrial robot, which can be used to simulate occupant kinematics during crucial parts of run-off road scenarios. Volvo's most advanced dummy is "Thor," who is equipped with an enhanced flexible shoulder area to create more human-like movements in the run-off road tests.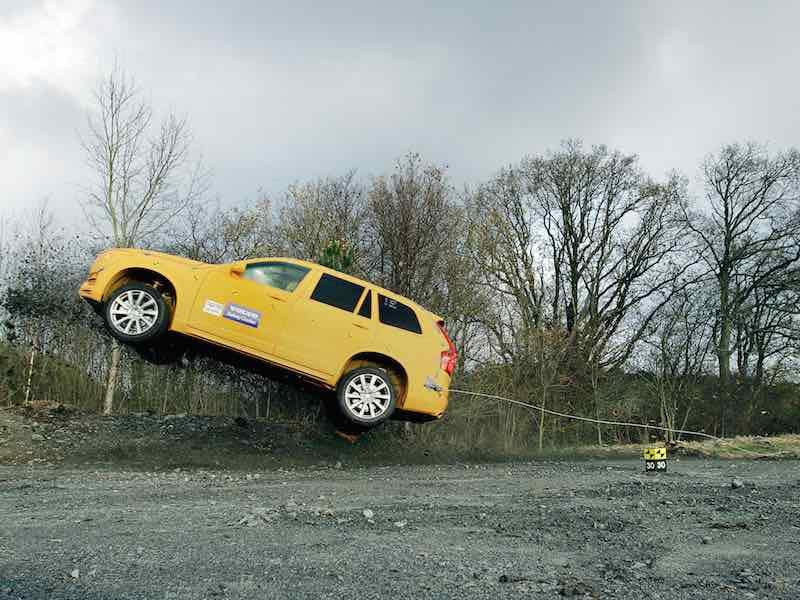 Photo by Volvo Cars
Three testing methods were developed, based on real-life accident data. The "Airborne" test simulates running the vehicle off road, with an initial free flight, followed by a landing on a smooth surface that is a little over 31 inches (80 centimeters) lower than the launch height. The result is a hard impact, causing massive vertical forces (the same level as a fighter pilot using their ejection seat). The "Ditch" test also creates high vertical forces, but it replicates the bouncing movement caused when driving into a 31-inch (80 cm) deep ditch and impacting a high embankment. The last test is the "Rough Terrain" test, which creates a bumpy ride and substantial lateral rolling motions in combination with vertical and longitudinal vehicle motions. These simulations allowed the engineers to find the best combination of safety belt geometry, rapid belt retraction, and seat design.
While there aren't currently any regulatory or rating tests for these types of accidents, in order to reach Volvo's Vision 2020 target where no one will be killed or seriously injured in a new Volvo car by the year 2020, they need to concentrate on all types of accidents. "Committing to safety is not about passing a test or getting a ranking," says Professor Lotta Jakobsson, Senior Technical Specialist Safety at Volvo cars Safety Centre. Preventing run-off road accidents with the new Volvo XC90's run-off road protection package, as well as its Lane Keeping Aid (which applies extra steering torque to keep the vehicle in its lane) and Driver Alert Control (which detects and warns tired or inattentive drivers, and directs them to the nearest rest area), are steps toward this vision.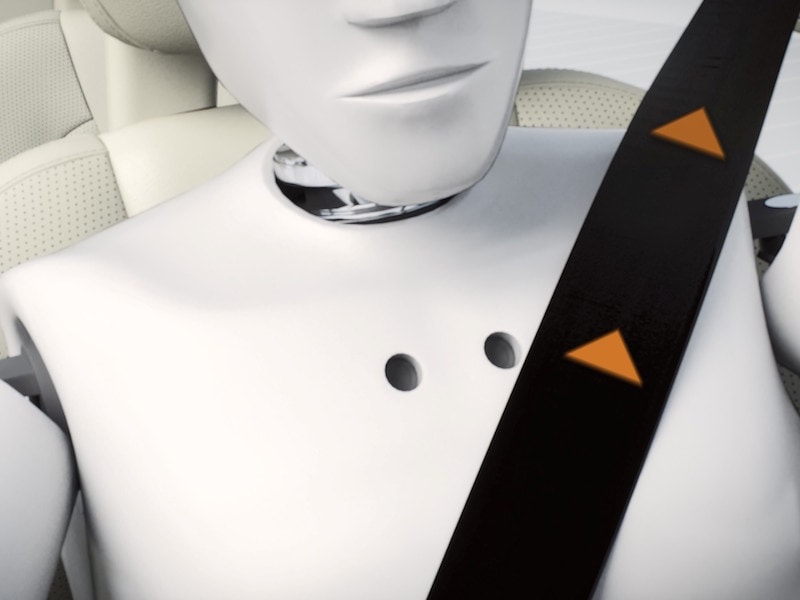 Photo by Volvo Cars