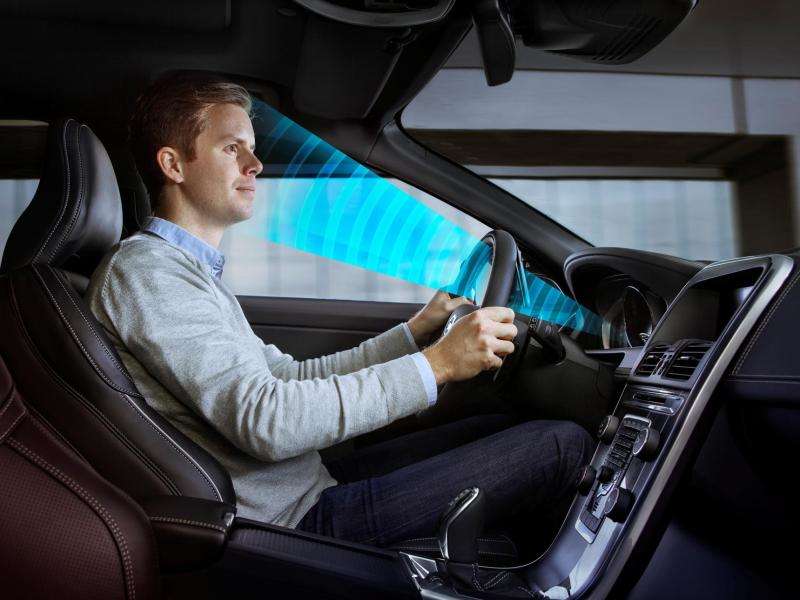 Intellisafe is the name that Volvo uses for the combination of active safety features found in their automobiles. This includes some fairly simple systems such as LED daytime running lights to help make the vehicle standout, automatic headlights that turn on when the daylight sensor detects that it's getting dark or when the foglights or windshield wipers are activated, Cornering Lights that illuminate the area in which you're turning, and the Emergency Brake Light (or EBL) that flashes the brake lights four times per second during a panic stop, and then activates the hazard lights once the vehicle has slowed to below 6 mph.
Intellisafe also includes some more complicated features, such as the Active High Beam (or AHB) system that dims only the part of the light necessary not to blind oncoming drivers, the Adaptive Cruise Control (or ACC) system to help maintain a safe distance from cars in front, the Blind Spot Information System (or BLIS) and Cross Traffic Alert (or CTA) systems to alert you of obstacles that you might not see, and Hydraulic Brake Assist (or HBA), Fading Brake Support (or FBS), and Ready Alert Brakes (or RAB) to help you stop as quickly as possible in all situations.
Advanced features include City Safety as well as Collision Warning with Full Auto Brake and Pedestrian and Cyclist Detection to help avoid (or at least lower the severity of) low speed collisions by automatically applying the brakes. There is also a Driver Alert Control (or DAC) system to alert the driver when they are losing concentration, and a Lane Departure Warning (or LDW) system to alert them when they start to stray from their lane. The Road Sign Information (or RSI) system uses a camera to detect speed limit and no overtaking signs and displays them in the driver information module.
These systems work with the passive safety systems designed into the car to make Volvo's cars extremely safe for drivers, passengers, pedestrians, and cyclists. In fact, Volvo says that your chance of getting injured in a Volvo has been reduced by around 50% since the year 2000. Volvo's Vision 2020 is a plan to keep updating the car so that by the year 2020 nobody will be severely injured or killed while in a new Volvo, partly by adding more Intellisafe features.