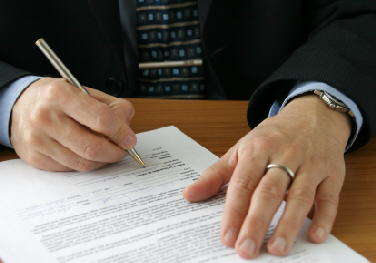 Before we explore the diabolical world of car title fraud, we first must understand the car title itself.
A title is the legal document issued by a state department of motor vehicles that describes a vehicle by make and VIN and lists the vehicles legal owners. When that document is altered in a way misrepresenting the true condition of that vehicle, we have title fraud. Title fraud comes in two varieties. The first is the most obvious and a bit clichéd.
Think of any 1970's cop show or B-Movie with car thieves, repo-men, and shady used car dealers, pulling vehicles into a big Quonset, grinding, chopping, and generally altering the VIN numbers and then printing up a batch of forged titles so they might sell the vehicles for a huge profit. Actually, the activity still happens, which is why states have added micro-printing and watermarks to their title documents to thwart modern printers. When dealing with a title document, always check the edges where the printing should be sharp and hold it up to the light to see the watermark. This kind of title fraud is kin to counterfeiting currency, and most state recognize this activity as a class two or class three felony, with a five to ten year sentence in a state correctional institution. Those who engage in this practice of title fraud are usually desperate because there is another way of altering a title, and it is perfectly legal.
Most titles are now altered, not because of the vehicle being stolen or because of some monkey business requiring the VIN altered, but are changed for a simple reason: money. And the change usually happens to remove a salvage brand from a title because a salvage car can be purchased for next to nothing, and that same car with a clean title can be sold for a big profit.
A vehicle receives a salvage title when it has been damaged to the extent that its repairs exceed its value. The damage can come from collision, submersion, fire, or theft, and reflects that the vehicle no longer posses the integrity for public roads. Technically, a salvaged vehicle should wear the brand forever, but titles can be "washed" and are washed everyday.
Not every state recognizes the salvage title the same way, and unscrupulous folks have been known to obtain a salvaged vehicle from one state, make cosmetic repairs, and take it to another state where the vehicle receives a title without the salvage brand. For example, if a salvaged vehicle is taken from New York to Wisconsin, sold there and then taken to Ohio, by the time it finds a new owner in Pennsylvania, its title will show no salvage. Legally, the new title hides any damage the car may have suffered, and the car may be a hazard, but this practice happens, and no one knows the truth.
A network of wholesalers, auction houses, and used car dealers make title washing possible since they can work in large volumes of vehicles across state lines. Certain major disasters, such as Hurricane Katrina in 2005, leave millions of cars underwater for days. When these cars are recovered, the insurance companies pay the claims and find themselves with a huge inventory of vehicles they pass onto the wholesale market. The electronics, brakes, engines, and bodies of these cars have been seriously damaged by water and rust, but with a good drying and a change of fluids, wholesalers and auctioneers pronounce these cars ready for sale. A car costing a few hundred dollars will sell for a few thousand, and until a way is found to permanently brand salvaged vehicles, title fraud will continue.