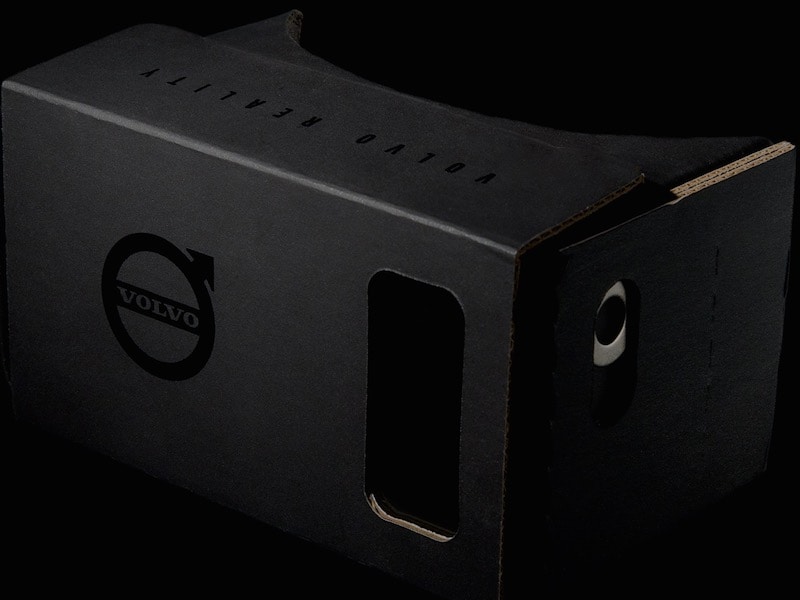 Google Cardboard is a headset that allows for a virtual reality experience using most regular smartphones. As the name suggests, the hardware is largely made from cardboard, combined with lenses, a magnet, a piece of hook and loop fastener (Velcro), and a rubber band. The headset was designed by Google, and they provide instructions on how to make it from (mostly) common household items. The device uses WebGL, and works on both Android and iOS 8.
Volvo is the first automaker to take advantage of the technology, using it to provide a revolutionary new way to test drive their new XC90 before it arrives in dealers' showrooms. Volvo worked with two companies, R/GA and Framestore, to create the application. R/GA created the concept with Volvo and also led the design, development, and implementation of the app, while Framestore filmed the test drive in multiple dimensions using a propriertary 360-degree VR camera technique and photoreal CGI.
The result is the Volvo Reality app, which transports the user into a 360-degree world inside the XC90 and allows them to explore the sights and sounds of the vehicle on the open road. The experience is themed around a weekend escape, and with the help of Google Cardboard the user can immerse themselves in the stunning natural landscape while enjoying the interior of the car and the drive itself. The first in a trilogy, "Friday Getaway," starts out in an open field, then continues up into the mountains before climaxing with a stunning look at the star-filled sky, all accompanied by a custom soundtrack specially selected to complement the trip. The experience will continue in future, as-yet-unreleased episodes.
For more information about Google Cardboard, including design and construction information, visit https://cardboard.withgoogle.com/.
To check out the Volvo Reality app for Android and iOS and take the new XC90 for a test drive, visit http://www.volvocars.com/us/volvoreality.