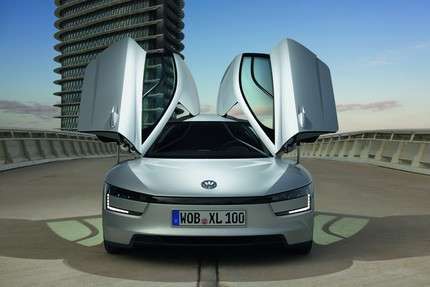 The Volkswagen XL1 is the world's most economical car, and was designed to use less than 1 liter of fuel per 100 kms (235 miles per gallon). The car is a plug-in hybrid that uses a 2-cylinder TDI Clean Diesel engine, an electric motor, a 7-speed DSG dual clutch transmission, and a lithium-ion battery pack, and can actually achieve 0.9 L/100 km or around 260 miles per gallon on the European test cycle.
The XL1 is made largely out of Carbon Fibre Reinforced Polymer (or CFRP), which results in a body structure that weighs only 506 lbs. The interior including the seats adds another 176 lbs, the electrical system weighs 231 lbs, the drivetrain 499 lbs, and the running gear another 337 lbs, bringing the total weight of the car to a svelte 1749 lbs. Only 23.2% of the car's weight is made up of steel or iron parts, instead lightweight materials such as the aforementioned CFRP as well as ceramics, magnesium, and aluminum are used where possible. The car's exterior was designed to be functional, but was also tuned in a wind tunnel to be as aerodynamic as possible, with the results being a very low coefficient of drag figure of just 0.186.
The car is powered by a 800 cc (0.8l or 49 cubic inch) 2-cylinder diesel engine (derived from Volkswagen's 4-cylinder 1.6l diesel) that makes 47 HP and an electric motor that makes 27 HP. With the 5.5 kWh battery fully charged the car is capable of driving for 31 miles using electric power alone. With the electric and diesel motors combined the system can output a total of 68 HP and 103 ft-lbs of torque, which thanks to the XL1's light weight is enough to get it to 62 miles per hour in 12.7 seconds and on to its electronically limited top speed of 99 miles per hour.