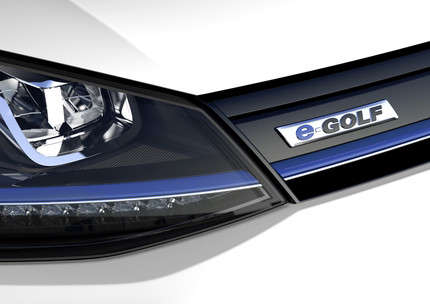 The Volkswagen e-Golf is the first fully electric Golf that Volkswagen has ever offered. The e-Golf features looks very similar to the normal Golf, however unlike the normal car the e-Golf releases zero tailpipe emissions. The e-Golf is also the first Volkswagen with all-LED headlights, as they offer the best energy efficiency, especially important on a battery powered vehicle. The car is powered by an electric motor that can spin to 12,000 RPM and makes 115 HP and 199 lb-ft of torque. The lithium-ion battery can store 24.2 kWh of power and weighs 701 lbs, making up a good part of the cars 3090 lb curb weight. Power is sent to the wheels through an EQ270 single-speed transmission that also incorporates a differential and an electro-mechanical parking brake. The e-Golf can hit 62 mph in 10.4 seconds and has an electronically limited top speed of 87 mph.
The e-Golf has three available driving modes: Normal, Eco, and Eco+. The car defaults to Normal mode, but to extend the driving range you can switch to Eco mode, which limits power output to 94 HP, starting torque to 162 lb-ft, and the top speed to 72 mph. Eco+ mode can help further extend the range by limiting power and starting torque even more to 74 HP and 129 lb-ft respectively. In an emergency, full power can be achieved even in Eco or Eco+ modes by flooring the accelerator. Depending on how you drive your range should be around 70 to 90 miles per charge.
The e-Golf features a touchscreen in the center console that can display a range monitor, energy flow indicator, and an e-manager that can help you locate a charging station. When it comes time to charge the e-Golf you have several options. Volkswagen offers a 220-volt charger that can fully charge the car's battery in around four hours. You also have the option of charging the car from a standard 110/120-volt outlet using the car's built in charger, however this option will take around 20 hours for a full charge. You can also use one of a select number of DC fast charging stations to give the battery an 80 percent charge in 30 minutes.