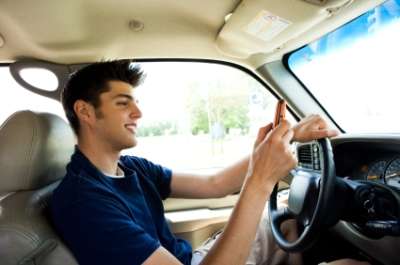 April is Distracted Driving Awareness Month, and cell phones are one of the biggest distractions for drivers. According to the National Safety Council, at any time around 9% of drivers are talking on a cell phone, and somewhere between 21% and 26% of all car crashes involve cell phone use. When a driver is multitasking and not concentrating on the road their field of view narrows and they can miss up to 50% of whats happening around them.
In order to help minimize the risks of driving with a cell phone, Sprint offers the free Drive First smartphone app, which is only available for Sprint customers. When the app is enabled it detects when you are travelling faster than 10 mph and then locks the phone. At the same time it turns off audible phone notifications, and instead directs incoming calls to voicemail. Drive First will also automatically respond to text messages to let the sender know that you are currently driving. Apps that you regularly use while driving (for music and navigation for example) can be selectively allowed.
The app has an exit button to allow you to override it, and it can optionally send a message to the account holder whenever the system is disabled, which is great for parents who want to ensure that their children are practicing safe driving habits. Even when Drive First is enabled you can quickly and easily dial 911 to reach emergency services using the on-screen '911' button. Drive First also allows you to specify a list of phone numbers that will bypass the app and not be blocked. Once Drive First detects that you are no longer moving it automatically unlocks your phone.
Unfortunately there is no way for the Drive First app to know if you are actually driving a car. If you are a passenger or riding on public transport the system will still be triggered. Additionally, the ability to configure certain phone numbers to bypass the app, and allowing drivers to use the phone's navigation and other selected apps make the Drive First app convenient, but still allows for some distraction behind the wheel.
If you are a Sprint customer and would like to download the free app, you can visit http://www.sprint.com/landings/focusondriving/