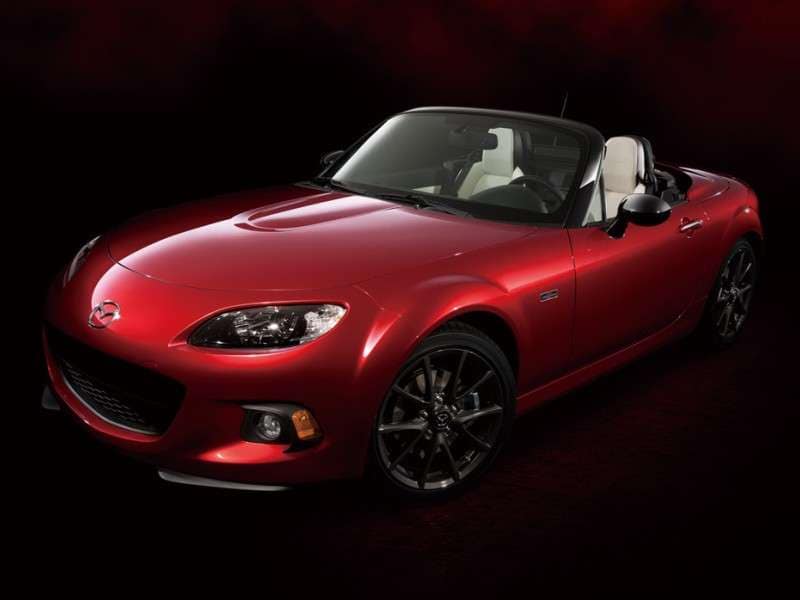 This year marks the 25th anniversary of the Miata, and to mark the occasion Mazda is releasing the MX-5 Miata 25th Anniversary Edition. Only 100 of these roadsters will be sold in the United States, not only as a tribute to the car, but also to its owners and enthusiasts.
All anniversary models are painted in Soul Red Metallic with Brilliant Black A-pillars, windshield surround, outside mirrors, and MX-5-signature Power-Retractable Hard Top. The front combination lamp bezels are also painted black, and the 17-inch Dark Gunmetal 10-spoke aluminum alloy wheels are wrapped in Bridgestone Potenza RE05A 205/45R17 tires.
While all MX-5s get lightweight pistons, connecting rods and flywheel, Mazda engineers hand-select the lightest and best balanced parts for the Anniversary Edition, allowing the engine to rev more freely. Cars equipped with the six speed manual transmission also come with Bilstein dampers to make the car handle even better than the standard version.
The interior gets standard Almond leather seats and door trim, with a liquid metal-like satin chrome finish on the louver rings, gauge cluster meter rings, and inner door handles. Anniversary editions also get aluminum alloy pedals. The steering wheel, parking brake lever, armrests, and manual transmission shifter are all wrapped in black leather. Brilliant Black is used in the interior for the seatback garnish while the steering wheel spokes are Piano Black. Red stitching is used throughout the interior, and the instrument panel features a red base paint with a hand-painted Piano Black gradation.
To make sure that people know you are driving an Anniversary Edition, the interior gets 25th anniversary logos on the headrests and on the stainless steel door scuff plates. On the outside, a single 25th anniversary badge is mounted on the driver's side front fender and features a unique serial number.
Some history of the first 25 years of the Mazda MX-5 Miata:
February 1989 - "MX-5 Miata" ("Eunos Roadster" in Japan) debuts at the Chicago Auto Show September 1989 - The car was launched in Japan March 1990 - Automatic transmission introduced September 1993 - 1.8l engine debuts January 1994 - Total production reached 300,000 units January 1998 - The 2nd generation MX-5 was launched January 1999 - "10th Anniversary Model" February 1999 - Total production reached 500,000 units May 2001 - "Mazdaspeed MX-5" released October 2003 - "Mazda MX-5 Turbo" introduced October 2004 - "Mazda MX-5 Coupe" debuts May 2005 - The 3rd generation Mazda MX-5 was launched February 2007 - Total production reached 800,000 units July 2009 - "20th Anniversary Model"