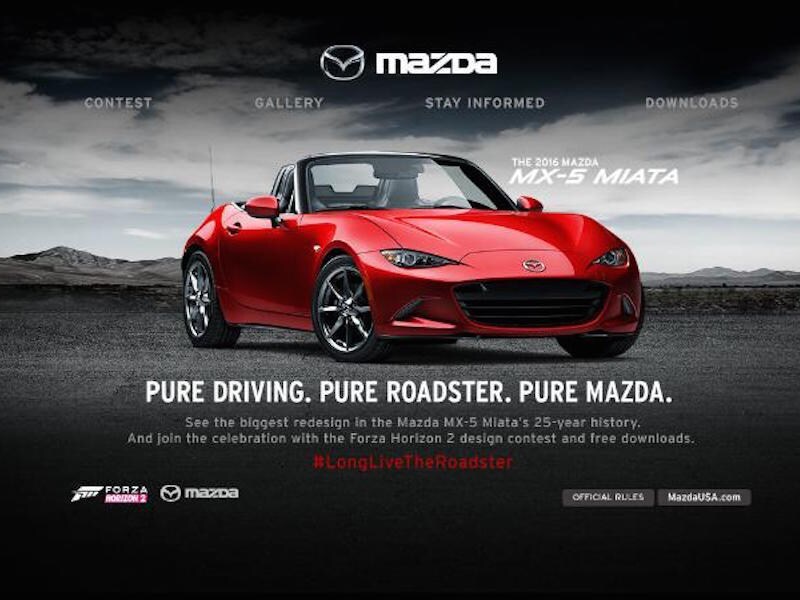 mazda livery design contest ・ Photo by Mazda USA
For the second year in a row, Mazda has teamed up with Xbox to promote the launch of a vehicle. Last year, Mazda made history by being the first automobile manufacturer to globally reveal a vehicle through the Xbox 360 when the 2014 Mazda3 was revealed in conjunction with a live concert on the console. This year, Mazda is giving Forza Horizon 2 players a chance to enter the Mazda MX-5 Livery Design Contest in order to promote the 2016 MX-5.
The contest allows players to design a livery for the 1994 Mazda MX-5 that is currently available in the game. Submissions will be reviewed by a semi-finalist judging panel that will consist of representatives from Mazda, Microsoft, and Turn 10 Studios, who will select up to five semi-finalists. Submissions will be evaluated on a 100-point scale: a maximum of 33 points for originality, 33 points for aesthetic design, and 34 points for technical proficiency.
The list of semi-finalists will be posted on the Mazda hub on Xbox Live from January 26, 2015 at 12:01 AM EST until February 12, 2015 at 11:59 PM EST for a public vote. The two semi-finalists who receive the most public votes will be flown to South by Southwest in Austin, Texas, where a winner will be selected by three judges: Derek Jenkins (Mazda's director of design), Major Nelson (from Xbox Live), and Forest Byrd (from TC9700Gaming). The winner will receive a prize consisting of a 55-inch curved TV, an audio music system, an Xbox One Kinect console, and a MadCatz Racing Wheel. The winner's design will also be made available as a free gift to all Forza Horizon 2 players on both Xbox One and Xbox 360. In addition, a second contest with Microsoft will be announced at South by Southwest 2015.
To enter the contest, first sign into Xbox Live using an Xbox 360 or Xbox One. Then enter Forza Horizon 2, select the 1994 Mazda MX-5 and follow the instructions provided within the game to design a livery. Once the design is finished, participants are required to save their design with the name "MX5contest" and upload it to the Forza Horizon storefront.
The Mazda MX-5 Livery Design Contest is open through January 4, 2015 at 11:59 PM EST. Official rules can be found on the Mazda hub on Xbox 360 and Xbox One.