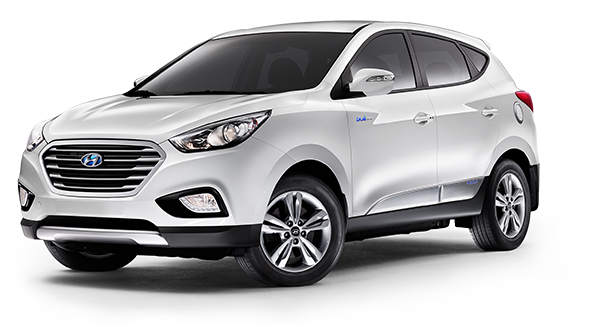 The Hyundai Tucson Fuel Cell is an electric vehicle that gets its energy from a hydrogen fuel cell instead of from an electrical outlet. Powered by a 100 kW electric induction motor that send 134 HP and 221 lb-ft of torque to the front wheels, acceleration from a stop to 62 mph takes 12.5 seconds, and the top speed is 100 mph. Range is limited to 265 miles, however since refuelling takes less than 10 minutes (compared to the 3 hours or more it takes for a battery powered electric car to recharge), that shouldn't be a problem for most drivers.
The hydrogen fuel is stored in a special tank, and then supplied to the fuel cell stack. In order to provide the required oxygen, an inflow of fresh air is supplied to the fuel cell stack. The reaction between the oxygen in the air and the hydrogen generate water and electricity. The electricity is supplied to the electric motor and to the battery. The only emissions are pure water.
The fuel cell used in the Hyundai is unique in that it uses ambient air pressure instead of compressed air to supply oxygen to the fuel cell. This saves the energy that would otherwise have been required to compress the air, resulting in low parasitic loss, and lowering power consumption by 50%, while also reducing noise. The Tucson Fuel Cell is also equipped with a start/stop mode to shut down the fuel cell stack when idling, in order to minimize energy loss in city driving. The onboard battery is also recharged when stopping using regenerative braking.
Hyundai is keen to stress the safety of the Hyundai Tucson Fuel Cell. They have tested the vehicle extensively, including numerous tests conducted while driving the hydrogen powered SUVs over 2 million miles. They have also performed destructive and non-destructive evaluations at the component, system, and vehicle level. The Tucson has been through the regular offset-frontal, side, and rear impact crash tests, as well as fire tests. If the SUV has been involved in a crash, impact sensors stop the release of hydrogen from the tanks. Because hydrogen is much lighter than air, any hydrogen that leaks should dissipate into the air quickly. There are also four onboard hydrogen sensors, designed to sound an alarm if any leaks are detected. When handled properly, hydrogen is as safe or safer than gasoline, diesel, or natural gas.
Initially the Tucson Fuel Cell will only be available in Southern California due to the lack of hydrogen refueling stations elsewhere, however availability should increase as the hydrogen refueling infrastructure expands. The Tucson Fuel Cell is currently available only in a 36 month lease, with $2,999 due on signing and monthly payments of $499. This monthly cost includes maintenance, and even fuel, potentially making the vehicle a great bargain, depending on your driving habits.