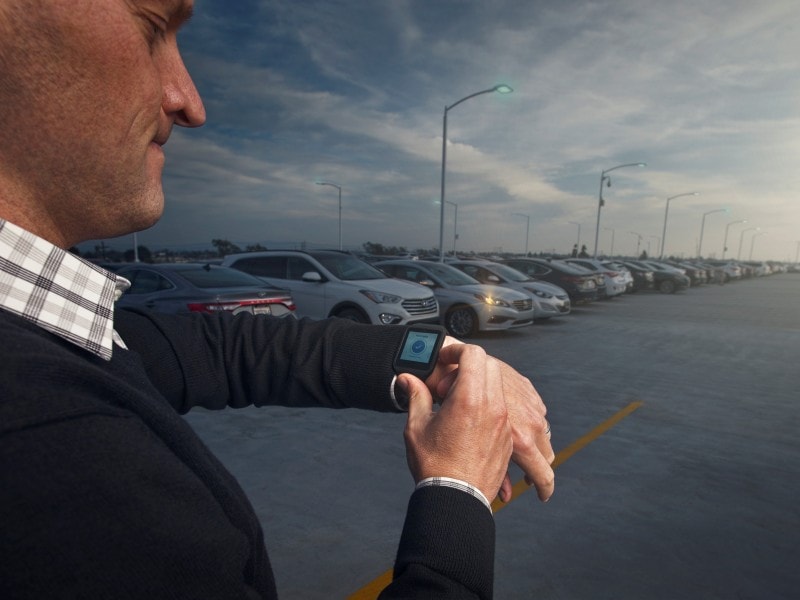 If you've been looking for a reason to purchase a smartwatch, Hyundai is here to help. They have recently announced a smartwatch application that works with their first and second generation Blue Link equipped Hyundai vehicles.
In order to work, the Blue Link smartwatch app must be paired via Bluetooth to an owner's smartphone running the Blue Link mobile application. Remote functions can then be executed from anywhere where the smartphone has access to a cellular or Internet connection. The app is easy to use – the wearer taps an icon or uses voice commands (like "start my car", "lock my car", or "find my car") to execute functions, including remote flash lights / honk horn, car finder, remote door lock and unlock, remote engine start (and stop, if the engine was started remotely), call roadside, and call Blue Link.
Executive director, customer connect and service business development Barry Ratzlaff says "Connecting to your car through a smartwatch and voice recognition was previously something seen only in science fiction movies. Now, we can provide this capability to owners of Hyundai vehicles equipped with Blue Link."
Hyundai representatives have demonstrated the Blue Link smartwatch app on LG, Motorola, Samsung, and Sony smartwatches. Android Wear users will be able to download the app from Google Play for free starting in the first quarter of 2015. The smartwatch app will work with Blue Link equipped vehicles such as the Hyundai Elantra, Equus, Genesis, Genesis Coupe, Sonata, Tucson, and Veloster.