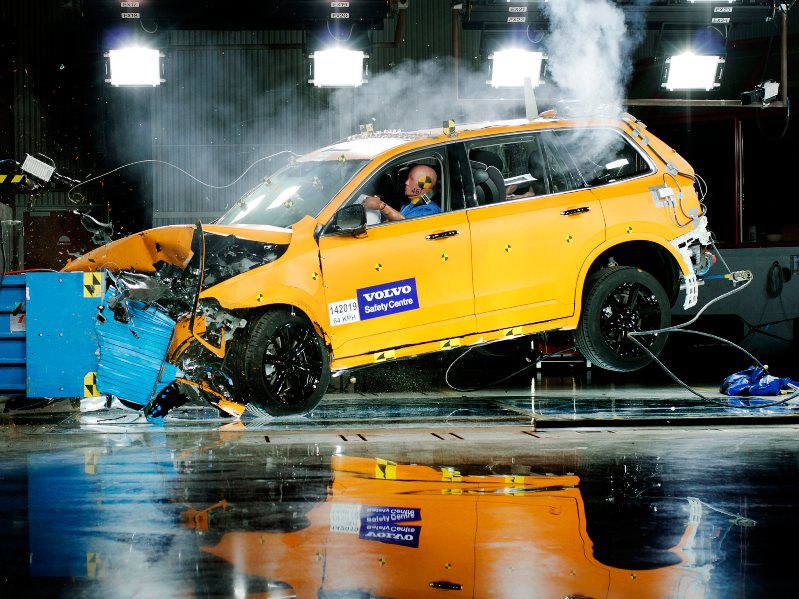 front offset crash test ・ Photo by Volvo
Choosing a vehicle that is not safe could cost you your life. This sobering fact is backed by statistics revealing that nearly 22,000 people died on North American roads in 2012. Thousands of those perished for a simple reason – they were not adequately protected by the vehicle in the accident.
The process of finding a safe vehicle to buy isn't difficult. We have the National Highway Traffic Safety Administration (NHTSA) and the Insurance Institute for Highway Safety (IIHS) to thank for it.
Federal Motor Vehicle Safety Standards require that each car meet certain minimum requirements before its maker can sell the vehicle in America. Crash-test programs operated by the NHTSA and the IIHS, which are designed to exceed federal standards, examine how capably new vehicles protect occupants in a variety of collisions. Yet, interestingly enough, while both agencies are pursuing similar goals, their crash testing procedures are very different.
The NHTSA Crash-test Program
In 1978 the NHTSA began measuring how new vehicles protected their occupants in frontal impacts. During the following decades, the NHTSA expanded the types of testing it performed, improved test methodologies, and strengthened test requirements. Today the familiar "star ratings" (as seen on NHTSA's safercar.gov website) are printed on the window stickers of every new vehicle sold in America. A 5-star rating is good. A 1-star rating is bad. Most modern vehicles rate at least two stars in any given test.
Vehicles to be tested are anonymously purchased from new-car dealerships. Due to budget limitations, the NHTSA focuses on evaluating redesigned popular models and new models that possess the potential to become popular. If structural changes are made to a vehicle the NHTSA has already tested, but that vehicle is not completely redesigned, the NHTSA will perform a new round of tests to determine the impact of those changes on crashworthiness.
The NHTSA's testing program measures crash protection in frontal- and side-impact collisions, how well a vehicle might perform if striking a tree or pole on the driver-side door, and how well a vehicle resists a rollover accident. That last assessment deserves greater consideration by consumers, given that 7,500 of the 21,667 people killed in collisions in 2012 died in a rollover.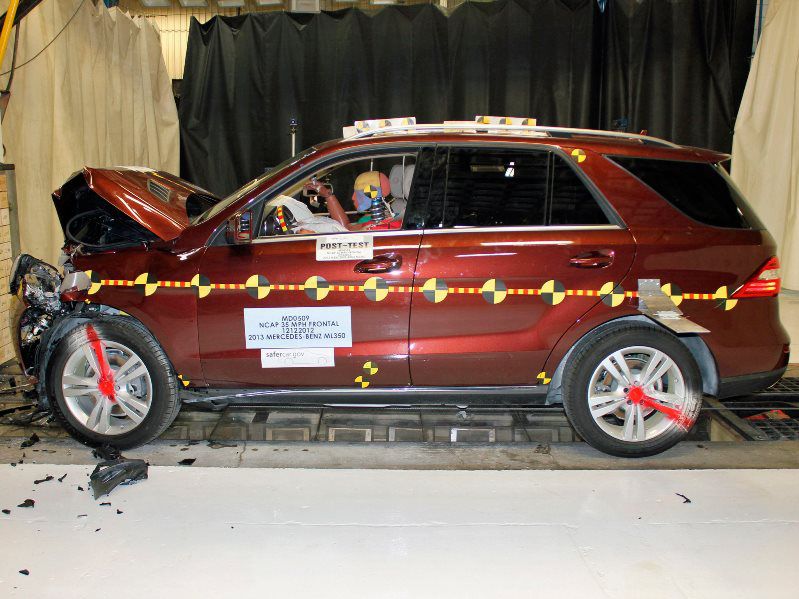 The IIHS Crash-test Program
Founded by insurance associations in 1959, the Insurance Institute for Highway Safety became an independent research organization in 1969 focused on human factors research, vehicle research, and physical environment research pertinent to reducing motor vehicle collision losses. The IIHS opened a dedicated Vehicle Research Center in 1992 and started performing frontal-impact crash tests on new vehicles in 1995. The IIHS uses a four-tiered rating system defined as "Good," "Acceptable," "Marginal," and "Poor" to describe a vehicle's test performance.
Volvo simulating an offset crash test similar to that conducted by the IIHS.
As is true of the NHTSA, the IIHS has expanded, strengthened, and refined its testing program over the decades, giving automakers new and higher hoops through which to jump in order to build the safest vehicles possible. Since 2012 it has become harder for car companies to earn the organization's "Top Safety Pick" rating thanks to the addition of a tough new small overlap frontal-impact crash test, and new ratings of forward collision warning and collision prevention systems.
Today insurance companies and insurance associations fund the organization. Using this financial support, the IIHS anonymously purchases vehicles for its crash-test program, similar to how the NHTSA sources vehicles. However, confident automakers eager to have the IIHS complete its assessments are invited to underwrite testing in order to speed the process. In such cases the IIHS does not accept test vehicles directly from the car company. Vehicles to be tested are sourced anonymously from dealerships.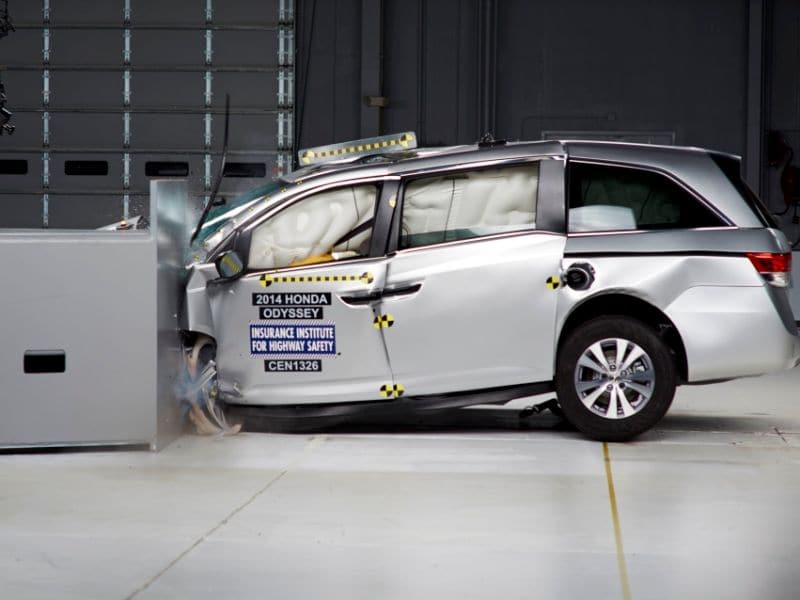 Frontal-impact Crash-test Differences
Each organization performs frontal-impact crash tests, and while their methodologies may differ the results are used the same way. Consumers can compare NHTSA and IIHS frontal-impact test results only against other vehicles of the same size, give or take a few hundred pounds. Therefore, in a collision, a top-rated subcompact car will not fare as well as a large car or midsize SUV with less impressive ratings.
In NHTSA tests, the entire front end of a vehicle impacts a fixed barrier at 35 mph with an average-size male crash-test dummy in the driver's seat and a small-size female dummy in the front passenger's seat. The test replicates a head-on collision between two vehicles of the same size and weight, and ratings are based on injury measurements taken from the dummies.
The IIHS conducts two different frontal-impact crash tests, each one using an average-size male crash-test dummy in the driver's seat, and each one designed to replicate real-world collisions that are typically offset to another vehicle or object. Ratings are based on dummy injury measurements as well as the vehicle's structural performance and how well the seatbelts and airbags perform.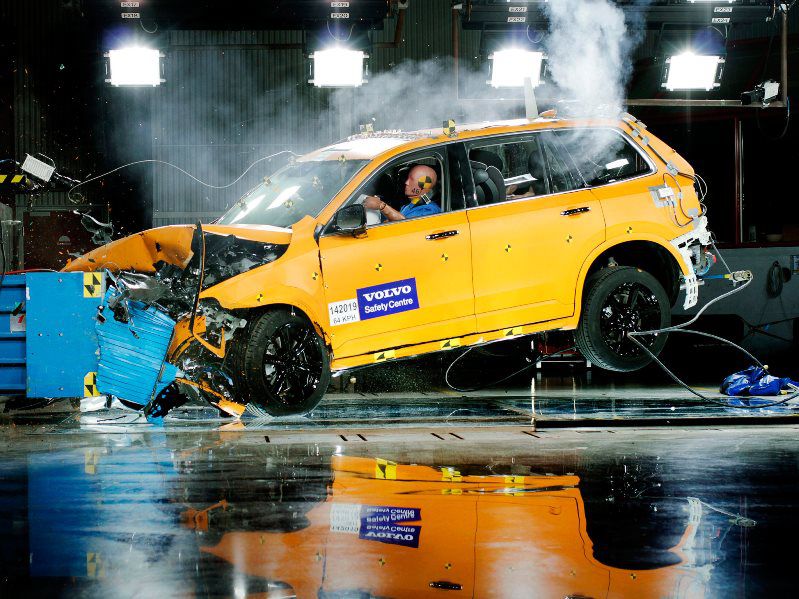 Photo by Volvo
Moderate Overlap Frontal-Impact Test
In the moderate overlap frontal-impact test, which replicates an offset head-on collision between two vehicles of similar size and weight, 40 percent of the total vehicle width strikes a barrier with a deformable face at 40 mph. The IIHS says that by choosing a vehicle that gets a "Good" rating instead of an "Acceptable" or "Marginal" rating in this test, car buyers improve their chance of survival in such a collision by 13 percent.
In 2012, the IIHS introduced the small overlap frontal-impact test, which replicates what might happen if the tested vehicle were to impact a tree, a utility pole, or oncoming traffic on the front left corner of the vehicle. In this test, 25 percent of the total vehicle width impacts a rigid, 5-foot-tall barrier at 40 mph with an average-size male dummy in the driver's seat. While more testing and correlation with real-world collision data is necessary before the IIHS can calculate the differences in survival rates based on performance in this test, suffice it to say that you're probably better off in a vehicle rated "Good" than you are in one that gets a less impressive rating.
While IIHS frontal-impact testing is more rigorous than that performed by the NHTSA, the IIHS implores consumers to consider vehicles that perform well in both sets of tests. That is because the NHTSA testing approach emphasizes seatbelt and airbag restraint performance, while the IIHS testing approach emphasizes structural performance. Get a vehicle with a 5-star rating from the NHTSA and a "Top Safety Pick" rating from the IIHS, and you'll be driving one of the safest choices in your selected vehicle segment.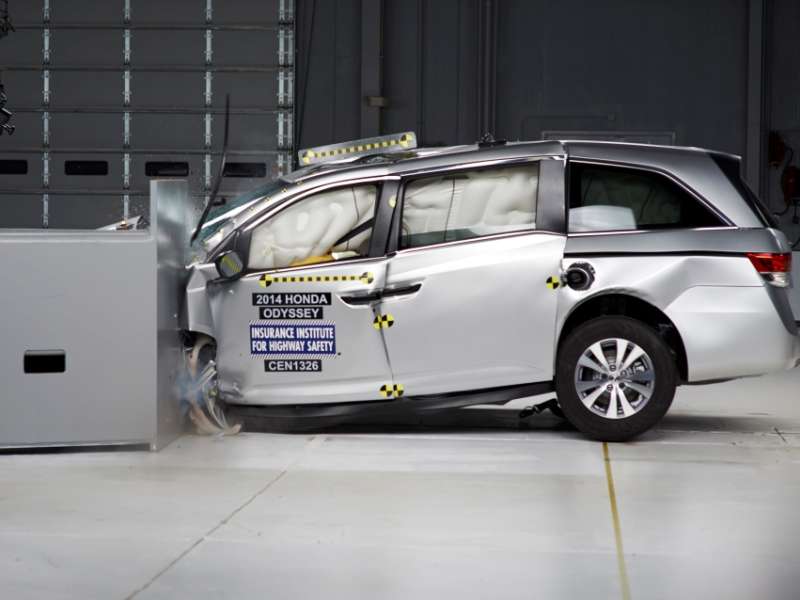 Side-impact Crash-test Differences
Similar to how the NHTSA and IIHS take different approaches to measuring frontal-impact protection, their side-impact testing methods vary. Another difference here is that side-impact test results can be compared across vehicle size and type classes, as they are valid no matter the vehicle's weight or construction. Side-impact ratings are important to consider because, according to the IIHS, 25 percent of all motor vehicle fatalities occur as the result of a side-impact collision.
With an average-size male crash-test dummy in the driver's seat and a small-size female dummy in the rear seat behind the driver, the NHTSA rams a 3,015-lb. barrier into the side of the vehicle at 38.5 mph, simulating a common type of collision that occurs at intersections. The moving barrier is designed to absorb impact force and crush in a similar way to an actual car. To replicate what might happen if a vehicle were to slide into a tree or a utility pole, the NHTSA straps a small-size female crash-test dummy into the driver's seat and then drags the vehicle into a 25-cm diameter pole at a 75-degree angle. The pole strikes the vehicle at the driver's seating location.
When the IIHS instituted side-impact crash testing for the 2003 model year, it decided to use a taller and heavier barrier intended to reflect increasing consumer preferences for pickup trucks and SUVs. The 3,300-lb. barrier slams into the driver's side of a vehicle at 31 mph, and the IIHS measures the impact on two small-size female crash-test dummies, one seated behind the steering wheel and one in the left rear passenger's seat. Based on analysis of real-world crashes, the IIHS has determined that a driver of vehicle that receives a "Good" rating in this test is 70 percent less likely to die in a side-impact collision that the driver of a vehicle that receives a "Poor" rating.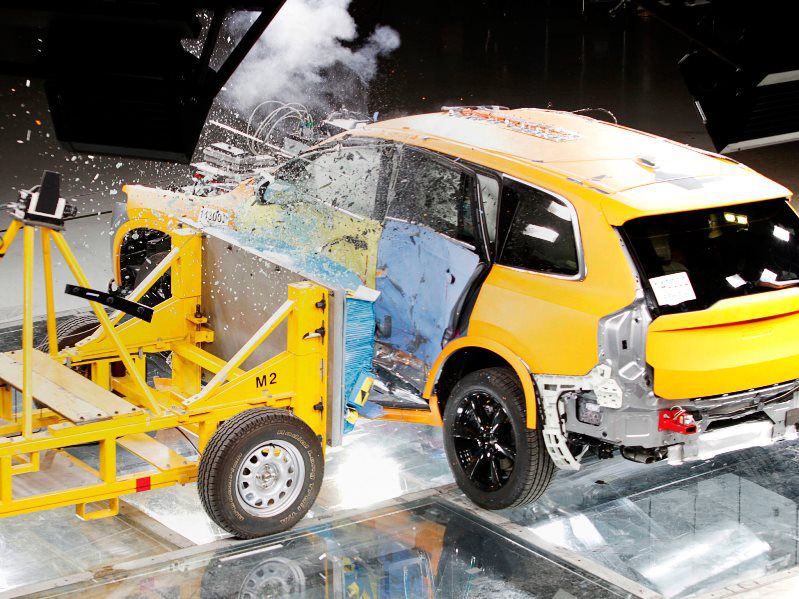 Rollover Protection Evaluation Differences
Just as different frontal-impact crash-test methodologies are complimentary rather than contradictory, so too is each organization's approach to measuring risks associated with rollover crashes. The NHTSA calculates the potential rollover risk associated with a vehicle and performs a dynamic test, while the IIHS actually crushes a vehicle's roof to determine how much force it can resist in event that a rollover occurs.
By establishing a vehicle's center of gravity height and taking into consideration the average track width between the front and rear wheels, the NHTSA calculates what is known as the Static Stability Factor (SSF). Then, the vehicle is taken onto a test track, weighted to simulate a load of five passengers, and is subjected to an emergency lane-change test. If two of the vehicle's tires lift more than two inches off the ground, the vehicle fails this portion of the assessment.
According to the NHTSA, a greater percentage of SUV occupants are killed in rollover collisions than people traveling in passenger cars, vans, or pickup trucks, which is not surprising given their higher SSF scores. No matter what type of vehicle you're driving or riding in, keep your seatbelt buckled. The data also shows that if you wear a seatbelt you are 75 percent less likely to be killed if your vehicle rolls.
To determine how much force a vehicle's roof can withstand in the event that it does roll over, the IIHS pushes a metal plate against the side of the roof on the driver's side of the vehicle. Applying slow and constant speed combined with increase force, the test continues until the roof is crushed five inches. A roof that proves it can withstand force equal to four times the vehicle's weight earns a "Good" rating. Any result falling below two-and-a-half times the vehicle's weight receives a "Poor" rating.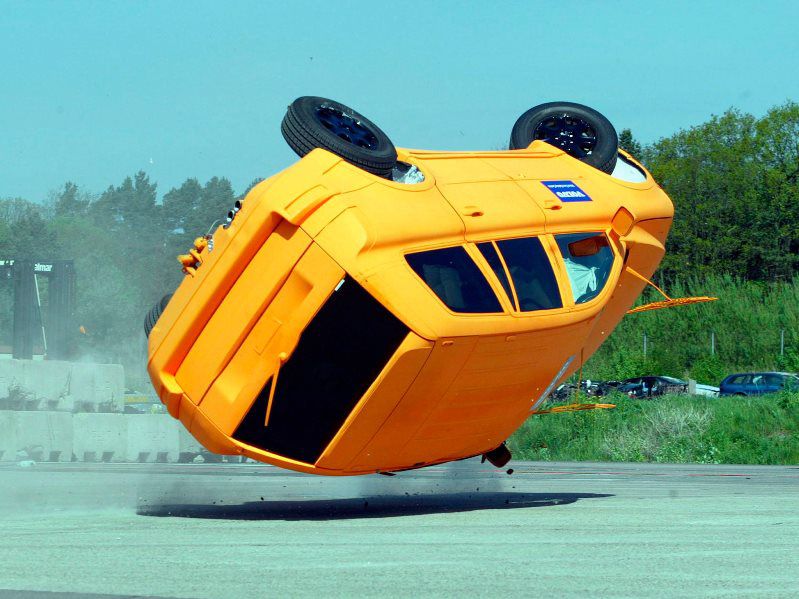 Where the IIHS Goes the Extra Mile
Unlike the NHTSA, the IIHS rates a vehicle's ability to prevent neck and back injury in a rear-impact collision. Following geometric testing of a crash-test dummy seated in the vehicle's most common front seat design, the IIHS performs a dynamic simulated rear-impact collision that measures the likelihood of whiplash or spinal injury. The data demonstrates that crash injury and long-term injury rates are lower in vehicles that perform better in these tests.
Beginning in 2013 the IIHS began assessing the effectiveness of front crash prevention systems including forward collision warning and collision mitigation braking systems. Using "Basic," "Advanced," and "Superior" ratings to describe how well the systems warn and autonomously respond to a potential collision, the IIHS has determined that for the 2015 model year any vehicle earning a "Top Safety Pick+" rating must have an "Advanced" or "Superior" forward collision prevention system as standard or optional equipment.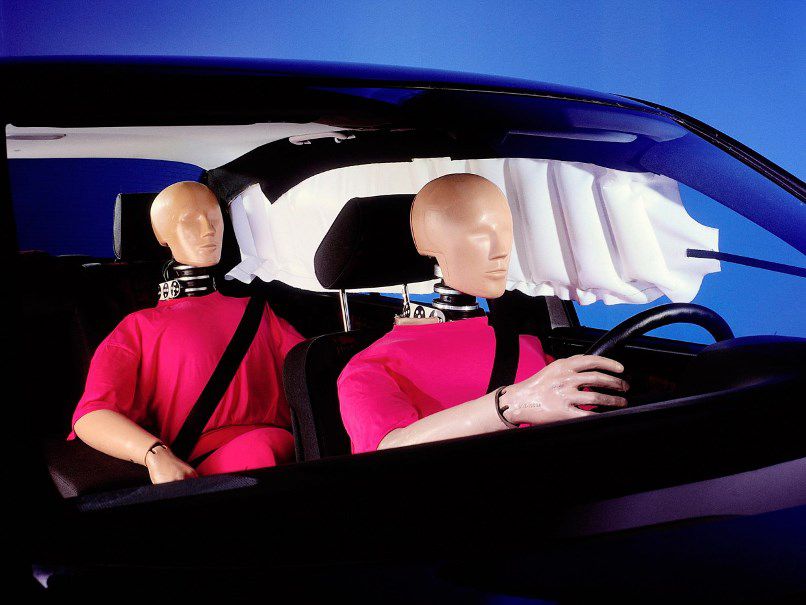 Putting It All Together
Most people think all new cars are safe, and in most cases they are—but to what degree of safety varies depending on the automakers approach to structural engineering, vehicle type and size, and available safety-related technologies. All vehicles behave different in a crash.
When shopping for a used or new vehicle, strong crash test scores are every bit as important as fuel economy, reliability and price – lives depend on it.
Share this story with everyone who is in the market for a new or used car or truck, as vehicle safety is something we cannot live without.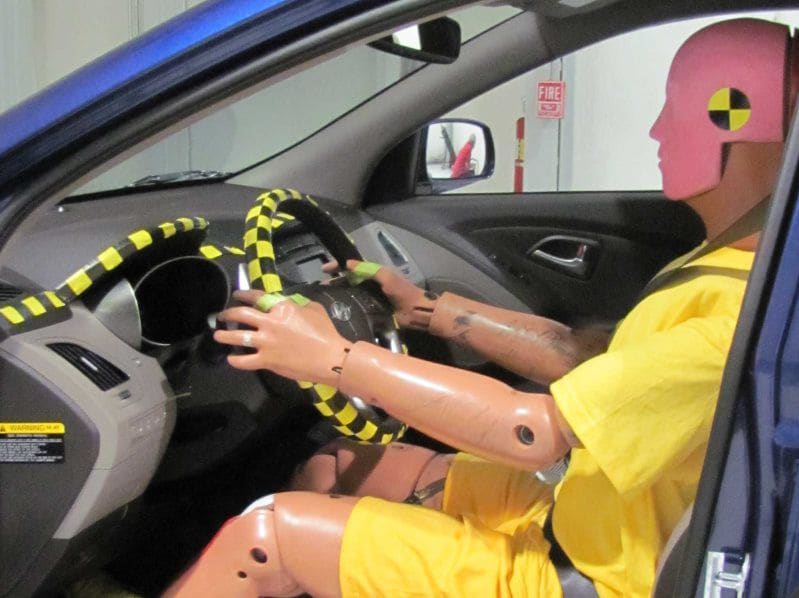 Photo by WikiCommons