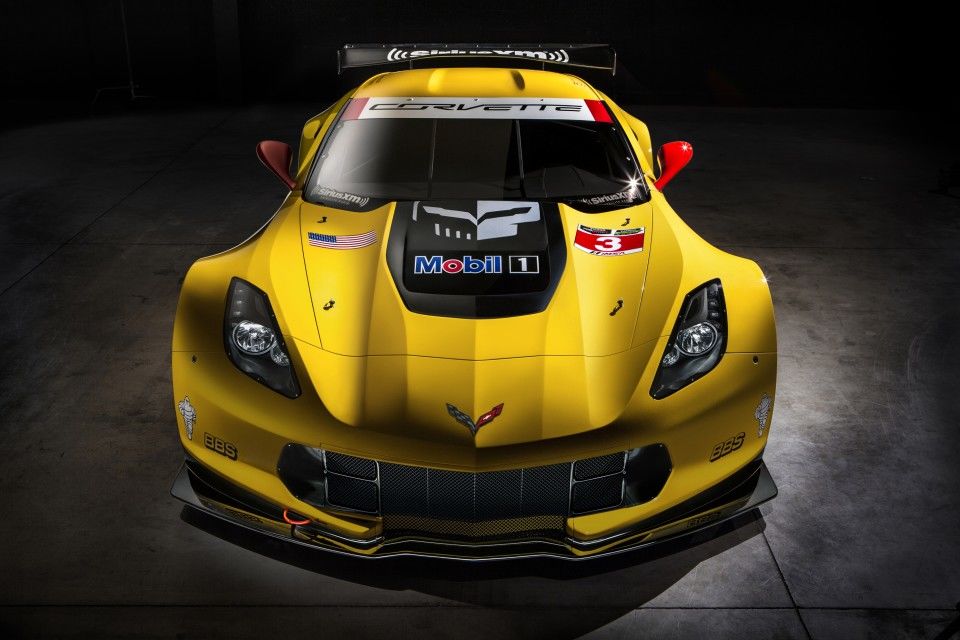 The Corvette C7.R is a race car based on the C7 version of the Corvette Z06 and built by Pratt & Miller and General Motors. The car is in essence an evolution of the C6.R, as all of the best parts of that car were incorporated into the C7 road car. While the car looks quite similar to the road car, the race car is actually quite a bit lower and quite a bit longer. Unlike the road cars the C7.R uses a coil springs instead of the traditional transverse leaf springs. Because of the rules the C7.R has to make do with iron brake rotors instead of the carbon-ceramic units optional on the Z06.
The rules also mean that the best engine to use was a modified version of the 5.5l V8 found in the C6.R. The engine has been updated to once again feature direct injection, which should improve fuel economy and allow for fewer pit stops in endurance races. Instead of the 7-speed manual transmission found in the road car, the C7.R uses a 6-speed sequential manual transmission to send the power to the wheels.
The C7.R also continues to use the Pratt & Miller rear-facing radar system, which can notify drivers when faster cars are coming from behind to pass. The system uses different colored arrows depending on closing speed, and also indicates which side the car will pass on, which is especially useful at night when the headlights from the car behind can be blinding.
In 2014 the car will be raced by Corvette Racing in the GTLM category of the United SportsCar Championship against cars such as the Porsche 911 GT3 RSR, BMW Z4 GTE, Ferrari 458 Italia, and its old rival, the SRT Viper GTS-R. The C7.R will also be going for the eighth class win for a Corvette at the 24 Hours of Le Mans in June.