The BMW C Evolution is an electric scooter with a range of 100 kilometers, or about 62 miles under practical conditions. The scooter is powered by a liquid cooled permanent magnet synchronous motor that powers the rear wheel through a toothed belt and ring gearing. The electric motor is rated at 15 HP and 53 lb-ft of torque, but has a peak output of 47.5 HP, enabling the BMW C Evolution to reach an electronically limited top speed of 75 mph, and providing acceleration better than some 600 cc scooters. The run from 0 to 31 mph takes 2.7 seconds, and 62 mph is reached in just 6.2 seconds.
To provide the 62 miles of range the scooter uses an 8 kWh air-cooled lithium-ion high voltage battery. In fact, the C Evolution uses the same energy storage and electronic componentry as the BMW i3, helping the scooter become the first electrically powered two-wheeler to meet the ISO 26262 standard. A full recharge from empty takes 3 hours when using a 220V 16A outlet, or 4 hours when using a 220V 12A outlet. The scooter also features energy regeneration to automatically recharge the battery when coasting or braking.
The battery casing is made from diecast aluminum and forms the central part of the chassis. The steering head support, rear frame, and swing arm are all made out of steel tubing. The front suspension uses an upside down telehydraulic fork while the rear uses a spring strut mounted on the left hand side. All C Evolutions get ABS and disc brakes as standard, while TCA (or Torque Control Assist) is available. TCA limits the motor's torque, similar to the way Automatic Stability Control works on BMW's motorcycles.
The BMW C Evolution features four riding modes: Road, Eco Pro, Sail, and Dynamic. Road mode provides full power, 50% energy regeneration, and full regeneration when braking. Eco Pro limits acceleration, and provides maximum regeneration at all times. Sail mode eliminates the the recuperation to allow for coasting. Dynamic mode combines full power with a high level of regeneration.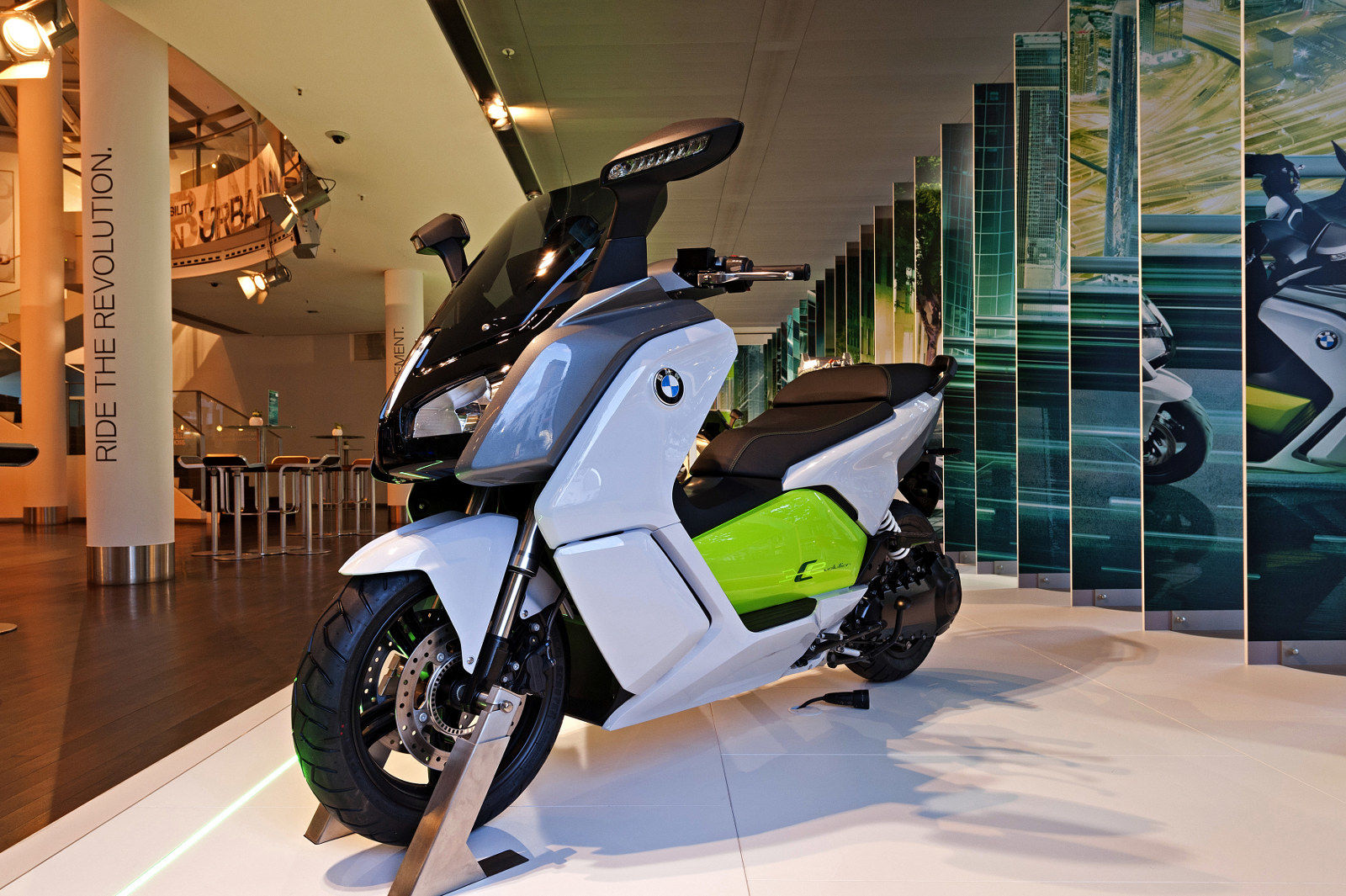 The BMW C Evolution's instrument cluster uses a large TFT color display to provide the current speed, average consumption in kWh/100 km, total power consumption, battery charge status in kWh, average speed, voltages for the on-board electrical system and high voltage electrical system, and the estimtaed remaining range in kilometers based on the selected riding mode. There is also a bar graph that displays the current flow of energy. The C Evolution also features an LED daytime running light, which also dims to double as the sidelight. A reversing aid helps when maneuvering, while heated handlebar grips add comfort on cold days.