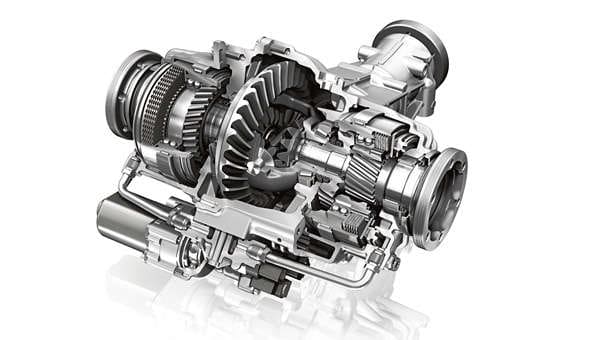 The Audi quattro Sport Differential is available as an option on some of Audi's models, including the S4, S5, and A8.
The standard quattro all wheel drive system found on these cars can change the ratio of torque distributed to the front and rear wheels of the car, depending on the available traction. When the rear wheels start to slip, more power is sent to the front wheels, and vice versa.
The Sport Differential works in a similar manner, except that it uses torque vectoring to change the torque distribution in the rear axle from side to side. In a corner, more power is sent to the outside rear wheel, to help push the car around the corner. The Sport Differential eliminates understeer (the front end of the car pushing wide), and helps rotate the car. The system works with the traction control (ASR) and stability control (ESP) systems to keep the car on the proper path. The differential also works with Audi's drive select system, allowing you to change the characteristics of the engine, transmission, suspension, and steering, as well as the Sport Differential.