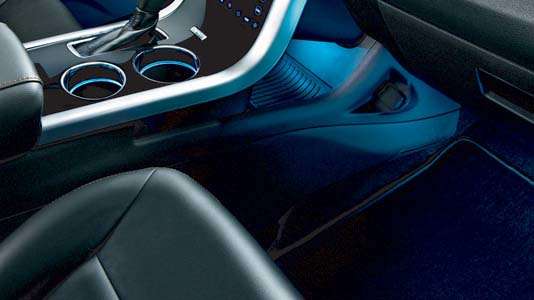 Ford Ambient Lighting is an interior lighting system that allows the driver to select from one of seven different accent colors in order to set the mood in the cockpit. The system is standard or available on many of Ford's models, including the Fiesta, Focus, Fusion, Taurus, and Mustang cars and the Escape, Edge, Flex, and F-150 trucks, depending on the selected trim level.
The color selection changes by vehicle, but usually includes a selection of red, purple, orange, green, and several different shades of blue. There are also several different brightness settings to adjust the intensity of the light. Depending on the model the accent lights may be found in the front and rear footwells, storage-bins, cupholders, and door release handles.
The Ford Ambient Lighting system compliments the MyColor system found in the Mustang, which allows the driver to select from one of 125 custom colors for the instrument cluster. You can also use the MyColor system to select from one of the seven Ambient Lighting colors so that all of your interior lighting matches.