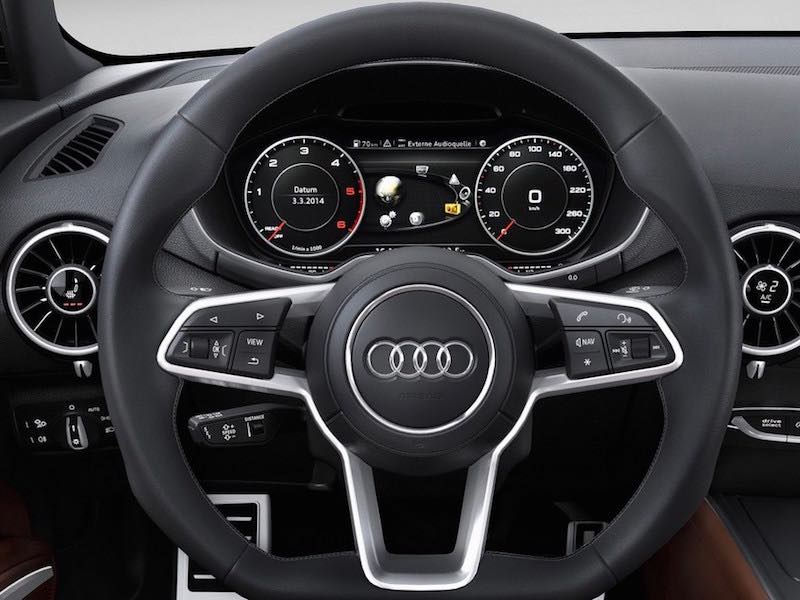 Audi showcased their MIB-2 (Modular Infotainment Platform) technology and virtual cockpit at the Connected Car Expo in Los Angeles that ran from November 17th to November 19th.
The new MIB-2 uses the NVIDIA Tegra 30 system on a chip (SoC), which includes a quad-core processor. With double the processing power and faster graphics, the system can now drive two displays simultaneously, one in the instrument cluster, and one in the center stack. The T30 graphics processor allows for a higher resolution virtual 3D platform and a completely redesigned user interface, allowing Audi to implement a full three-dimensional graphical user experience. The Audi MIB-2 platform will allow owners to upgrade their software as more sophisticated technology becomes available, allowing for improved online, media, navigation, voice command, and telephony functions.
The Audi virtual cockpit is an entirely digital dashboard that replaces the instrument cluster with a 12.3 inch TFT display. Combining the functions of the central MMI monitor and the traditional gauges, a quad-core Tegra 30 processor from NVIDIA is capable of rendering up to 60 frames per second to ensure that the needles of the speedometer and rev counter as well as the navigation system all update with absolute precision. The virtual cockpit can display a wide range of information, from circular instrument dials, to outside temperature, navigation, and even the images from the reversing camera.
The MIB-2 will debut in the 2016 Audi A6 and Audi A7 model lines, while the Audi virtual cockpit debuts in the 2016 Audi TT.