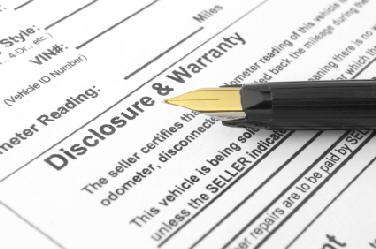 As if regular new car warranties weren't complicated enough, if you're considering shopping for supplemental coverage, there's another set of rules thrown into the equation.
The terms "extended warranty" and "aftermarket warranty" are nearly synonymous. Aftermarket warranties and extended warranties are basically the same thing, and both amount to what is not exactly a warranty, but more like a service plan that can be purchased for any car.  (Some consumer protection publications points out that these programs aren't considered warranties under the federal law's definition of a warranty.) They are not an insurance plan, though aftermarket car warranty companies use insurance-related terminology is a marketing strategy meant to stoke fear in your new purchase and inspire confidence in the aftermarket car warranty's ability to safeguard against what they'd like you to believe is imminent disaster.  Unlike insurance, though, aftermarket car warranty companies are not subject to close federal oversight or regulation.
Now that you have a better idea of what you're actually buying, let's take a closer look at aftermarket car warranties, and how to find the best aftermarket car warranty. 
There are basically two ways to determine if an extended warranty is worth the expense – pure math (with a little hypothesizing) or peace of mind.
If you like to replace your new car every few years, it doesn't make any sense to buy an extended warranty. As cars get more reliable, aftermarket warranties become less necessary. And you might not even need an extended warranty if you're buying a used car certified from the manufacturer, since most automakers beef up the coverage on their certified cars. It's a gamble deciding to spend a fixed amount of front or not know how much you might spend later on repairs. A 2007 Consumer Reports study found that buyers of aftermarket warranties often don't get their money's worth, because the parts that are covered don't often break within the coverage period. And according to Edmunds.com, the average claim on a service contract that cost $1000 is just $150.
But you might realize that  to you, spending the extra money up front is totally worth it if you don't have to fret about when and how your car will break down. Perhaps you'll decide you'll keep your car for a long time, carefully research its projected costs of ownership, and decide you'll probably save money over that term by paying up front for major repairs. If you plan to keep the car for a long time, after the manufacturer's powertrain and bumper to bumper warranties have expired, it might be wise to get supplemental coverage.
Consumer Reports concedes that if you have your heart set on a particularly unreliable car or manufacturer, this might be a situation to buy an aftermarket warranty.  The best time to shop for an aftermarket warranty, Consumer Reports says, is six months before your factory coverage expires. This way, you'll have a better idea of your car's condition, and you won't have to deal with high-pressure sales tactics at the dealership. You can always decide to buy one later (but it might come at a higher cost). 
So, once you've decided to go ahead and buy, how do you find the best aftermarket car warranty?
First, decide what kind of coverage you'll think you might need, and what you believe is worth the expense. Aftermarket warranties often come in similar levels to regular manufacturer warranties (like individual powertrain or bumper to bumper warranty packages) and one can be purchased without the other. Some extended warranties also include frills like rental cars and lodging, in case you get stranded while your car is being repaired.
You'll probably get offered several extended warranty packages while you're cornered at the dealership, and even though it is usually not a good idea to buy an extended warranty at the same time you buy the car, a dealer-offered package is probably your safest bet. Buying an extended warranty directly from the manufacturer of your car, through the dealership, is ideal because there is a reasonable expectation that your coverage will be honored when something goes wrong. And manufacturer warranties offered through a dealership ensure a dealership (factory-trained) technician will be working on your car. Repairs covered under extended warranties from your car's manufacturer can be performed at any authorized dealership, and the repairs are often approved without drama (whereas getting a repair authorized by a third party company at an independent mechanic is much like fighting to get an insurance claim approved). Review these offers carefully, because the dealership itself is rarely the backer of these warranties and just a reseller. That said, they are priced with a steep dealership profit margin (some experts estimate there is much as a 50 to 100 percent markup). Even though you have to read the fine print, these warranties are still usually more reliable than buying directly from a third-party company.
Of course, you could also choose from amongst the numerous third-party aftermarket warranty companies, but your guard should be up even more. Third-party warranties are usually less expensive than extended manufacturer warranties, but they are often more of a hassle. Aftermarket warranty companies have a reputation as "fly-by-night"-type operations, and they operate much like insurance companies – they make a profit by selling coverage they hope they won't have to honor.  These coverage packages are often subject to unusual restrictions, much more stringent than a standard manufacturer's powertrain or bumper to bumper warranty. With some contracts, you might have to pay up front for the repairs and get reimbursed later, after proving the repair qualified for the coverage. Also, many third-party extended warranties are not transferable to a new owner. Research a company's history before you buy, and keep all the documentation you receive about your aftermarket warranty – depending on your state's regulations, you may have some recourse if your company disappears and you're stuck with expensive repairs.
When you do decide on a course of action to protect yourself against unexpected car repairs, research is always your best bet. Aftermarket car warranties can get so complicated that standard new car warranties might seem straightforward in comparison.