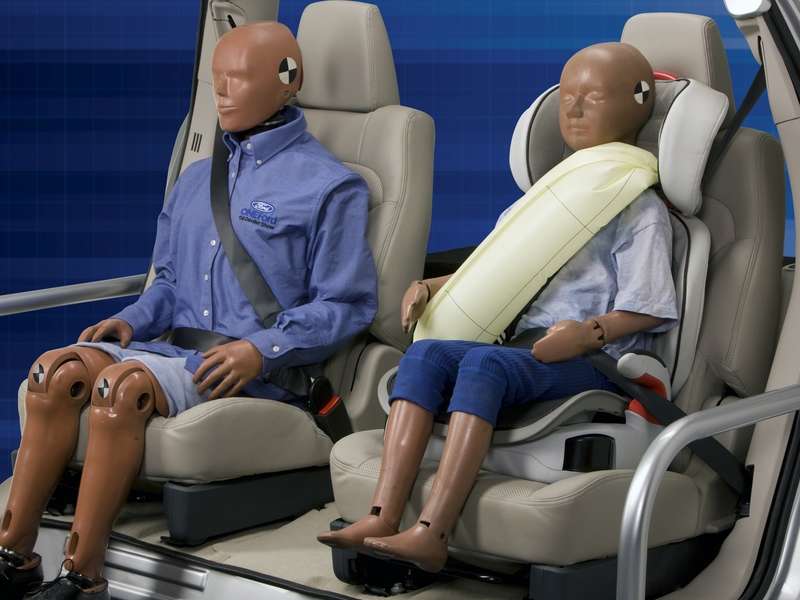 Ford's rear inflatable safety belts help provide additional protection for rear seat passengers, which is especially important as the rear seat is generally acknowledged to be the safest place for children, who are more vulnerable to head, neck, and chest injuries. First introduced on the 2011 Ford Explorer, these belts are now available on many of Ford's models, including the Fusion, Flex, and Taurus, as well as on the Lincoln MKT and MKZ.
The inflatable safety belts combine attributes of both regular safety belts and airbags. In normal use they operate exactly like a traditional seat belt, and they are compatible with children's car seats and booster seats. Ford research has shown that most consumers who have used the inflatable belt consider them to be similar or better in comfort when compared to a normal belt.
During a crash, sensors detect when the belt should deploy and then command the tubular airbag in the belt to inflate using a compressed gas. The inflatable belt is designed to spread crash forces across more of a passenger's torso than a normal belt (by up to five times), which can reduce the forces on a passenger's chest and reduce head and neck injuries by helping to better control their motion. Extensive testing by Ford safety engineers has shown the belts to be effective in reducing the risk of injury in the event of a crash.