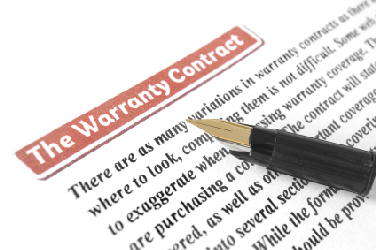 warranty contract
Extended auto warranty plans are a solution to some of the stresses of car ownership. One of the prime benefits to buying a new car is the manufacturer's warranty coverage – manufacturing defects and some kinds of unexpected damage will be repaired free of charge for a few years or a specific number of miles. As a new car ages, and the flawless sparkle begins to take on the inevitable patina of use, some doubts and fears may creep in. What if something goes wrong? Will something break as soon as the odometer rolls beyond the warranty's mileage threshold?
Auto extended warranty plans were designed to address concerns just like these, providing a safety net after manufacturers' warranties expire. For drivers who fear the cost and inconvenience of a breakdown or mechanical failure, extended auto warranty coverage can provide peace of mind.
About Extended Auto Warranty Plans
Vehicle extended warranty programs are really a type of service contract – paying up front for an agreement to have the car serviced when something goes wrong.  Some extended auto warranty plans cover only unforeseen repairs, but there are extended auto warranty coverage options that will add regular maintenance work to the contract. One of the benefits to paying up front is that the cost is already agreed upon – the total bill will be a lot less subject to fluctuations in the market and industry (such as the mechanic's labor costs and the ever-skyrocketing prices of parts and supplies).
Extended auto warranty plans can be purchased right away, which doesn't make any sense unless the customer plans to keep the car well beyond the expiration of the manufacturer's warranties. Some extended auto warranty coverage is generally not transferable to a new owner (even another member of the same household) so any overlap in coverage from both the new car warranty and extended auto warranty program is just money that's been thrown away. (Though new car warranties and manufacturer-certified pre-owned car warranties doesn't cost anything extra, it's built into the price of the car itself, so customers are certainly paying for it!) Be reasonably sure the car will be around for a long time before buying any auto extended warranty plans.
Extended Auto Warranty Coverage
It makes more sense to shop for extended auto warranty plans when the new car warranty coverage is nearing its end – experts suggest allowing a few months to shop for and purchase extended auto warranty coverage.  Of course, if the car in question doesn't have any warranty coverage at all (if it's too old to qualify for manufacturer-sponsored programs or is being sold by a private party, for example) this is a prime situation to consider vehicle extended warranty programs, especially if the model of car is known to be an unreliable or high-maintenance.
There are essentially two types of extended auto warranty plans – those sponsored by the car's manufacturer, and those sponsored by third-party companies (known as aftermarket extended auto warranty programs).  Each type of extended auto warranty coverage has its strengths and weaknesses. Manufacturer-sponsored warranties have a reputation for being fairly reliable – the repair work is performed at the dealership by manufacturer-certified technicians and the warranty claims department is usually pretty easy to deal with. They sometimes provide the standard perks of dealership service (like a shuttle or a loaner car). Factory-backed auto extended warranty plans also might be transferrable to the car's next owner. However, the car must be repaired at a network-approved dealership (which will be specified in the extended auto warranty plan's paperwork) and these plans are generally more expensive than the aftermarket alternative.
Buying Into Extended Auto Warranty Programs
Aftermarket vehicle extended warranty programs are usually less expensive and provide a bit more freedom (like more choices of where to have the car serviced) but can be more of a hassle. Many such programs require the customer to pay out of pocket for repairs and submit claims paperwork for reimbursement. This can be inconvenient and time consuming, and third-party companies have a reputation (much like insurance companies) for dragging out claims and refusing to pay, which will add considerable stress to an already-stressful situation (when the point of the warranty is to avoid such headaches). Also, carefully research aftermarket auto extended warranty plans and look for a record of longevity. These companies sometimes shut their doors quickly and quietly, making a prepaid contract absolutely worthless.
Chances are, when buying a car at a dealership, the dealership's salesman will start to aggressively pitch these programs as the car sales contract is being drafted. These are high-profit products for dealerships – a 100% markup is not uncommon – but the prices are usually negotiable. Keep in mind, though, that the salesperson will try to sell the most profitable warranty currently available. When buying extended auto warranty coverage directly through the dealership, read the paperwork carefully; dealerships often sell both types of plans, so buying through a dealer does not automatically mean the extended auto warranty plan is endorsed by the car manufacturer. The hard sell might be stressful, but there is one benefit to consider: if the extended auto warranty plan is purchased at the same time as the car, the cost of the warranty can be rolled into the car's financing.
Generally, it's better to avoid the high-pressure sales pitches and get quotes online from a variety of extended auto warranty program providers. Shopping online also provides the opportunity to compare and contrast various extended auto warranty plans' benefits and terms of coverage. Points to consider include the deductible (an out-of-pocket payment for each claim, similar to health, regular auto, or homeowner's insurance policies), whether or not claims must first be paid out of pocket, situations in which coverage might be denied and claims rejected, and the extended auto warranty coverage's various exclusions and exceptions to what is actually covered.  (Bear in mind that auto extended warranty plan scams are common, so avoid mass mailings, ignore unsolicited telephone calls, and never give out personal or financial information until it's time to make a purchase with a well-researched company.) Whatever type of extended auto warranty plan is most appropriate for a particular car, it's always best to be well informed.