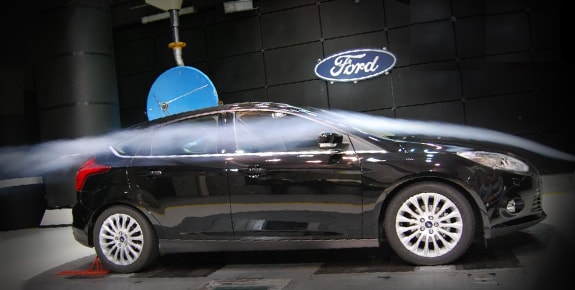 Active aerodynamics are normally used for one of two purposes: to increase fuel economy, or to improve performance.
To improve fuel efficiency, some cars employ active grill shutters. These shutters close whenever possible to help make the car more efficient. With the shutters closed, the flow of air over to goes over the car instead of through the engine compartment, improving aerodynamics. If the car's engine starts to get too warm, the shutters open, allowing increased airflow through the engine compartment. When the engine has returned to a lower temperature, the shutters automatically close again. Active grille shutters can improve highway fuel economy by around 0.5% to 1%.
Simple forms of active aerodynamics have been used on high performance cars for quite a few years. These include cars that lower or rears wings that automatically raise at a certain speed. Some cars also use their rear wings to help slow the car down when braking. Not all active aerodynamics are controlled my motors, some cars use the force of the air itself to move body parts and change the air's path.
The latest generation of super cars, however, has taken active aerodynamics to the next level. Road cars are now being equipped with the same sort of DRS (or drag reduction system) technology as Formula1 cars, where the driver can press a button on the steering wheel to reduce the drag caused by the rear wing. Some cars even have individual wings that act like an airplane's flaps, raising and lowering to help steer the car around corners.