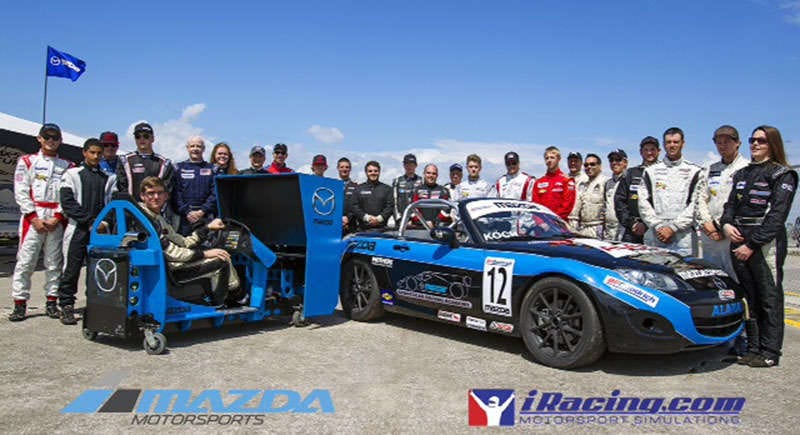 Like its predecessors, the 2014 Mazda MX-5 Miata remains a top choice for amateur motorsports, and not just because the car is so well suited to the track. It also helps that Mazda is committed to supporting grassroots racers across the country, providing plenty of opportunities to help get into the sport. For example, the automaker recently announced the launch of the new 2014 iRacing MX-5 Cup series, which won't even require a car.
Instead, Mazda is taking a page from the Nissan notebook and has partnered with iRacing—one of the world's top "massively multiplayer online racing" communities—to create a virtual driving series with a notable real-world payoff: a seat in an MX-5 racer for the upcoming Mazda MX-5 Cup series (presented by BFGoodrich Tires). Just keep in mind that the route to real-life racing will be about as twisty as a typical road course.
Exact details are still being worked out, and can be found at iRacing.com, but the green flag falls on April 29, 2014, when the iRacing Cup kicks off with virtual 2014 Mazda MX-5 Miata racecars. That competition then will be used to help fill out the field in the annual Mazda Club Racing Shootout event, with the winner of that Shootout also winning a year-long "scholarship" in the real-road MX-5 Cup.
Said Tony Gardner, president of iRacing.com: "The partnership between Mazda and iRacing is a natural. As we all know, more MX-5s are road-raced on any given weekend than any other model of car. What's also true is that, on any given day, more MX-5s are sim-raced on iRacing than any other car. Not only does this partnership offer exciting opportunities for our many members who are aspiring racers, it will also enable Mazda teams to tap into a deep pool of new driving talent."
There's much to love about the 2014 Mazda MX-5 Miata even off the track, though. Currently helping celebrate the 25th anniversary of the original Miata, the current car still combines nimble reflexes, a peppy 167-hp four-cylinder engine and what just may be the easiest-opening convertible top ever invented, all with pricing that starts at $23,720.