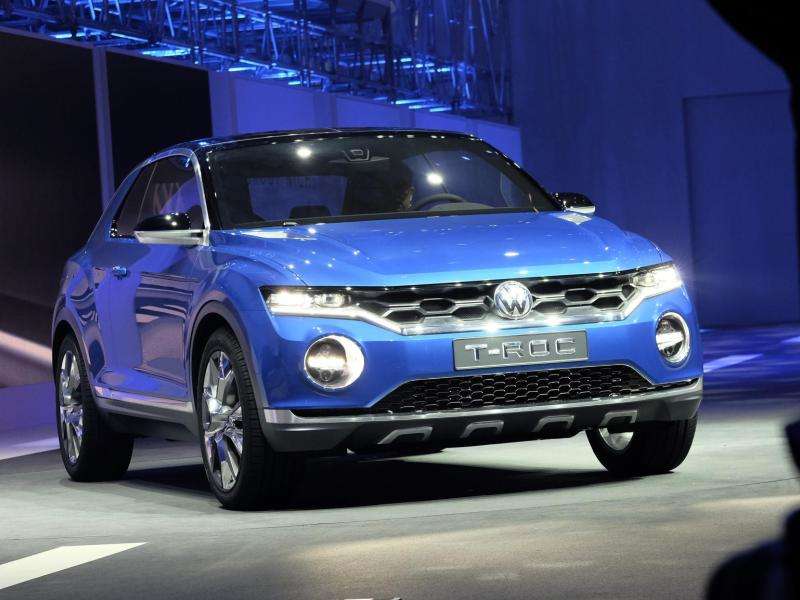 After a fairly successful first year for the Buick Encore, and plenty of anticipation for the Audi Q3, it appears as if the industry is gearing up for an onslaught of subcompact crossovers and SUVs in the near-term future. In fact, two more entries with close ties to the United States recently debuted at the Geneva Motor Show, including the production-ready Jeep Renegade and the VW T-ROC concept—the subject under discussion here.
Now, while its name may sound like VW is aiming for the hip-hop charts, "T-ROC" actually takes the "T" from the brand's other SUVs—the Tiguan, Touareg and global Taigun—and adds a nod to their ROCk-crawling capabilities. Then, to further the point, the T-ROC also adds a three-mode drive selector with separate "Offroad" and "Snow" settings for Volkswagen's signature 4Motion all-wheel-drive technology, along with an innovative front camera and lighting system. The setup integrates tiny cameras and LED spotlights within the vehicle headlight housings, and that hardware, following the track of the steering angle, works to provide enhanced illumination while off-roading in dark conditions.
There's also plenty of software running through the VW T-ROC, as you'd expect from a vehicle that ditches standard instrumentation for a fully digital approach that relies on a 12.3-inch color control screen, complemented by a detachable tablet for infotainment and an Active Matrix Organic LED (AMOLED) display to operate the climate system. Speaking of which, the on in the T-ROC even can be used to set different temperatures for different body parts.
Providing motivation for the T-ROC is a clean-diesel hybrid propulsion system that serves up more than 180 hp and 280 lb.-ft. of torque through a seven-speed DSG automatic transmission. As a result, the T-ROC can rush from 0-100 kph in 6.9 seconds, then continue on to a top speed that exceeds 130 mph, all while achieving a projected 48 mpg in European efficiency testing. Certainly helping matters are the tidy proportions of the T-ROC, as the urban-friendly concept is based on the same platform as the new VW Golf and stretches a mere 164.5 inches in length, with a curb weight of slightly over 3,100 lbs.
The smart-sized concept is then wrapped in some fairly aggressive sheet metal that's highlighted by both the aforementioned LED lighting, show-car wheels, a long hood and a bold, highly dimensional grille. Capping off the design of the VW T-ROC is a sort of targa-top affair, with two detachable panels that can be stored in the vehicle's cargo area for open-air driving.
Image via Newspress USA