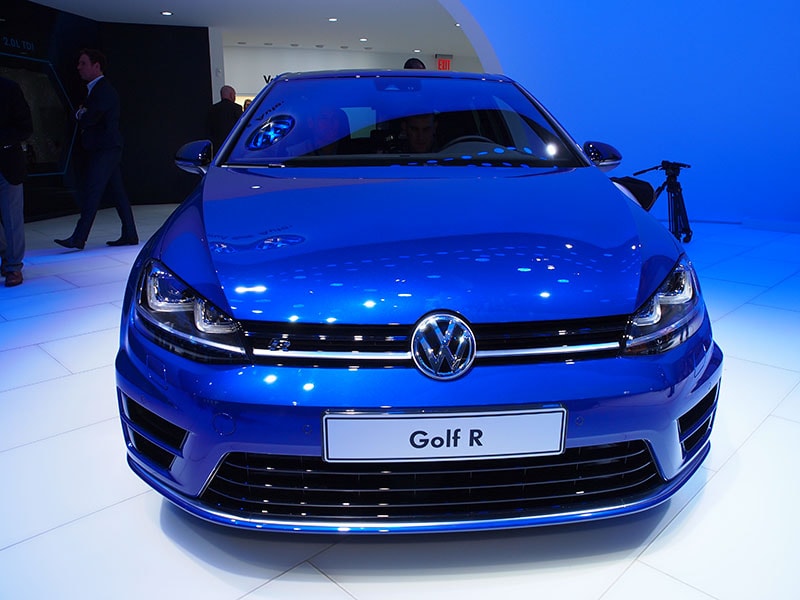 The countdown is on for the launch of the 2015 Volkswagen Golf R, and a key date is coming up on January 8 of next year. That's when VW will open up a special pre-order program for the first 500 units of the car, all of which will feature both the full range of Volkswagen amenities and a distinctive "Volkswagen Driver Gear R" accessory kit.
As regards the former, the launch models for the 2015 Volkswagen Golf R will come standard with:
A Lapiz Blue Metallic exterior, set off by 19-inch aluminum-alloy wheels, with VW's "Cadiz" design, as well as summer performance tires
Tech upgrades such as navigation, premium audio by Fender, and Park Distance Control
4Motion all-wheel-drive, backed by the latest Haldex coupling
DCC (dynamic chassis control) for active damping
Bi-xenon headlights complemented by LED daytime running lamps
A six-speed DSG dual-clutch automatic transmission
And all that is packaged with a 2.0-liter turbocharged four-cylinder engine that delivers 292 hp and 280 lb.-ft. of torque, an EPA line of 23 mpg city/30 mpg highway/26 mpg combined, a 0-60 time of 4.9 seconds, and a top speed of 155 mph. To put some of those numbers into context, the 2015 Volkswagen Golf R serves up an extra 36 hp and 37 lb.-ft. of torque as compared to the previous edition, yet it also manages a 3-mpg gain in highway fuel economy.
As for that nifty accessories kit, it will include an exclusive "Golf R" watch numbered to match each car's VIN, a likewise numbered keychain made from carbon fiber and stainless steel, and a distinctive owner's certificate, again personalized with a VIN-matching serial number.
To get in on the action, folks should be prepared to visit VW.com/GolfR on the date mentioned above, and also be ready with a refundable $500 reservation fee that can be used toward the $39,090 purchase price of the special-edition 2015 Volkswagen Golf R.
The "regular" 2015 Volkswagen Golf R is expected to go on sale at dealerships during the first quarter of next year, with MSRPs that start at $36,595.