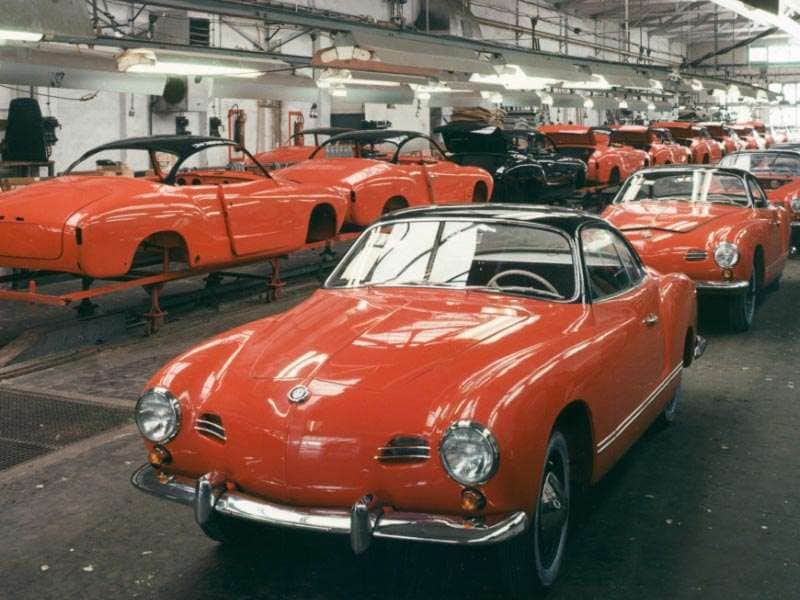 Long before the VW Golf R or GTI, or the Scirroco or Corrado, or even the VW Beetle GSR, there was the Volkswagen Karmann Ghia—and apparently, the prototype was first shown off to VW's internal decision-makers in 1953, allowing the automaker to remind folks of the 60th anniversary of the car it claims "started the Volkswagen brand's move upmarket."
What Volkswagen calls the "VW Beetle in a sports coat"  actually didn't go on sale until 1955, but it did have a strong impact on customer perceptions during its 19-year production run. Some 450,000 Karmann Ghias—including both coupes and convertibles—were sold globally during that time, with Volkswagen positioning it as a sports car with the style of a Ferrari or Lamborghini, but the reliability, efficiency and affordability of a VW Beetle. 
Now, since the Karmann Ghia also had the same mechanicals as a VW Beetle, it did lack the performance of a Ferrari or Lamborghini. But as the company notes in a classic ad that I found on the Karmann Ghia Connection website, even though the VW couldn't go as fast as those cars, "it costs only $2,365 to give the impression that you can."
And that was when the Italians were priced between $14,000-$16,000.
Which actually makes sense, because the "Ghia" in the "Karmann Ghia" reflects the fact that the car's shape was created at the Italian design house of that name; although there is a bit of controversy surrounding that claim, with a certain camp pointing to the work of famed U.S. auto designer Virgil Exner as the inspiration. FYI: "Karmann" was the name of the German manufacturer that actually built the cars for Volkswagen, an example of a not uncommon situation in Europe.
As to why Volkswagen is making a fairly big splash about a fairly odd anniversary, consider: It could be the prelude for a Karmann Ghia to come.
Based on the previously mentioned chronology, 2015 would mark the 60th anniversary of the production launch of the VW Karmann Ghia, making a nice round number for, perhaps, the introduction of another affordable, yet dramatically styled sports car based on the VW Beetle.