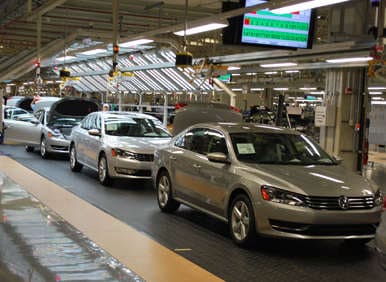 The redesigned, America-built Volkswagen Passat has been so popular for VW of America, that the automaker announced it will be adding a third shift to its Chattanooga, Tenn. plant to meet demand of the car and ease the workload on its employees. With the new hires, the plant now employs more than 3,300 people, it operates 20 hours a day for six day a week and it now has a production capacity of 180,000 vehicles per year. Currently, only the Volkswagen Passat is built in Chattanooga, but rumors indicate the Volkswagen Tiguan could also be built here.
Volkswagen's new Chattanooga plant has only been online for about a year, but the new VW Passat continues to be one of the hottest cars in the automaker's line-up with strong sales since it went into production. Through July, Volkswagen has sold 64,072 of its Passats in the U.S. which is practically double the number of the mid-size sedan that were sold in the entire 2010 (10,168) and 2011 (22,779) calendar years. Volkswagen has already increased annual production capacity from the original 150,000 units to the current 180,000 units.
"We have worked quickly over the last four months to recruit, hire and train our third shift team so that we can ease the work schedule of our production team, while maintaining the high standards for quality in our Passat," said Hans-Herbert Jagla EVP Human Resources at Volkswagen Chattanooga. "However, we continue to recruit for professional positions here at the plant."
The 2012 Volkswagen Passat was named the top-rated mid-size car in the AutoPacific 2012 Vehicle Satisfaction Awards.