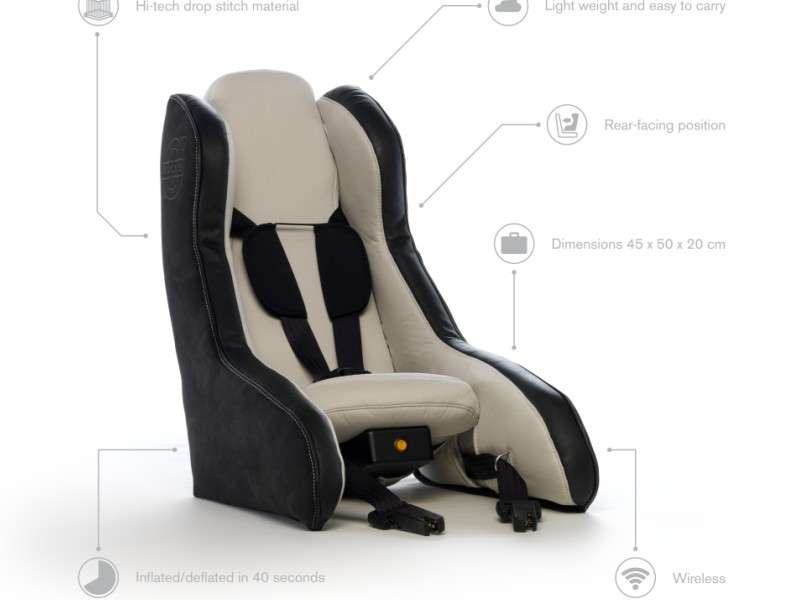 Try this: walk up to someone nearby and tell them, "Guess what? Volvo has invented an inflatable child car seat!" You're likely to get one of two reactions: either, "Wow, that is so cool!" or "Uh…that's…how could that be safe?"
Yes, it is indeed cool. And given that it was designed by Volvo, it seems reasonable to conclude that it must be safe. But…how?  Aren't car seats supposed to be heavy, solid hunks of metal and plastic?  Well, true, they usually are.  While the Volvo seat is made almost entirely of fabric, it utilizes very strong material not found in any product currently available at your local baby store.  "We used a unique material called drop-stitch fabric when creating the prototype of the seat. This fabric is very strong when inflated as it can be brought to a very high internal pressure. It is a quite common technology in the boating industry and was originally developed by the military in an effort to develop inflatable airplanes," says Maria Hansson, project manager at Volvo Monitoring and Concept Center in Los Angeles.
The seat is just a concept for now, and information such as crash test results and child height and weight limits is not yet available, but the idea has promise. Weighing in at around 11 pounds—as opposed to a typical convertible seat, which would be closer to 20 pounds--it can inflate in 40 seconds with a silent built-in air pump.  When not in use, it folds down to the dimensions of a medium-size backpack.  The seat appears to be designed only to face the rear of the vehicle, and Volvo notes that it is safest for children to rear-face until at least 3 to 4 years of age (rear-facing until age 4 has been common practice in Volvo's home country of Sweden for decades).
While it looks like it may be impractical for routine daily use, a seat like this would be ideal for families that travel frequently and need a safe way to restrain their children in taxis, trains, planes, or rental cars.  The inflatable car seat also includes Bluetooth connectivity, which allows for even more high-tech features such as remote-controlled inflation.
So parents, fear not: Volvo isn't suggesting that you trust your child's life to a glorified rubber raft.  Based on the information we have, this looks like it could be the inspiration for a whole new category of child restraints.  I was kind of hoping to have a flying car by now, but a safe car seat that can pop silently out of a backpack in under a minute? That's pretty awesome, too.