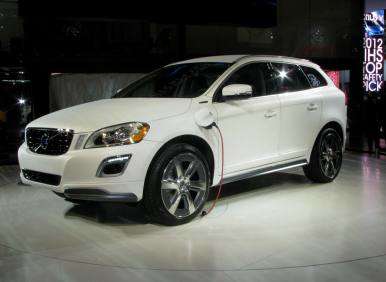 As it prepares to join the hybrid club in the U.S., the last Swede standing showed off the Volvo XC60 Plug-in Hybrid concept at the 2012 North American International Auto Show in Detroit. As expected, the small crossover packs plenty of safety technology, but then continues to extend the brand's growing reputation for "naughtiness." In much the same way the Volvo S60 rebooted perceptions of Volvo cars, the XC60 concept is designed to change how people think about the company's CUVs—and the industry's hybrids.
That's because the vehicle plays the old "performance hybrid" card—but trumps most examples of this niche by truly offering both power and efficiency: The unique powertrain of the XC60 Plug-in Hybrid concept puts together a 150-hp turbocharged I4 from Volvo's new family of VEA (Volvo Environmental Architecture) engines, a 12-kW lithium-ion battery pack and an advanced electric motor to offer a total of 350 hp and 428 lb.-ft. of torque—and a claimed 0-62 mph time of 5.8 seconds.
And while drivers can enjoy this kind of athleticism with the XC60 concept in its "Power" mode, there are also two other selectable modes for other driving scenarios. In its "Pure" mode, the vehicle delivers a zero-emissions, all-electric driving range of up to 35 miles, with charging times as low as 3.5 hours (with a 220-volt charger). Alternatively, the "Hybrid" mode—the default setting—allows the vehicle to return up to 50 mpg in combined driving and enjoy a 600-mile range.
Another unique feature: Those two different power sources provide the power to two different axles. The gasoline engine drives the front wheels, the electric motor turns the rears, and the two work together to form a robust, electric all-wheel-drive system.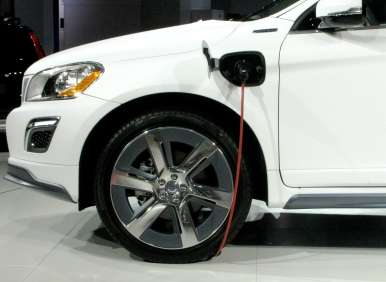 U.S. drivers can expect to see similar tech in forthcoming Volvo products, although exactly which ones remains open for discussion.
According to Stefan Jacoby, president and CEO of Volvo Car Corporation: "This world-class gasoline plug-in hybrid technology, featuring a state-of-the-art four-cylinder engine from our upcoming Volvo Environmental Architecture engine family, will reach our American showrooms in a couple of years. However, it is too early to say which model will be the first to feature this solution."