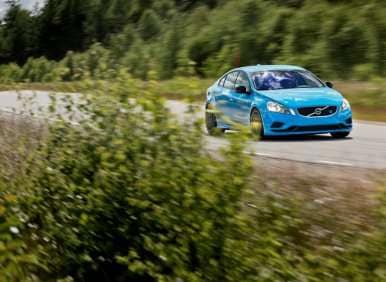 Although it has so far managed to avoid the fate of Sweden's other iconic automaker, Volvo continues to struggle for traction under its new Chinese ownership. Sales did take a big 26.8 percent jump in November, but the brand sold just 6,141 vehicles and is ahead of last year's pace through the first 11 months of the year by a mere 69 units. As for the Volvo S60—designed to reset consumer expectations with its notably naughty nature—the car continues to underperform the industry as a whole and has increased its year-to-date volume by a modest 8.7 percent on 21,012 sales, which does lead the brand to this point in 2012.
But clearly, the S60 has yet to light a fire under Volvo's U.S. sales, and that brings us to the hotted-up Volvo S60 Polestar Concept that debuted during the Los Angeles Auto Show. Tuned by Volvo's own performance-engineering partners at Polestar, the car packs enough power to run with (and perhaps ahead of) potential rivals like the BMW M3, Audi S4 or Mercedes-Benz C63 AMG, showcases a slick and streamlined style, and  would provide Volvo with the kind of high-performance halo car that would grab people's attention in a way that the safest of Volvos can't.
Of course, that would require the automaker to approve the Volvo S60 Polestar Concept for production, something that hasn't happened yet. The L.A. car was apparently built as a one-off project with one particular client in mind, and the word from Volvo is that "A small series of Polestar-modified S60s may be built pending market response."
In other words, keep your fingers crossed!
What's New for the Volvo S60 Polestar Concept:
 An additional 208 hp and 99 more lb.-ft. of torque, thanks to new engine tuning that delivers 508 hp and 424 lb.-ft. of torque from the S60's turbocharged I6 engine
A reinforced close-ratio six-speed manual transmission, along with a revised center console redesigned for improved shifting ergonomics
Haldex's Gen4 all-wheel-drive system with an electronic limited-slip differential at the rear
19-inch Polestar wheels
A wider track and lowered ride height
Plenty of chassis and suspension upgrades, including reinforced front and rear anti-roll bars, three-way shocks from Ohlins, additional cross-members for improved chassis stiffness, upgraded engine mounts, revised sub-frame and control-arm bushings and a Polestar-tuned steering system
Upgraded brakes with front six-piston units from Brembo
Improved aerodynamics, backed by a lower front splitter, larger rear spoiler and lightweight, carbon-fiber diffuser
An interior highlighted by Polestar sport seats and Alcantra trim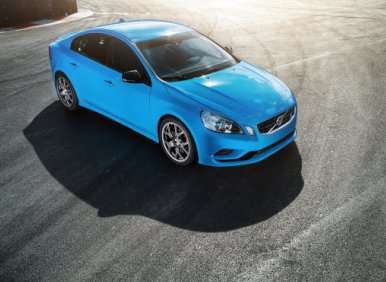 New Volvo S60 Polestar Concept: Styling and Design
The starting point for the Volvo S60 Polestar Concept—the S60 proper—comes right from the box with fairly distinctive styling that makes the car look lighter on its feet than its German rivals, with subtly adjusted proportions that give it a hint of the classic "long in front, short in back" sports-car appearance. For the concept car, Polestar took a low-key approach that builds on the production vehicle's established design language with aero refinements like a lower, more prominent front splitter and a larger—although not insanely large—rear spoiler. A cleaner, more streamlined rear diffuser, made from carbon fiber, also is on board, delivering a cleaner finish at the rear of the car.
The lowered ride height and wider track help enhance the S60 Polestar's proportion as well, delivering a slightly more hunkered-down appearance that's complemented by the new Polestar 19-inch wheels. With more space between the spokes, those wheels also provide the requisite peek at the vehicle's brake components.
The cabin gets an upgrade to deliver the kind of lux features one would expect in a premium performance sedan, with sport seating from Polestar and improved materials, but perhaps the most intriguing change is one that shows how deep the brand's commitment to performance is with the Volvo S60 Polestar Concept: To improve the shiftability of the car's six-speed DIY transmission, designers even modified the center console to provide a bit more room for hands-on shifting.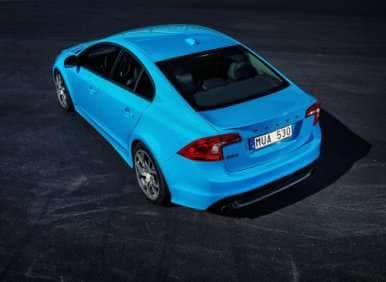 New Volvo S60 Polestar Concept: What's under the Hood
Pop the Polestar's hood and you're looking at a modified version of Volvo's velocity-friendly T6 engine, providing six-cylinders of inline power that's been boosted by a Garret 3171 turbocharger. But squeezing 508 horses and 424 lb.-ft. of twist from that powerplant required a bit more work than that, in the form of modifications to the engine's cylinder head, combustion chamber, inlet manifold and air intake. Polestar even specially manufactured new connecting rods for improved athleticism.
Unsurprisingly, all that additional Polestar power makes for significantly higher performance—and significantly lower acceleration times: With a top speed of more than 186 mph, the Volvo S60 Polestar Concept can run from 0-60 in under 4 seconds.
To put those number into context, the BMW M3 has a bigger engine than the Volvo S60 Polestar Concept, but comes up short with "only" 414 hp, 295 lb.-ft. of torque, a top speed limited to 155 mph, and the ability to go from 0-60 in 4.5 seconds.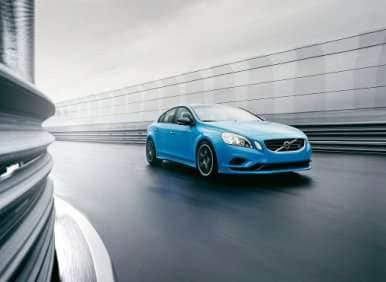 Volvo S60 Polestar Concept: Features and Technology
According to Polestar's chief engineer, Jan Andersson, "We approached this project by looking at the production Volvo S60 as a platform for a potential race car—and the culmination of that data went into the design of the S60 Polestar Concept."
Thus, the new features and technologies in the car are focused on performance, and, beyond the previously mentioned powertrain goodies, also include components like the fourth-generation all-wheel-drive system from the experts at Haldex and the three-way shock absorbers contributed by Ohlins.
The former was designed specifically for performance applications and boasts an electronic control unit that allowed Polestar to bake in further improvements to the car's handling, while the latter offers not just compression and rebound damping, but also a special high-speed compression-damping capability.
Needless to say, if the Volvo S60 Polestar Concept does make it into production, drivers can expect plenty of cutting-edge safety resources, too.
Volvo S60 Polestar Concept: What Autobytel Thinks
The last Swede standing currently offers a fairly strong lineup of fairly good vehicles, but that's just not good enough anymore. The brand really needs some sort of eye-opener—a halo car, if you will—to re-energize its positioning and sales both here in the U.S. and globally. Despite its incredible power, however, the Volvo S60 Polestar Concept may be a bit too subtle for that—making it an ideal choice for enthusiasts who prefer to fly under the radar. And with that 508-hp engine, a production model would certainly get drivers flying.