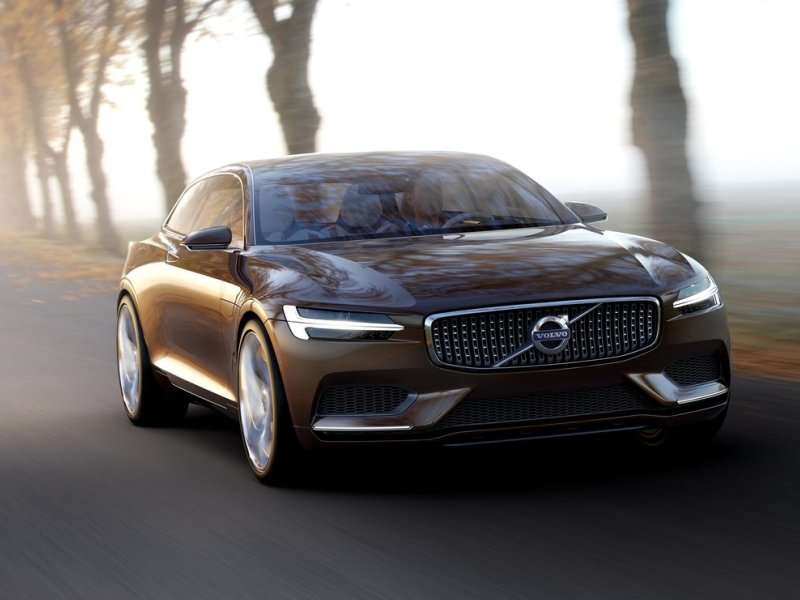 The striking Volvo Concept Estate will cap off a recent auto-show hat trick for the brand when it makes its official debut at the Geneva Motor Show in Switzerland: Volvo already has earned high praise for its Concept Coupe and Concept XC Coupe, revealed at the most recent Frankfurt and Detroit auto shows, and the latest concept will introduce both a new body style for the brand's advanced design language as well as the first look at Volvo's next-gen cabin environments.
Just note that, while the Concept Estate does draw some of its inspiration from the classic 1972 Volvo 1800 ES, it's pointed straight at the future. Explained Thomas Ingenlath, senior vice president for design at the Volvo Car Group: "The 1800-models are iconic Volvos, renowned for their beautiful forms and detailing. However, using elements from their exterior and interior has nothing to do with being retro. We are using these subtle links to a glorious past to create a future in which sheer beauty becomes a recognized part of Volvo's identity. 
Also notable in that future will be the Concept Estate's technologically advanced driver interface. Taking a virtual page from the Tesla Model S, the new Volvo show car replaces nearly all of the vehicle's knobs and buttons with a large touchscreen in the center stack.
"The basic idea," according to Inglenath, "is to organize controls and information in a perfectly intuitive and user-friendly way. Everything is exactly where you expect it to be, making the drive more enjoyable, efficient and safe."
The new setup also allowed Volvo more range in developing the rest of the interior, which showcases detail taken from the latest trends in Swedish design, from Bridge of Weir leather to a glowing crystal gear lever by Orrefors/Kosta Boda to woven woolen carpets by Kasthall.
Continued Robin Page, design director for interiors for the Volvo Car Group: "Not having to deal with buttons and controls for a growing number of functionalities is like being freed from a pair of handcuffs. This has made it possible to build a beautiful interior architecture around the portrait screen. The concept car showcases how this user interface will be integrated in our new car generation."
How much of—and how soon—these advances will make it into production remains to be seen, but the automaker did note that the next-gen Volvo XC90 will be the first retail model to begin showing the changes, with the new crossover expected to go on sale later this year.