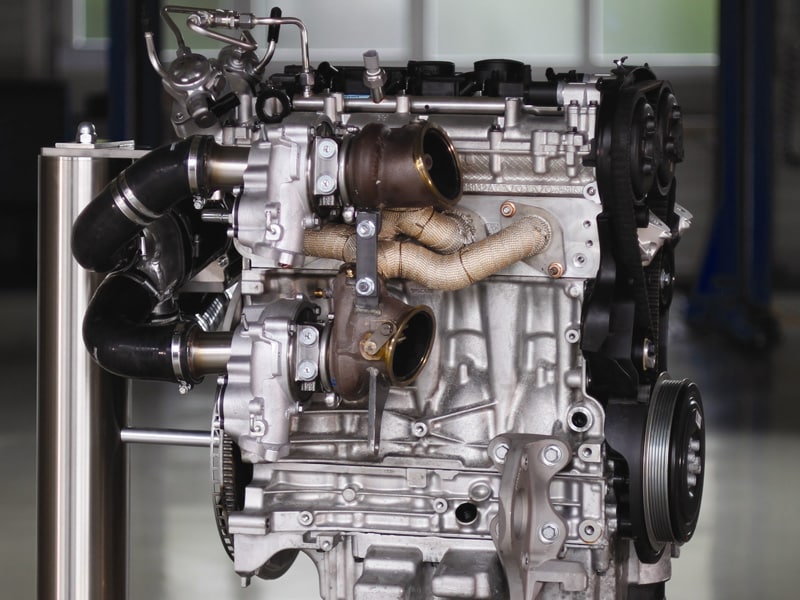 volvo engine
Currently, the most powerful engine in the Swedish automaker, Volvo's, current line-up is a twin-charged 2.0L four cylinder. While you may think that strapping a supercharger and a turbocharger to the same engine might be a bit bonkers, Volvo's engineers have stepped things up by adding a little electricity into the mix. That is because the new High Performance Drive-E Powertrain Concept puts a pair of turbos on the hot side of the engine and one electric supercharger to the front, creating a 450 HP triple charged four-cylinder engine.
"When we launched the Drive-E powertrain family, our aim was to deliver the most advanced 4-cylinder engines in the industry based on emissions and fuel consumption relative to performance and drivability. We knew that 320 HP in our petrol configuration was just a starting point. The 450 HP High Performance Drive-E Powertrain Concept, demonstrates this ambition and the versatility of the Drive-E Powertrains," says Dr. Peter Mertens, Senior Vice President for Research and Development at Volvo Car Group.
The electric turbocharger is capable of creating max boost regardless of throttle input or engine RPM and forces air pressure into the turbochargers, essentially eliminating lag and increasing output. With a specific output of 225 HP per liter of displacement, the High Performance Drive-E Powertrain Concept is no novelty item. Volvo is billing the engine as a concept, and hasn't revealed any production details at this time. We can't wait to see what they come up with.